About Colombia Bruselas San Isidro microlot
New crop arrived mid November 2016. This is the first of a group of micro and nano lots that we purchased from regions in Colombia. This one came to us from an importer colleague and we expect to have it in stock through the remainder of the calendar year. The other coffees that will follow were evaluated and purchased at origin during a regional competition, but more about that later. For now enjoy this wonderful example of what Colombia is capable of producing.
This very limited microlot comes from the Bruselas region within Huila, located in the Southern region of Colombia. The farm which sits in the village of Guandinosa and is only a mere 3 hectare is called San Isidro and is owned by producer Hernain Bejarano. Altitude is 1650 meters, about 5400 feet, above sea level. The varietals that make up this microlot are Caturra and Colombia. After harvest coffee cherries are traditionally washed, wet fermented for 22 hours before being transfered to raised beds under parabolic cover for drying.
Farm name: San Isidro
Producer: Hernain Bejarano
Farm size: 3 hectares
Country: Colombia
Department: Huila
Municipality: Pitalito
Village: Guandinosa
Varietal: Caturra, Colombia
Processing: Washed
Fermentation: 22 hours
Drying: Raised beds under parabolic cover

Cup Characteristics: Terrific flavor of cherries. Very sweet, clean and bright with just the right balance between all of the elements. Notes of pineapple and tropical fruit. Crisp acidity adds life to the cup.
Roasting Notes: Keep this coffee on the lighter side to retain the clean and bright aspects, roast until just before second crack. For a heavier body and deeper flavors take through second crack.
Colombia coffee facts:
Main crop seasons vary depending on location. For many the main crop is Sept - December. Some regions have a mid crop as well.
Population: 43.6 Million people
Domestic Consumption: 1.8 Million Bags of 70 Kg. (154 lb.)
Coffee Export: 12.5 Million Bags of 70 Kg. (154 lb.)
Cultivated Area: 1.1 Million Hectares (2.7 Million Acres)
Harvest: Main Crop: October to January (60%)
Fly Crop: April to June (40%)
Note: In Narino, due to its geography, Main and Fly crop seasons are reversed.
Arabica Introduced: From the Carribean through Venezuela
Farms: 300,000

Specialty Coffees:
Supremo basis of a 17 screen size
Excelso basis of a 16/17 screen size
Botanical Varieties:
Bourbon, Typica, Caturra, Maragogype, Variety Colombia (hybrid of Timor and Caturra)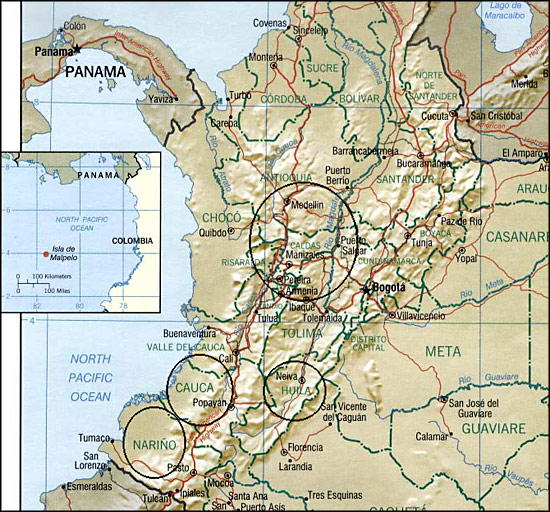 Crop Comments
Colombia is the second largest exporter of Arabica coffee in the world. All coffee grown is Arabica species, and mostly all is grown at high elevation and wet processed. Supremo is the country's highest grade though the highest elevation coffee can be smaller and thus not able to make the size grade although more concentrated. Colombia coffee has a well-earned reputation as having fine body, pleasant acidity and clean flavor. Each region brings a little something different to the final product.