About Colombia Supremo Popayan
Arrived October 2021.
The city of Popayan is the capital of the state of Cauca in the southern part of Colombia. The surrounding coffee region lays where the Andes mountain range reaches southern Colombia from Ecuador. Coffee farms in the Popayan region are generally less than 5 hectares, the farms are owned by several indigenous population groups who have been growing coffee for many decades. There are two rainy seasons in the area, producing both a main crop and a mid crop. All cherries are hand picked and then pulped and washed in the farms.
Supremo beans merged from area smallholders can be simple, clean and verstile. Supremo grade is the highest sorting and largest size beans. Use them for single origin, blend components to add brightness and dark roasts. They are dense, durable and large.
Colombia has over 500,000 coffee producers represented by the National Federation of Coffee Growers (FNC - Federación Nacional de Cafeteros de Colombia). The FNC provides many services enabling small, and often impoverished producers, access to foreign markets. In Cauca, where this coffee comes from, there are over 114,000 coffee farms which have an average elevation of 1685 meters, a bit more than 5500 feet, but many farms are over 2000 meters. The major varietals grown here are Castillo (about 65%), Variedad Colombia and Caturra. Coffee's from Cauca, which are often processed in and called Popayan, when well prepared, are solid, all purpose washed coffees. They have brisk acidity and are lively, with medium body and thus can stand on their own or complement blends as light or dark components.
The price at the moment, due to market conditions, is a bit higher than typical.
Cup Characteristics: Clean and bright with intense aroma. Medium acidity and generous sweetness. Nice preparation.
Roasting Notes: Durable, high grown coffee capable of roasts between City Plus (C+) and dark roasts past second crack, and steps in between. The beans are large and dense, having enough acidity to hold up to dark roasting while still being flavorful.
Colombia coffee facts:
Main crop seasons vary depending on location. For many the main crop is Sept - December. Some regions have a mid crop as well.
Population: 43.6 Million people
Domestic Consumption: 1.8 Million Bags of 70 Kg. (154 lb.)
Coffee Export: 12.5 Million Bags of 70 Kg. (154 lb.)
Cultivated Area: 1.1 Million Hectares (2.7 Million Acres)
Harvest: Main Crop: October to January (60%)
Fly Crop: April to June (40%)
Note: In Narino, due to its geography, Main and Fly crop seasons are reversed.
Arabica Introduced: From the Carribean through Venezuela
Farms: 300,000

Specialty Coffees:
Supremo basis of a 17 screen size
Excelso basis of a 16/17 screen size
Botanical Varieties:
Bourbon, Typica, Caturra, Maragogype, Variety Colombia (hybrid of Timor and Caturra)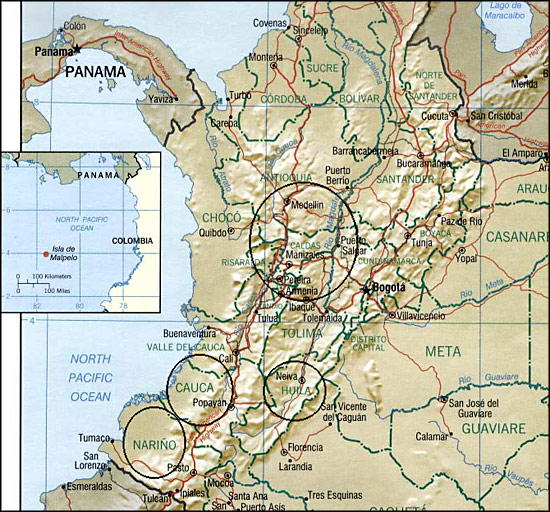 Crop Comments
Colombia is the second largest exporter of Arabica coffee in the world. All coffee grown is Arabica species, and mostly all is grown at high elevation and wet processed. Supremo is the country's highest grade though the highest elevation coffee can be smaller and thus not able to make the size grade although more concentrated. Colombia coffee has a well-earned reputation as having fine body, pleasant acidity and clean flavor. Each region brings a little something different to the final product.