About Colombia Concordia Santa Monica
Arrived June 2014, a direct import coffee. Colombia Santa Monica is from the town of La Concordia in Southwestern section of Antioquia, 65 miles from Medellin City. The town is 94 square miles and 48 of those are dedicated to coffee growing. La Concordia is one of the most technology advanced towns in Colombia and is highly productive. It has more roads than any other town in Colombia`s coffee region based on the FNC´s statistics and has one of the highest levels of education in the region. The populace is oriented to preserve the environment and to living in harmony with nature.
Santa Monica is an estate coffee grown at an average elevation of 1924 meters or 6310 feet! In fact, some of the coffee on this farm grows as high as 2180 meters or 7150 feet, making it some of the highest elevation coffee we have seen. Coffee at this altitude is concentrated in flavor and because of the extreme elevation grow a bit smaller than what can be called Supremo, which are the largest bean size. Soil composition is volcanic. The cup profile from this farm has a very distinctive chocolate, citric and floral flavor. Very well balanced and notable citric acidity add to distinctly sweet cup. This is a very complete coffee. Varietals are Caturra and Colombia, both of them common to the country. Processing is fully washed but mechanically dried in guardiolas rather than on patios. This beans are deep bluish green.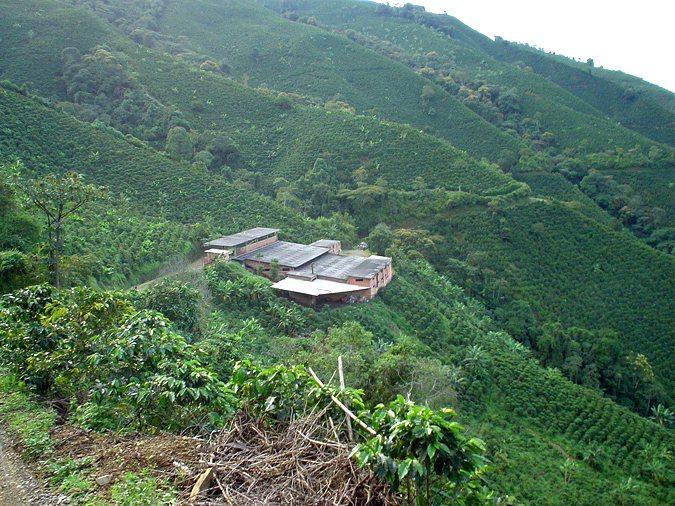 An overview of the landscape at Santa Monica.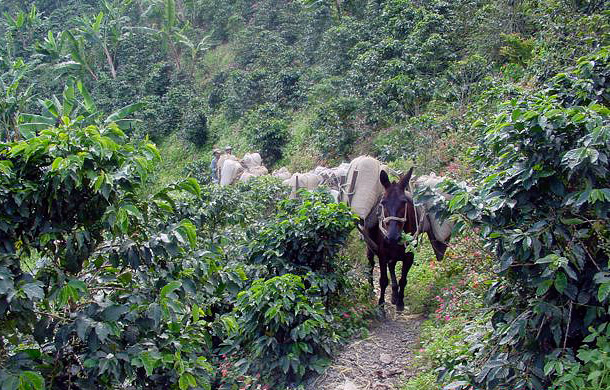 Burros bringing sacks of cherries from higher altitudes.
Cup Characteristics: Concentrated, distinctly chocolate and citric character. Dark chocolate mouthfeel, really a bit unusual for Colombia. Clean and sweet with complex acidity. There is a piquant but soft background of succulent fruit. While flavor is substantial it's the mouthfeel that stands out. The coffee is clear and well balanced.
Roasting Notes: Roast Colombia Santa Monica as you would any other high grown Colombian, taking it up to and including second crack. Any Supremo is capable of producing dark roasts of quality because they have enough acidity to still have interest after being roasted to that level.
If you roast on a Behmor we suggest profile P2 for this coffee. We felt this profile offered the best combination of body and acidity. P3 was also quite decent.
Colombia coffee facts:
Main crop seasons vary depending on location. For many the main crop is Sept - December. Some regions have a mid crop as well.
Population: 43.6 Million people
Domestic Consumption: 1.8 Million Bags of 70 Kg. (154 lb.)
Coffee Export: 12.5 Million Bags of 70 Kg. (154 lb.)
Cultivated Area: 1.1 Million Hectares (2.7 Million Acres)
Harvest: Main Crop: October to January (60%)
Fly Crop: April to June (40%)
Note: In Narino, due to its geography, Main and Fly crop seasons are reversed.
Arabica Introduced: From the Carribean through Venezuela
Farms: 300,000

Specialty Coffees:
Supremo basis of a 17 screen size
Excelso basis of a 16/17 screen size
Botanical Varieties:
Bourbon, Typica, Caturra, Maragogype, Variety Colombia (hybrid of Timor and Caturra)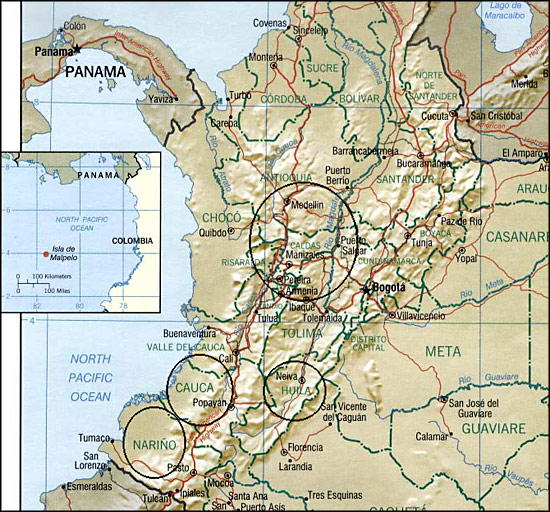 Crop Comments
Colombia is the second largest exporter of Arabica coffee in the world. All coffee grown is Arabica species, and mostly all is grown at high elevation and wet processed. Supremo is the country's highest grade though the highest elevation coffee can be smaller and thus not able to make the size grade although more concentrated. Colombia coffee has a well-earned reputation as having fine body, pleasant acidity and clean flavor. Each region brings a little something different to the final product.