About Colombia El Vergel Java Natural
Arrived in grainpro bags in October 2021 and being offered for the first time beginning January 2022. The farm, Finca El Vergel, is located in Algeciras, Huila, Colombia and run by Robinson Rozo. The farm sits at an elevation of approximately 1,920 meters and consists of 68 hectares in total. Of those 68 hectares, approximately 15 Ha are planted with coffee, or 43,500 trees in total. The 43,500 trees consist of the following varieties: 12,000 Caturra, 8,000 Variedad Colombia, 1,500 Typica, 14,000 Catimor and 6,000 Geisha and 2,000 Java. Robinson, along with his siblings, each inherited a piece of the land and the 2.25 Ha that Robinson has planted are in 100% Geisha. However, Robinson also recently bought another farm nearby and planted 2,000 trees of Java. The unique characteristic is that currently all of the infrastructure is at the larger farm, El Vergel, and all coffee, for now, from both farms, is processed there. They have an extensive wet-mill and sufficient space to dry both washed and naturals, something quite rare for producers in Colombia. Once the cherries are received to the wet mill, they are floated, the remaining immature beans are manually selected out, fermented in grain-pro bags for 36 hours and then laid out to dry for between 20-30 days. Robinson is a young, motivated producer, but not new to specialty coffee. Before planting his own trees, Robinson learned how to cup at one of Colombia's local trade schools, El Sena. In addition, Robinson took 1st place in the Coffee Quest's Huila Magico competition in 2020!

The Java varietal has oblong shaped beans, similar to the geisha varietal, and also produces similar floral notes, yet it is backed by more earthy notes. Java receives its name from the island of Java in Indonesia. In 1928, P. J. S. Cramer, the famous Dutch botanist, brought a selection of Arabica varieties from Ethiopia to Java Island. Later the descendants of those varieties were taken to Cameroon and have been planted widely there as well as in Java, itself. Young leaves are bronzed and the trees are known for being highly productive.

Java can also refer to the JavaNica variety produced within Nicaragua. The variety came to prominence when Don Esteban Mierisch saved a bunch of coffees seeds that were about to be discarded. The Mierisch family, today, is Nicaragua's largest producer of this variety, much sought after for its floral, complex cup profile. Although the origins of JavaNica are not entirely clear, it is thought to be related to Typica due to its elongated bean shape.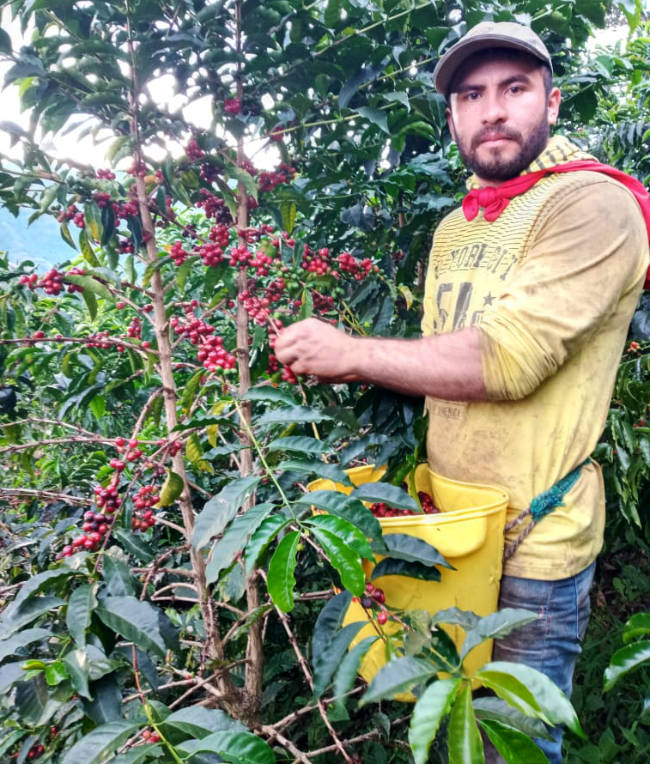 Country: Colombia
Region: Huila
Municipality: Algeciras
Producer: Robinson Rozo
Variety: Java
Processing: Natural
Elevation: 1920 meters
Cup Characteristics
: Aromas of peach, apricot, and citrus. Flavors of honeydew, lychee, and passionfruit. A complex fruity and floral cup with a hint of earthiness.
Roasting Notes
: Java varietal will show its florality when the roast is fairly light, to City+. Roasting to Full City or beyond will mask some of the fruitiness of this coffee. But on the flip side, roasting it too lightly will make it thin and require more weight ground when brewing. Depending on your roaster, take beyond 1st Crack but avoid the approach of 2nd Crack. Extend development time for 90 seconds if possible with your roaster.