About Colombia Supremo Santa Barbara
Arrived August 2018, new crop coffee.
This Colombia Supremo is from Finca Santa Barbara in Antioquia, owned by Pedro Miguel Echavarria. Supremo from Santa Barbara is a fairly rare treat. While the farm is large and they purchase from neighbors it is not often we see Supremo grade from here. The folks at Santa Barbara have an intense interest in quality and in perfecting the processes that result in final cup flavor. "We want our buyers not only to know where the coffee was grown but also the people that grew it, and what type of social, environmental and agricultural practices were used to grow it. We also want them to know that we, as a company, have complete control of every process, from the tree to the port...".
Finca Santa Barbara is blessed with ideal terroir. Volcanic soil, high altitude and a model microclimate. Planting on the farm spans 1400 to 2000 meters with average growing altitude of 1650. High altitude coffees, here and in general, take longer to mature but result in coffee with more depth of flavor. The Cauca River valley microclimate provides protective evening warmth from cold Andean nights. The farm has a practice of pruning coffee trees just once when they are six years old, and then, when the trees turn twelve, they are replaced. This keeps the trees and soil healthy, another obsession at Santa Barbara, where they keep track of soil minerals, particularly potassium, which they feel is linked to the development of sugars.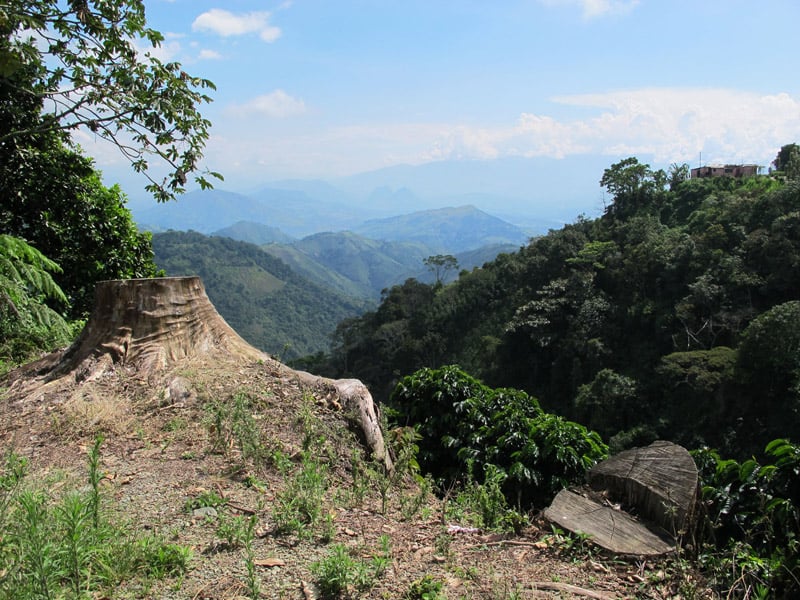 During harvest experienced pickers are trained to the particular standards of Santa Barbara. They want pickers to select only fully ripe beans, leaving behind not only unripe ones but even those that are nearly ripe. This standard is measurable and pickers are paid a bonus to maintain this level of performance.
The attention to detail and experiementation continues to the wetmill where Santa Barbara has a developed a process that combines fermentation both before and after cherries are depulped, which they feel results in measurably increased sweetness. Once finished at the wetmill and dried, the coffee is sent to their warehouse where each batch is analyzed, cupped and meticulously recorded. For any given lot they know where it was picked, its altitude, ph and temperature levels during fermentation, brix (sugar) levels of its mucilage, etc. Santa Barbara is cupped on site by two resident certified cuppers. This whole process enables farm management to reproduce successful processes and weed out anything that resulted in lesser results.
The final step is at the company owned drymill, which they have outfitted with sophisticated equipment. Thus, the farm controls every aspect of production, and they are extremely proud of this and their overall accomplishments and exactitude.
Cup Characteristics: Sweet - after all much of their work is toward maximizing sweetness. Milk chocolate mouthfeel. Tangerine acidity. Smooth, clean, long finish.
Roasting Notes: An extremely versatile coffee, Colombia Supremo is a large (screen 17/18) dense bean. You can experiment with roasting variations with this coffee as it can be successfully roasted between City+ and various dark roast levels.