About Colombia Finca El Mango
New crop arrived April 2018 in GrainPro. This very small lot is only a handful of bags, about 150 pounds each, from a 10 acre farm called Finca El Mango. Located in the Ituango micro region within Antioquia, the El Mango farm sits at an impressive 1800-1900 meter elevation. The producer is Gilberto Giraldo, who has been working in coffee for over 40 years. He got his start working for his father on his coffee farm, and after getting married he purchased Finca El Mango and began planting coffee on his own, mostly Caturra and Castillo varieties. While all of his children have moved onto different occupations, Gilberto has remained in coffee and has committed himself to the life long work of producing exceptional coffee. Gilberto stopped using chemical fertilizers 3 years ago but cannot afford quite yet to pay for official certifications that would be required to sell it as such. The farm itself is located in a very rural area where vehicles can not access the roads, so all of the coffee is transported from the farms by mules or horses.
Producer

: Gilberto Giraldo

Elevation: 1800 - 1900 meters / 5900 - 6250 feet
Varietal: Caturra/Castillo
Processing: Fully washed, fully sun dried
Farm size: 10 acres
We offered this coffee last season and it was fan favorite. We are pleased to have this new crop back again this year.

Cup Characteristics: Exotic orange rind, blackberry jam, gooseberry, rhubarb, oolong tea, Baker's chocolate, orange marmalade and molasses. Very succulent, mouth filling. Piquant and pleasant green apple acidity. Shows high grown pedigree and transparency.
Roasting Notes: Due to the high altitude that this coffee is grown at the beans are small and dense. To showcase the flavor profile we recommend pulling before second crack, but the bean is durable enough to withstand a darker roast if desired.
Colombia coffee facts:
Main crop seasons vary depending on location. For many the main crop is Sept - December. Some regions have a mid crop as well.
Population: 43.6 Million people
Domestic Consumption: 1.8 Million Bags of 70 Kg. (154 lb.)
Coffee Export: 12.5 Million Bags of 70 Kg. (154 lb.)
Cultivated Area: 1.1 Million Hectares (2.7 Million Acres)
Harvest: Main Crop: October to January (60%)
Fly Crop: April to June (40%)
Note: In Narino, due to its geography, Main and Fly crop seasons are reversed.
Arabica Introduced: From the Carribean through Venezuela
Farms: 300,000

Specialty Coffees:
Supremo basis of a 17 screen size
Excelso basis of a 16/17 screen size
Botanical Varieties:
Bourbon, Typica, Caturra, Maragogype, Variety Colombia (hybrid of Timor and Caturra)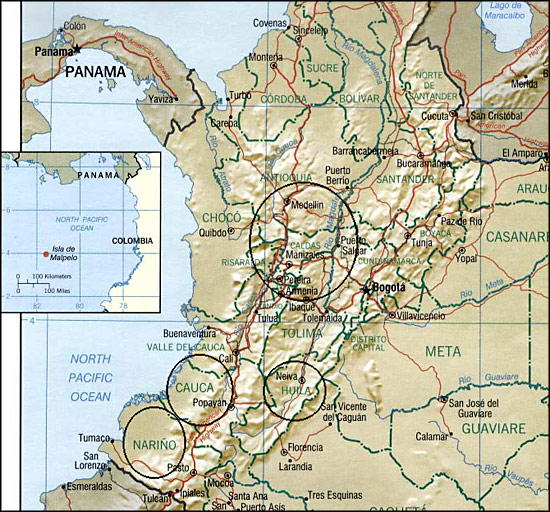 Crop Comments
Colombia is the second largest exporter of Arabica coffee in the world. All coffee grown is Arabica species, and mostly all is grown at high elevation and wet processed. Supremo is the country's highest grade though the highest elevation coffee can be smaller and thus not able to make the size grade although more concentrated. Colombia coffee has a well-earned reputation as having fine body, pleasant acidity and clean flavor. Each region brings a little something different to the final product.