About Colombia Finca El Rinconcito
Arrived February, 2020, new crop, in grainpro.
Finca El Rinconcito is located in Suaza, Huila, Colombia and run by Eduardo Urquina. The farm sits at an elevation of approximately 1,550 meters and consists of nearly 4 hectares in total. Of those 4 hectares, approximately 12,500 trees are Variedad Colombia and 5,000 trees are Pink Bourbon, the varietal represented here. Pink Bourbon was separated for this lot and explains the sweetness of the coffee.
Eduardo has an unusual washed processing routine. He ferments the coffee for 24 hours in cherry, de-pulps and then ferments it without water in the tank for another 38 hours. Upon washing, the coffee is dried in a greenhouse for around 20 to 25 days depending on the climate. This is our first time offering Eduardo's coffee and came to know it through and exporter who works with small, quality farms in various regions of Colombia. They work closely with a team of young growers called The Bean Project, whom share a vision concerning how producers should be treated, which includes fair, fixed pricing. Eduardo was interested and eventually came into the project.
We have a small quantity of this coffee and anticipate having it for roughly 2 months.
Farm: El Rinconcito
Producer: Eduardo Urquina
Country: Colombia
Region: Huila
Department: Suaza
Altitude: 1550 meters
Varietal: Pink Bourbon
Processing: Washed, with variations
Drying: On tables, in greenhouse for 20 to 25 days
Cup Characteristics: Very bright and juicy, red apple flavor. Lemon-lime acidity. Notes of cinnamon, nutmeg. Sweet.
Roasting Notes: As we often recommend for high grown coffee, quality coffees, the best flavors are attained between first and second crack, usually before second crack begins. However, some people prefer more developed roasts, though at the expense of some sweetness and brightness.
Colombia coffee facts:
Main crop seasons vary depending on location. For many the main crop is Sept - December. Some regions have a mid crop as well.
Population: 43.6 Million people
Domestic Consumption: 1.8 Million Bags of 70 Kg. (154 lb.)
Coffee Export: 12.5 Million Bags of 70 Kg. (154 lb.)
Cultivated Area: 1.1 Million Hectares (2.7 Million Acres)
Harvest: Main Crop: October to January (60%)
Fly Crop: April to June (40%)
Note: In Narino, due to its geography, Main and Fly crop seasons are reversed.
Arabica Introduced: From the Carribean through Venezuela
Farms: 300,000

Specialty Coffees:
Supremo basis of a 17 screen size
Excelso basis of a 16/17 screen size
Botanical Varieties:
Bourbon, Typica, Caturra, Maragogype, Variety Colombia (hybrid of Timor and Caturra)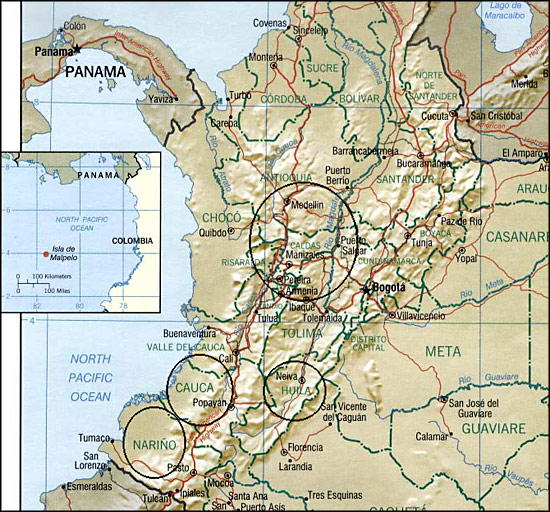 Crop Comments
Colombia is the second largest exporter of Arabica coffee in the world. All coffee grown is Arabica species, and mostly all is grown at high elevation and wet processed. Supremo is the country's highest grade though the highest elevation coffee can be smaller and thus not able to make the size grade although more concentrated. Colombia coffee has a well-earned reputation as having fine body, pleasant acidity and clean flavor. Each region brings a little something different to the final product.