About Colombia Finca El Porvenir
Arrived the last few days of April 2021, this is a new crop Colombia microlot.
This classic and elegant Colombia was produced by Jorge Isaias Macno at Finca El Porvenir in Giraldo. The farm consists of two plots, one at 1950 meters and the other at 2100 meters. There are around 4,800 coffee trees; a mix of caturra and castillo varietals.

The coffee is fermented in cherry for 12 hours and then de-pulped and dry fermented in jute bags for an additional 30 hours. Upon washing, the coffee is dried in a traditional greenhouse structure for between 8-12 days. During the main harvest, Jorge Isaias will hire between 10 and 15 temporary workers to assist with picking and while he is the name behind the lot, his wife and grandchildren also help out with various aspects of the pre and post-harvest process: picking, washing, drying and overall maintenance of the farm. For much of his younger years, Jorge Isaias was living in Uraba (West Antioquia), but due to the ongoing violence from the guerillas and paramilitaries in the region (many of which are still active today), he decided to return to Giraldo where his father allowed him to plant coffee at his farm. With the savings from the sale of various harvests, approximately 5 years later, he was able to purchase his own farm, where he resides to this day. Jorge Isaias also grows beans, corn and plantain, which is used as shade for the coffee trees. Coffee from the municipality of Giraldo consistently takes top 10 in regional coffee competitions, so it is no surprise that Jorge Isaias has taken first place for his coffees in the past.
Country: Colombia
Farm: Finca El Porvenir
Producer: Jorge Isaias Macno
Region: Antioquia
Municipality: Giraldo
Altitude: 1950- 2100 meters
Varietal: Caturra and Castillo
Process: Washed
Harvest Season: September-December
Cup Characteristics: Aromas of browning spices, cinnamon, and cacao. Flavors of dark fruit, malted grain, almonds, and hazelnuts. Juicy, clean, and sweet, with a pleasantly tart finish.
Roasting Notes: Due to the high altitude that this coffee is grown at the beans are small and dense. To showcase the flavor profile we recommend pulling before second crack, but the bean is durable enough to withstand a darker roast if desired.
Colombia coffee facts:
Main crop seasons vary depending on location. For many the main crop is Sept - December. Some regions have a mid crop as well.
Population: 43.6 Million people
Domestic Consumption: 1.8 Million Bags of 70 Kg. (154 lb.)
Coffee Export: 12.5 Million Bags of 70 Kg. (154 lb.)
Cultivated Area: 1.1 Million Hectares (2.7 Million Acres)
Harvest: Main Crop: October to January (60%)
Fly Crop: April to June (40%)
Note: In Narino, due to its geography, Main and Fly crop seasons are reversed.
Arabica Introduced: From the Carribean through Venezuela
Farms: 300,000

Specialty Coffees:
Supremo basis of a 17 screen size
Excelso basis of a 16/17 screen size
Botanical Varieties:
Bourbon, Typica, Caturra, Maragogype, Variety Colombia (hybrid of Timor and Caturra)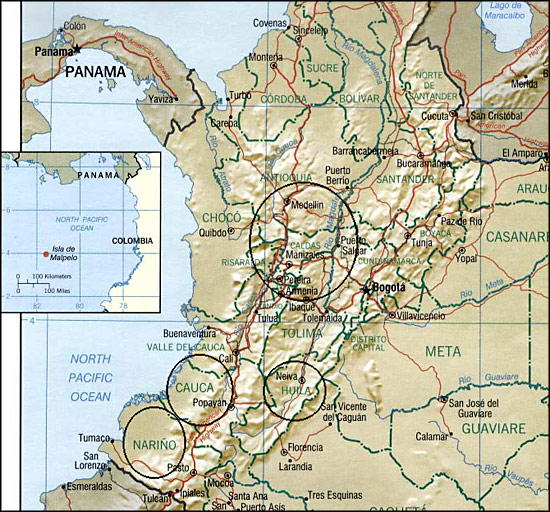 Crop Comments
Colombia is the second largest exporter of Arabica coffee in the world. All coffee grown is Arabica species, and mostly all is grown at high elevation and wet processed. Supremo is the country's highest grade though the highest elevation coffee can be smaller and thus not able to make the size grade although more concentrated. Colombia coffee has a well-earned reputation as having fine body, pleasant acidity and clean flavor. Each region brings a little something different to the final product.