About Colombia El Vergel Geisha Natural
New crop, just arrived in grainpro. This is an 'entry level' Geisha featuring an excellent price for quality. It is nice to see the beginning of Geisha availability at more down to earth price levels, enabling a greater number of people to experience the delicate floral and unique nature of this particular variety.
Finca El Vergel is located in Algeciras, Huila, Colombia and run by Robinson Rozo. The farm sits at an elevation of approximately 1,920 meters and consists of 68 hectares or roughly 170 acres. in total. Approximately 15 hectares are planted with coffee, or 41,500 trees in total. The 41,500 trees consist of the following varieties: 12,000 Caturra, 8,000 Variedad Colombia, 1,500 Typica, 14,000 Catimor and 6,000 Geisha.
Robinson, along with his siblings, each inherited a piece of the land and the 2.25 hectare that Robinson has planted are entirely Geisha trees. However, Robinson recently also bought another farm nearby and planted 2,000 trees of Java variety. El Vergel is unique in that all of the coffee processing from both farms is done on site. They have an extensive wet-mill and sufficient space to dry both washed and naturals, something quite rare for producers in Colombia. Robinson is a young, motivated producer, but not new to specialty. Before planting his own trees, Robinson learned how to cup at one of Colombia's local trade schools, El Sena.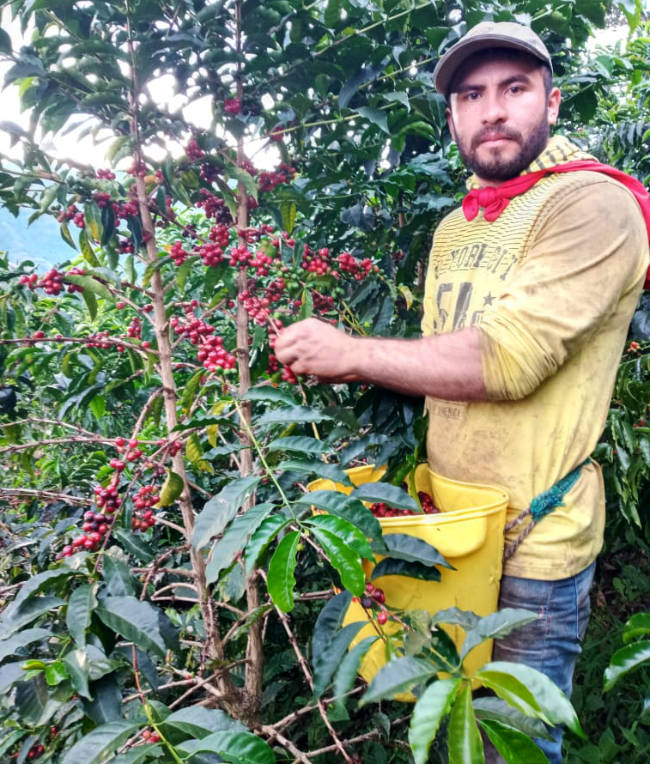 When producing washed versions of Geisha, Robinson uses two days of picking for each lot, with one part fermented 36 hours in cherry and the other lot fermented 12 hours in cherry and both blended together. For example, he picks on Monday, leaves the coffee in cherry, picks coffee the next day and then on Wednesday morning, he de-pulps and ferments anaerobically, in bags, for 26 hours. It is important to note that all coffee in floated in cherry before de-pulping. Upon washing the coffee, it is taken to dry, which can range anywhere from 20-25 days, depending on the climate.
Country: Colombia
Region: Huila
Municipality: Algeciras
Producer: Robinson Rozo
Variety: Geisha
Processing: Natural
Elevation: 1920 meters
Cup Characteristics: Aromas of blueberry, honeysuckle, jasmine, and savory notes. Flavors of plum, orange blossom, and citrus fruits. A fruity and floral geisha with a long smooth finish.
Roasting Notes: Geisha coffees need to be roasted on the light side in order to preserve their floral nature. Roast them too much and it will dissipate and much that you paid for will be lost. Let the coffee get fully past first crack, but if your roaster allows it, kick the heat down to nearly zero once first crack gets going and allow the coffee to slowly develop. You don't want to take this too close to second crack.