About Colombia Jeremias Lasso Geisha Lot #2
Arrived November 2017, new crop, in grainpro. This coffee has a very unique story, one that starts in Panama then takes on a life of its own in Colombia, and eventually made its way here to Connecticut, USA.
In 2009 a colleague of ours was determined to spread the SL28 varietal, native to Kenya, to other coffee producing areas of the world. As part of this endeavor, he traded some SL28 seedlings for 1 kilogram of Geisha seedlings from Daniel Peterson of the world famous Hacienda La Esmeralda in Boquete, Panama. Later that year the 1 kilogram of Geisha seedling was brought to a farm in the Southern Colombia town called Buenos Aires de Cartago in the Department of Narino along the north border with Ecuador. The farm was owned of Jeremias Lasso who planted half the seeds himself and gave the other half to family members. After four years, they were able to produce their first fruit from the Geisha seedlings. Luckily for us, 2017 is the first year that Jeremias has had a substantial enough harvest to export. While this coffee comes from the same prized Geisha seeds of Hacienda La Esmeralda and it does share some flavor notes, Jeremias' coffee has a unique and delicious flavor profile that we're pleased to share with our customers.
Producer: Jeremias Lasso
Country: Colombia
State: Nariņo
Region: Buenos Aires de Cartago
Altitude: 1800-1875 meters / 5900 - 6150 feet

Varietal: Geisha
Processing: Washed, 24 to 48 hour fermentation
Drying: on parabolic beds for 8+ days


Cup Characteristics
: Honeysuckle, sweet lime, meyer lemon and definite hints of sandalwood. Fragrant, floral geisha notes. Delicate, long finish.

Roasting Notes
: There is a balance that must be attained when roasting geisha coffees. The roast has to be light enough to not mask geisha's delicate floral notes, the primary draw of the varietal, though some are fruity more than floral but the logic still applies. But at the same time if the coffee is too lightly roasted it will lack body which will be apparent in the cup and the color of the brew; if too light you will need, at minimum, to use more coffee when brewing. The balance seems to be attained by letting first crack fully finish and at that point killing the heat source and allowing the beans to develop. The development time may be a little shorter than for other coffees but these are the general guidelines. You will know you got it right when you savor a beautifully perfumed cup with light, but substantial body.
Colombia coffee facts:
Main crop seasons vary depending on location. For many the main crop is Sept - December. Some regions have a mid crop as well.
Population: 43.6 Million people
Domestic Consumption: 1.8 Million Bags of 70 Kg. (154 lb.)
Coffee Export: 12.5 Million Bags of 70 Kg. (154 lb.)
Cultivated Area: 1.1 Million Hectares (2.7 Million Acres)
Harvest: Main Crop: October to January (60%)
Fly Crop: April to June (40%)
Note: In Narino, due to its geography, Main and Fly crop seasons are reversed.
Arabica Introduced: From the Carribean through Venezuela
Farms: 300,000

Specialty Coffees:
Supremo basis of a 17 screen size
Excelso basis of a 16/17 screen size
Botanical Varieties:
Bourbon, Typica, Caturra, Maragogype, Variety Colombia (hybrid of Timor and Caturra)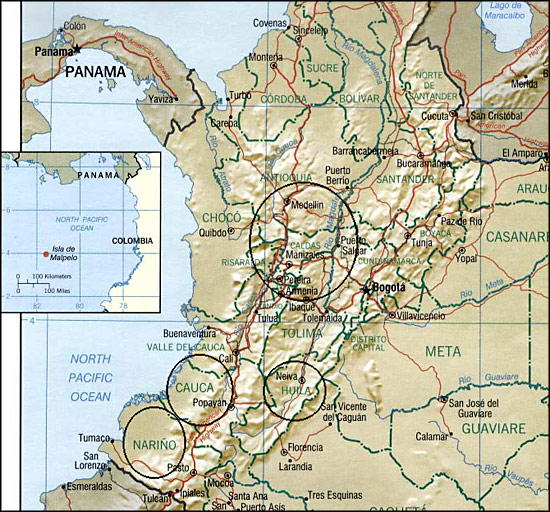 Crop Comments
Colombia is the second largest exporter of Arabica coffee in the world. All coffee grown is Arabica species, and mostly all is grown at high elevation and wet processed. Supremo is the country's highest grade though the highest elevation coffee can be smaller and thus not able to make the size grade although more concentrated. Colombia coffee has a well-earned reputation as having fine body, pleasant acidity and clean flavor. Each region brings a little something different to the final product.