About Colombia Narino Esteban Durango
Arrived the very end of February 2022 in GrainPro. This coffee arrived in the US in January.
El Cajon is located in the Narino Region of South Western Colombia near the Ecuadorian border. Colombian coffee production is often a mix of large scale commercial producers but also very small individual land owners who care greatly for their own coffees. In total there are over 250,000 small coffee farmers throughout the country.

Esteban Durango lives with his wife Graciela and daughter Elizabeth on the 1 hectare parcel where their coffee is grown. Mr. Durango is a perfect example of Colombia's move to shift away from an agrarian economy based on drug production to one based on coffee export. As internal tensions have calmed, between government forces and guerillas, farmers like Mr. Durango were able to take advantage of government sponsored programs geared towards citizens who were displaced by internal violence.

He has owned his farm for 5 years and has also greatly benefited from living next to a well established coffee farming family who took him under their wings. The result is a coffee with high acidity, sweetness, and body with hints of fruit and caramel.
Screen size is 14 to 16 and formally graded as Excelso as are many lots from very high altitudes such as this. High grown lots are concentrated and typically smaller due to the elevation.

Country: Colombia
Farm: El Cajon
Producer: Esteban Durango and Family
Region: Narino
Municipality: Buesaco Narino
Altitude: 2,110 meters
Varietal: Caturra, Colombia
Process: Washed
Harvest Season: September-December
Cup Characteristics: Aromas of dried apricot and white peach. Mildly tart yet very sweet and syrupy with a lingering fruity finish that holds up as the coffee cools.
Roasting Notes: This is a durable bean that can withstand roasting past 2nd crack but the more delicate sweetness and acidity are most pronounced when roasted to Full City, terminating the roast prior to any substantial 2nd crack.
Colombia coffee facts:
Main crop seasons vary depending on location. For many the main crop is Sept - December. Some regions have a mid crop as well.
Population: 43.6 Million people
Domestic Consumption: 1.8 Million Bags of 70 Kg. (154 lb.)
Coffee Export: 12.5 Million Bags of 70 Kg. (154 lb.)
Cultivated Area: 1.1 Million Hectares (2.7 Million Acres)
Harvest: Main Crop: October to January (60%)
Fly Crop: April to June (40%)
Note: In Narino, due to its geography, Main and Fly crop seasons are reversed.
Arabica Introduced: From the Carribean through Venezuela
Farms: 300,000

Specialty Coffees:
Supremo basis of a 17 screen size
Excelso basis of a 16/17 screen size
Botanical Varieties:
Bourbon, Typica, Caturra, Maragogype, Variety Colombia (hybrid of Timor and Caturra)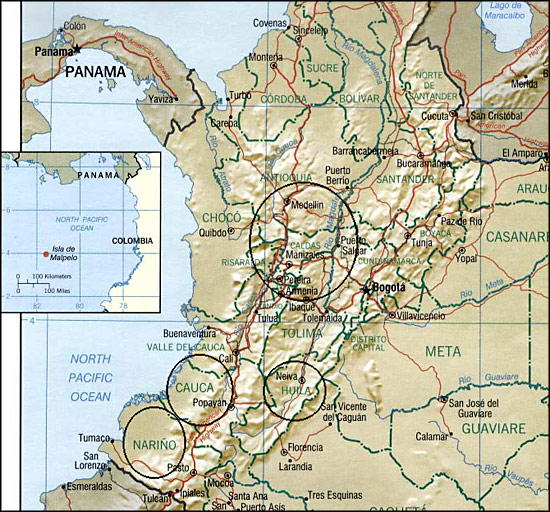 Crop Comments
Colombia is the second largest exporter of Arabica coffee in the world. All coffee grown is Arabica species, and mostly all is grown at high elevation and wet processed. Supremo is the country's highest grade though the highest elevation coffee can be smaller and thus not able to make the size grade although more concentrated. Colombia coffee has a well-earned reputation as having fine body, pleasant acidity and clean flavor. Each region brings a little something different to the final product.