About Colombia Finca El Chupadero
This small lot of coffee arrived in early December 2022, new crop, in grainpro. It is the second year we are offering this coffee, though each time we came to discover it through blind cupping. The arrival of coffees from Narino are exciting, usually offering some of the best Colombia has to offer.
The producer Fernando Martinez has a long history with coffee. He started working on coffee farms after finishing primary school, learning the necessary skills from his father. He now lives at El Chupadero with his wife, Daisy. Over the last 20 years they have been managing and improving the farm. Currently, Fernando is budgeting to add a warehouse area at the farm for increased storage and more controlled conditions. Our importer has been working with Fernando for several years and the income from his quality small lots has further enabled him to upgrade his drying facility and wetmill.
Narino is a department (state) in western Colombia and directly borders Ecuador to its south and the Pacific Ocean to its west. The Andes mountain chain starting in southern Chile and Argentina, cuts across Ecuador and enters Colombia in Narino, then proceeds northerly through all of the country. Narino is close to the equator, nearly 0 degrees latitude so the number of hours of sunlight is consistent all year long, each day 12 hours of light. Coffee from this region has significant acidity (liveliness), medium body, and clean, sweet flavors when properly harvested and processed. El Chupadero produces coffee at 2050 meters (6725 feet) because of its position near the equator. Coffee here can be produced up to 2300 meters without great concern of frost. Coffees grown at very high altitudes tend to have smaller beans with more concentrated flavors. In cooler, high mountain temperatures, Arabica coffee plants have slower metabolisms and creating more proteins and sugars. Indeed, this coffee is very sweet.
The word Chupadero translates to a pacifier or teething ring so we suspect coffee growing is a calming influence on the Martinez family.
Country: Colombia
Farm: El Chupadero
Producer: Fernando Martinez
Region: Narino
Municipality: La Union
Altitude: 2050 Meters
Varietal: Colombia, Castillo
Process: Washed, sun dried
Harvest Season: 2020 Harvest
Cup Characteristics: Aromas of cedar, nougat and roasted almonds. Flavors of stone fruit, dried apricot, apple pie,. Full bodied, balanced, juicy, sweet, bright and classy.
Roasting Notes: Due to the high altitude that this coffee is grown at the beans are small and dense. To showcase the flavor profile we recommend pulling before second crack, but the bean is durable enough to withstand a darker roast if desired.
Colombia coffee facts:
Main crop seasons vary depending on location. For many the main crop is Sept - December. Some regions have a mid crop as well.
Population: 43.6 Million people
Domestic Consumption: 1.8 Million Bags of 70 Kg. (154 lb.)
Coffee Export: 12.5 Million Bags of 70 Kg. (154 lb.)
Cultivated Area: 1.1 Million Hectares (2.7 Million Acres)
Harvest: Main Crop: October to January (60%)
Fly Crop: April to June (40%)
Note: In Narino, due to its geography, Main and Fly crop seasons are reversed.
Arabica Introduced: From the Carribean through Venezuela
Farms: 300,000

Specialty Coffees:
Supremo basis of a 17 screen size
Excelso basis of a 16/17 screen size
Botanical Varieties:
Bourbon, Typica, Caturra, Maragogype, Variety Colombia (hybrid of Timor and Caturra)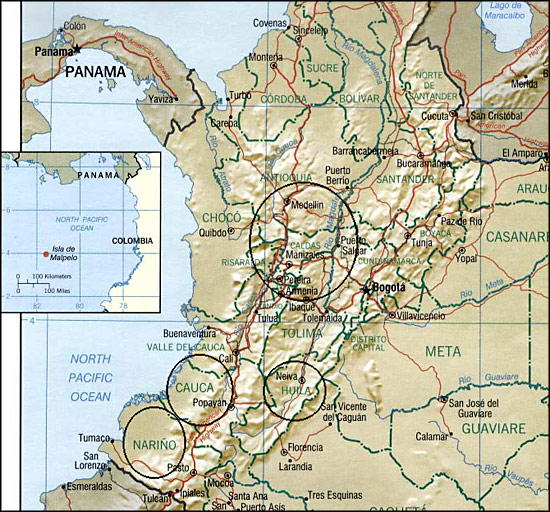 Crop Comments
Colombia is the second largest exporter of Arabica coffee in the world. All coffee grown is Arabica species, and mostly all is grown at high elevation and wet processed. Supremo is the country's highest grade though the highest elevation coffee can be smaller and thus not able to make the size grade although more concentrated. Colombia coffee has a well-earned reputation as having fine body, pleasant acidity and clean flavor. Each region brings a little something different to the final product.