About Colombia Geisha Cup of Excellence #2
Arrived January in vacuum packaging, airfreighted from origin. This is the #2 winner of the most recent Colombia Cup of Excellence which was held in October in Armenia, Quindio, Colombia. Roastmasters' company owner, Barry, was an international judge at the event and scored this coffee consistently high across three rounds of blind cupping. The top three scoring coffees were either completely Geisha varietal such as this coffee, or in one of the three, a blend of Geisha and another varietal. The final round score of the coffee was 91.18, the average of all judges, and thus won a Presidential Award given to coffees that score over 90 points. Only seventeen hundreths of a point separated this from the first place winner. Only 100 pounds are up for grabs.
The producing farmer Duberney Cifuentes Fajardo took 6th place in the 2017 CoE, the first time he entered the competition. Formally trained as a forest technician, he decided to become a coffee grower 13 years ago after rejecting the idea of settling down in the city. Four years ago he decided to focus on the high-quality varietal coffee production and today grows both Geisha and Caturra varieties on his farm. When he participated in the 2017 CoE he opted to present a 60/40 Geisha and Caturra blend whereas this year he went with 100% Geisha. He received the Presidential Award in both years, 2017 and 2018, a real distinction and evidence of his both consistency and improvement. He has added a new 3 hectare plot of land at the very high elevation of 2050 meters where he is experimenting with other varieties such as SL28, Pink Bourbon, Sidra and more Geisha.
He explains that this time he submitted a Gesha half washed and half honey processed. This decision was supported by his cupper in order to create more balance and sweetness in his coffee.
Competition Rank: 2
Farm Name: La Espana 1
Farmer: Duberney Cifuentes Fajardo
Score: 91.18
Altitude: 1780m
Country: Colombia
City: Planadas
Region: Tolima
Program: Cup of Excellence, Colombia 2018
Processing: Washed and Honey
Variety: Gesha
Auction Lot Size (lbs.): 429.9
Cup Characteristics: Jury notes - Aroma/Flavor: Sugarcane, white peach, floral, vanilla, lemon verbena, plum, mango, chardonnay, asian pear, peony, champagne. Acidity: Sparkling, malic, complex. Other: Very clean, sweet, juicy, green grape, starfruit, syrupy. Barry's notes - Floral jasmine, hibiscus, Meyer lemon, lime juice. Delicate. Smooth dark chocolate texture. Super sweet, ripe fruit, juicy and succulent. Notes of honey process. Excellent from start to finish. Delicious. Balanced. Very long finish.
Roasting Notes: Complete first crack then kill the heat and allow to develop but not not enter second crack at all. The light roast with extended development time should maximize florality and sweetness. Darker roasting with diminish the positive virtues of this varietal.
Colombia coffee facts:
Main crop seasons vary depending on location. For many the main crop is Sept - December. Some regions have a mid crop as well.
Population: 43.6 Million people
Domestic Consumption: 1.8 Million Bags of 70 Kg. (154 lb.)
Coffee Export: 12.5 Million Bags of 70 Kg. (154 lb.)
Cultivated Area: 1.1 Million Hectares (2.7 Million Acres)
Harvest: Main Crop: October to January (60%)
Fly Crop: April to June (40%)
Note: In Narino, due to its geography, Main and Fly crop seasons are reversed.
Arabica Introduced: From the Carribean through Venezuela
Farms: 300,000

Specialty Coffees:
Supremo basis of a 17 screen size
Excelso basis of a 16/17 screen size
Botanical Varieties:
Bourbon, Typica, Caturra, Maragogype, Variety Colombia (hybrid of Timor and Caturra)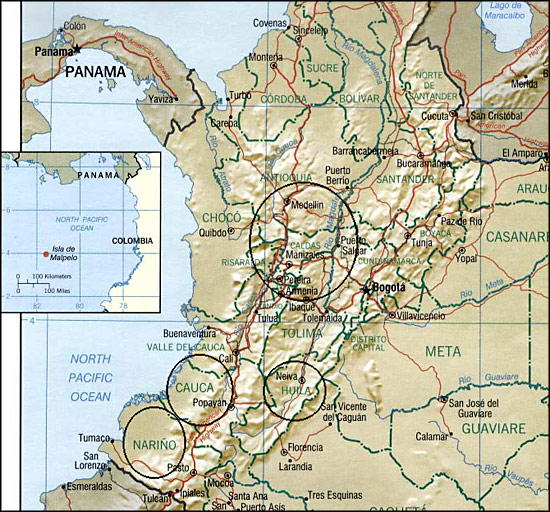 Crop Comments
Colombia is the second largest exporter of Arabica coffee in the world. All coffee grown is Arabica species, and mostly all is grown at high elevation and wet processed. Supremo is the country's highest grade though the highest elevation coffee can be smaller and thus not able to make the size grade although more concentrated. Colombia coffee has a well-earned reputation as having fine body, pleasant acidity and clean flavor. Each region brings a little something different to the final product.