About Colombia Narino Amparo Zapata
Arrived the very end of February 2022 in GrainPro. This coffee arrived in the US in January. This is one of two fine, fairly priced lots that we just acquired.

Dona Amparo is a classic example of hard work and determination. She lost her husband to illness nearly 20 years ago and single handedly raised 5 children on her own. To her credit two of her children now help her run day to day operations on the farm where they also live nearby with their own families.

A testament to their hard work, the family has produced a coffee that is very high in lively and piquant acidity with an above average body and high sweetness. Fruit flavors and tones of caramel lead to a unique cup with a clean, buttery finish.

Screen size is 14 to 16 and formally Excelso as are many lots from very high altitudes such as this. High grown lots are concentrated and typically smaller due to the elevation.

Country: Colombia
Farm: Finca Zapata
Producer: Amparo Zapata and Family
Region: Narino
Municipality:San Pedro de Cartago

Altitude: 1950 meters
Varietal: Caturra, Colombia
Process: Fully Washed
Harvest Season: September-December
Cup Characteristics: Savory aromas reminiscent of sun dried tomato. Flavors of buttercream. Very unique cup that is clean with a buttery smooth finish.
Roasting Notes: This is a durable bean that can withstand roasting past 2nd crack but the more delicate sweetness and acidity are most pronounced when roasted to Full City, terminating the roast prior to any substantial 2nd crack.

Colombia coffee facts:
Main crop seasons vary depending on location. For many the main crop is Sept - December. Some regions have a mid crop as well.
Population: 43.6 Million people
Domestic Consumption: 1.8 Million Bags of 70 Kg. (154 lb.)
Coffee Export: 12.5 Million Bags of 70 Kg. (154 lb.)
Cultivated Area: 1.1 Million Hectares (2.7 Million Acres)
Harvest: Main Crop: October to January (60%)
Fly Crop: April to June (40%)
Note: In Narino, due to its geography, Main and Fly crop seasons are reversed.
Arabica Introduced: From the Carribean through Venezuela
Farms: 300,000

Specialty Coffees:
Supremo basis of a 17 screen size
Excelso basis of a 16/17 screen size
Botanical Varieties:
Bourbon, Typica, Caturra, Maragogype, Variety Colombia (hybrid of Timor and Caturra)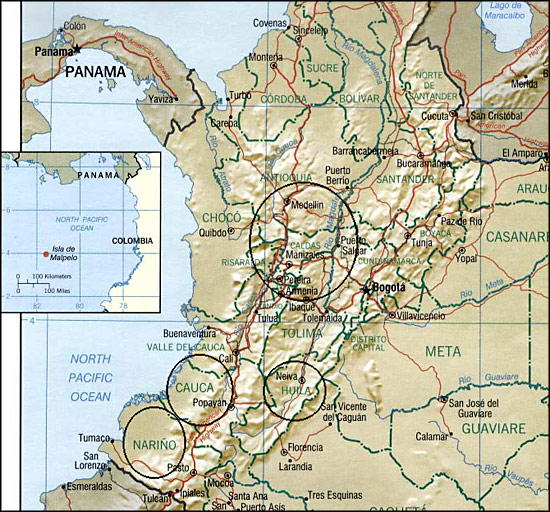 Crop Comments
Colombia is the second largest exporter of Arabica coffee in the world. All coffee grown is Arabica species, and mostly all is grown at high elevation and wet processed. Supremo is the country's highest grade though the highest elevation coffee can be smaller and thus not able to make the size grade although more concentrated. Colombia coffee has a well-earned reputation as having fine body, pleasant acidity and clean flavor. Each region brings a little something different to the final product.