About Panama Carmen Estate 1800
Latest crop available and a direct trade coffee. We have known our friend, Carlos Aguilera, the owner of Carmen Estate for close to 20 years. However, we have not been able to offer their excellent washed coffee in quite a long time and are pleased to have it available once again, albeit for just a few months.
Carmen Estate has won or placed in almost every Best of Panama competition:
2019 - #7 Geisha Washed
2018 - #3 Traditional Washed and #4 Geisha Natural
2017 - #2 Geisha Washed, #4 Geisha Washed (Palomar Estate), #5 Traditional Natural and #4 Traditional Washed
2015 - #5 Traditional Washed Caturra and #9 Natural
On and on back to at least 2003
Carmen Estate is located in the Volcan Valley part of the Baru Volcano region of Panama, near Boquete. The valley is considered the most important coffee growing region in Panama due to its elevation, dense vegetation, volcanic soil and diverse micro-climates. The cool, frost-free nights coupled with dry, sunny days create ideal coffee growing conditions. The farm's coffee is grown at an altitude of 5,900 feet. Carmen Estate produces about 1200 bags of green coffee annually; they grow catuai, caturra, typica and geisha varietals. It is harvested from December through March and hand picked by the Nobes, the indigenous people of Panama. Their coffee is usually wet (washed) processed and sun or mechanically dried on the farm. While they have become adept at natural processing, their "signature coffees" are still washed traditional varieties. Carlos practices strict agricultural and environmental standards; the farm is more than half forested by native trees, which naturally shade the coffee and it is certified by the Rainforest Alliance.
Farm: Carmen Estate
Province: Chiriqui
District: Tierras Altas
Corregimiento: Volcan
Altitude: 1800 masl
Coffee Variety: Caturra
Processing: Washed
Cupping Characteristics: A very clean, bright cup, Carmen Estate is a classic Panama coffee full of subtle citrus acidity. It is refined and sweet with layers of delicate favors including chocolate and fruit. Extremely well balanced with a pleasingly dry finish.
Roasting Notes: Roasting Notes: City + to FC maximum. Keep it on the light (City+) side to retain the citrus brightness and keep away roasty flavors.
Panama coffee facts:
Population (2018): 4.1 million people
Coffee Production: 100,000 bags (60 kg)
Country bag capacity: 132 pounds - 60 kg
Domestic Consumption: 50,000 bags
Coffee Export: 50,000 bags
Cultivated Area: 26,000 Hectares (64,200 acres)

Harvests: October - February

Arabica Introduced: Arabica was imported from Costa Rica in 1820.
Specialty Coffee Regions: Boquete and Volcan, near Volcan Baru, Chiriqui.
Grades: Strictly Hard Bean (SHB), HB.
Farms: About 30,000 farms.
Botanical Varietals: Typica, Caturra, Gesha, Catuai, Pacamara.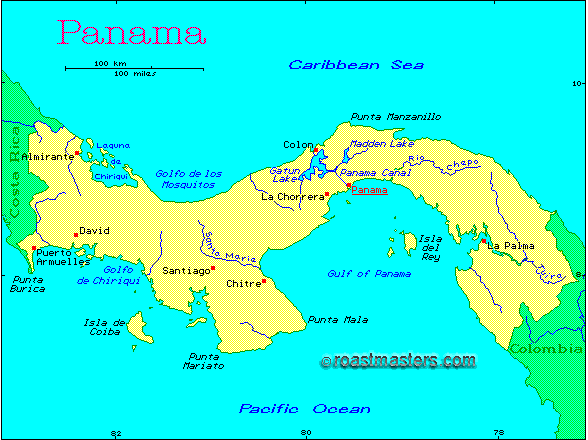 Comments
Panama is a rising star in the specialty coffee world. In the Boquete in particular, farmers are taking Arabica coffee cultivation to new levels and recent auctions of small, specialty lots have garnered record, if not silly, prices. Nonetheless, some of the coffee is excellent. Gesha, a varietal that stems from Ethiopia, has been grown here with good success, yet other cultivars noted above, can produce superb results.