About Burundi Gahahe Washing Station Natural
Arrived early February, new crop in Grain-pro.
Most of the coffee we purchase from Burundi is washed; we have in the past also offered the traditional Burundian process where the coffee is pulped and "dry fermented" before being washed. Very rarely do we see lots of natural process Burundi like this listing. During this processing the skin and pulp of the coffee cherry are not removed prior to drying on African style raised beds. When the desired moisture content is achieved, the dried cherries are milled down to the internal seed or bean. The sweet, fruity mucillage of the cherry penetrates the inner beans during this process, leaving a very noticeable fruitiness that can range from mild to extreme.
The Gahahe Washing Station was built in 1989, and is one of 13 owned by Greenco in Kayanza Province. The name 'Gahahe' comes from the Igihahe Trees once found in the region. Like most of the coffee grown in Burundi, the washing station processes cherries for small-holder subsistance farmers; most have 245 trees on average, and grow other food crops for their own supply. During the harvest season the washing station processes over 600 tons of coffee cherries from its 1250 members, and has a monitoring system in place to ensure coffee traceability. This extra effort has paid off - the Gahahe Washing Station won 7th and 17th place in the Burundi Cup of Excellence competition in 2014, and took 4th place in 2015.
Province: Kayanza
Commune: Kayanza
Altitude: 1805 Meters above sea level
Coffee Variety: Bourbon
Processing: Natural
Cup Characteristics: Flavors of cherry, milk chocolate, tangerine, lemon-lime zest. Juicy, citric acidity.
Roasting Notes: Natural processed coffees roast more quickly than washed coffee and usually produce more chaff. Roast slowly to develop a fuller profile and pull the roast before second crack, though some may prefer to go a little further. On a Behmor try P3 as a starting point.
Burundi coffee facts:
Population: 8.98 million people
Coffee Production: 515 thousand bags (60 kg) or 68 million pounds. Arabica is 96% of production.
Country bag capacity: 132 pounds - 60 kg
Domestic Consumption: Very little.
Coffee Export: 510 thousand bags (60 kg)
Cultivated Area: 60,000 hectares (about 150,000 acres)

Harvests: February - June

Arabica Introduced: Arabica introduced by the Belgians in early 1930s.
Specialty Coffee Regions: The western and central regions.
Grades: Superior grades of washed coffee are Ngoma Mild, AA and A based on size and number of allowable defects. Average moisture content is 11.5%.
Farms: Entirely small holder based activity with over 800.000 families directly involved in coffee farming. Farms are very small with most only 50 to 250 trees per farm. Coffee is cultivated at altitudes ranging from 1250 and 2000 meters above sea level.
Botanical Varietals: Bourbon almost exclusively but very small quantities of Jackson and Mibirizi.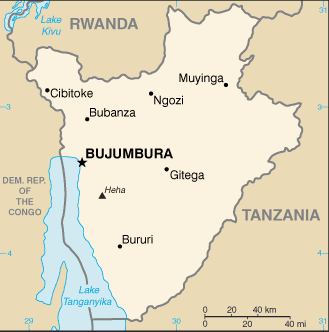 Comments
Since land is scarce in small Burundi it is more economically desirable that the specialty coffee be developed for its improved income. At present there are about 140 washing stations where local subsistence farmers can bring their freshly harvested coffee cherries for processing. Most processing is traditional washed method, with some semi washed being done where washing stations do not yet exist. Burundi is landlocked between Rwanda, Tanzania and the Democratic Republic of Congo with a significant portion of its land adjacent to Lake Tanganyika. Coffee from Burundi is attracting increasing attention from the specialty coffee industry, as has neighboring Rwanda.