About Burundi Kibingo Washing Station
Arrived early June, new crop in Grainpro. This is our first time offering coffee from the Kibingo Washing Station, located in Kayanza Province, near the border with Rwanda. The washing station was built in 1986, and currently collects coffee cherries from over 3,500 local farmers. It lies at an altitude of 1893 meters or 6200 feet, close to the Congo-Nile Crest. The washing station is known for its wooden bridge that was built over the river that runs through it. The name 'Kibingo' comes from the Kirundi word urubingo which means 'reeds'. Reeds were planted along the river to contain the water and to prevent the surrounding soils from eroding.
Coffee in Burundi is mainly grown on small farms which do not process the cherry themselves, but rather, bring it to the local washing station. The best run stations pay more for quality cherry, meaning they are all fully ripe, well developed and brought from the farm rapidly to be immediately processed. This is perhaps most evident at Kibingo Washing Station, whose coffees have placed in the top 10 of the Cup of Excellence competition in 2017, 2015 and 2013, and won 1st Place in 2017. While this offering comes from other farmers and lots at the washing station, we feel there is still evidence of this care and attention to coffee quality.
In Burundi the majority of coffee is grown by subsistance farmers. In fact, about 800,000 families in this small country of only 9 million people are involved with the industry; it accounts for 80 percent of Burundi's export revenue. Almost all of the coffee grown is Arabica, and of the Bourbon varietal. Farmers grow crops for their own food supply, but also grow some cash crops (like coffee). Most individual farmshave between 50 and 250 trees, only enough for a couple of sacks of coffee in total. The coffee, once picked, has to be rushed to the washing station.
Burundi has a unique coffee processing tradition, where coffee cherries are pulped and "dry fermented" for up to 12 hours before being fully washed with clean mountian water, anywhere between 12 and 24 hours. Finally the beans are soaked for an additional 12 to 18 hours before being dried in parchment on raised beds. This process, in addition to the high elevation where the coffee is grown, leads to a clean, high quality cup.
Province: Kayanza
Commune: Kayanza
Altitude: 1,893 meters above sea level / 6200 feet
Coffee variety: Bourbon
Processing: Washed
Cup Characteristics: Flavors of jasmine and chocolate with a delicate body and acidity.
Roasting Notes:Sturdy, dense Bourbon beans can be roasted light to dark. Our personal preference is to pull at the very start of second crack; here some high notes will be present while the chocolate notes will be well defined. A slightly darker roast, like Viennese roast, will make an interesting single origin espresso.
Burundi coffee facts:
Population: 8.98 million people
Coffee Production: 515 thousand bags (60 kg) or 68 million pounds. Arabica is 96% of production.
Country bag capacity: 132 pounds - 60 kg
Domestic Consumption: Very little.
Coffee Export: 510 thousand bags (60 kg)
Cultivated Area: 60,000 hectares (about 150,000 acres)

Harvests: February - June

Arabica Introduced: Arabica introduced by the Belgians in early 1930s.
Specialty Coffee Regions: The western and central regions.
Grades: Superior grades of washed coffee are Ngoma Mild, AA and A based on size and number of allowable defects. Average moisture content is 11.5%.
Farms: Entirely small holder based activity with over 800.000 families directly involved in coffee farming. Farms are very small with most only 50 to 250 trees per farm. Coffee is cultivated at altitudes ranging from 1250 and 2000 meters above sea level.
Botanical Varietals: Bourbon almost exclusively but very small quantities of Jackson and Mibirizi.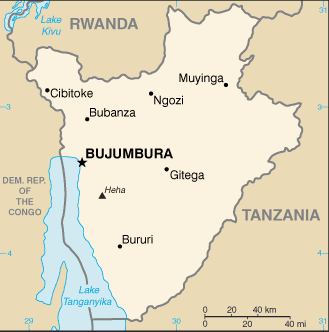 Comments
Since land is scarce in small Burundi it is more economically desirable that the specialty coffee be developed for its improved income. At present there are about 140 washing stations where local subsistence farmers can bring their freshly harvested coffee cherries for processing. Most processing is traditional washed method, with some semi washed being done where washing stations do not yet exist. Burundi is landlocked between Rwanda, Tanzania and the Democratic Republic of Congo with a significant portion of its land adjacent to Lake Tanganyika. Coffee from Burundi is attracting increasing attention from the specialty coffee industry, as has neighboring Rwanda.