About Panama Kotowa Las Brujas Geisha Washed
New crop arrived September 2017 in vacuum packages. This washed processed Geisha comes from the Kotowa farm in Panama. Only 9 pounds of this coffee remain for sale!
The Kotowa farm, in its third generation, has several outstanding plots of land; this particular lot is from a portion of the farm called Las Brujas. We have had the pleasure of visiting Kotowa's farms, their old wetmill and their wonderful home, overlooking the beautiful Boquete mountainside and the Baru Volcano. Ricardo Koyner owns coffee shops too, located throughout Panama City and elsewhere in Panama, so much of Kotowa's production is used at home, reducing exportable quantities. In 2016 Cafe Kotowa was awarded the 3rd edition of the Best Producer Panama Cup which recognizes the producer whose coffees make it to the final round of each category in the Best of Panama competition.
Arrived packed in Grainpro bags.
Farm Name: Café Kotowa
Coffee Name: Kotowa Las Brujas
Crop Year: 2017
Variety: Geisha
Process: Washed
Elevation: 1800 meters
Growing Region: Southwestern Boquete
Owner: Ricardo Koyner
Exporter: Specialty Coffee Association of Panama
Mill: Café Kotowa
In 2006, The National Environmental Agency presented Kotowa Coffee as the winner of The Panama National Award for "The Years Environmentally Cleanest Industry". They provide free medical attention for their workers, and for the children they have a nursery with meals and a school program. Kotowa's social programs for the children and families producing this great coffee has earned them recognition from UNICEF nine years in a row.
Cup Characteristics: Floral notes and Geisha character comes through right at the outset. Orange zest, delicate spice, black tea and chamomile with hints of lemongrass on the finish.
Roasting Notes: Like most dense, hard bean and delicate coffees, we always suggest keeping it to the lighter roast side, maybe midway between first and second crack. This maximizes nuances, in this case the sweet acidity and floral Geisha notes that further roasting will diminish.
Panama coffee facts:
Population (2018): 4.1 million people
Coffee Production: 100,000 bags (60 kg)
Country bag capacity: 132 pounds - 60 kg
Domestic Consumption: 50,000 bags
Coffee Export: 50,000 bags
Cultivated Area: 26,000 Hectares (64,200 acres)

Harvests: October - February

Arabica Introduced: Arabica was imported from Costa Rica in 1820.
Specialty Coffee Regions: Boquete and Volcan, near Volcan Baru, Chiriqui.
Grades: Strictly Hard Bean (SHB), HB.
Farms: About 30,000 farms.
Botanical Varietals: Typica, Caturra, Gesha, Catuai, Pacamara.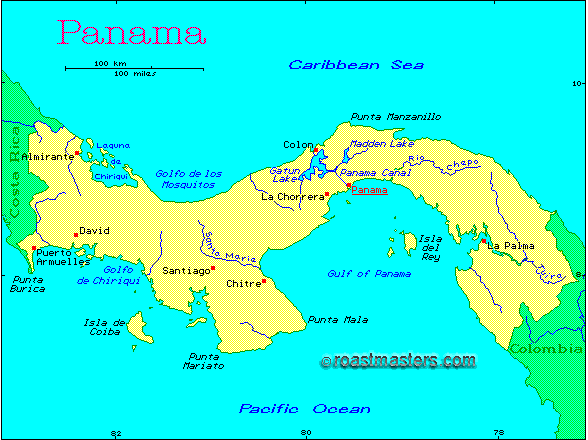 Comments
Panama is a rising star in the specialty coffee world. In the Boquete in particular, farmers are taking Arabica coffee cultivation to new levels and recent auctions of small, specialty lots have garnered record, if not silly, prices. Nonetheless, some of the coffee is excellent. Gesha, a varietal that stems from Ethiopia, has been grown here with good success, yet other cultivars noted above, can produce superb results.