About Brazil Fazenda Barra Grande Natural
Latest arrival April 2017.
We are pleased to offer a new coffee from the Barra Grande Estate in Brazil, owned by a third generation coffee farmer named Sildes Caixeta. The farm is located in a region called "Alto Barreiro" which borders Poco Fundo and Machado in Minas Gerais, Brazil and is at a quite high altitude of 1200 meters (almost 4,000 feet). Although the farm was owned by Sildes' grandfather, it was sold during his childhood, only to be bought back by Sildes in 1985. He has a sense of pride and passion for the land given the rich family history. He is quoted as saying the biggest lesson of his life is that "patience is everything" which is a testament to not only his reclaiming the once lost farm so many years later, but also for the art of coffee growing he has since mastered.
Sildes says that the secret to his coffee is the patience he exhibits by not rushing the growing process, rotating the cherries multiple times during drying and ensuring that the result is quality over quantity. The farm grows a mix of two varietals, Mundo Novo and Yellow Catuai, both of which are naturally processed.
Location: Minas Gerais region
Altitude: 1200 meters/3900 feet
Varieties: Yellow Catuai, Mundo Novo
Process: Natural
Drying: Sun and mechanical dried
Harvest: June - August
The beans are a mix of Yellow Catuai and Mundo Novo which is planted extensively throughout Brazil. Mundo Novo itself is a cross between Typica (from Java and Sumatra) and Bourbon.
Cup Characteristics: Flavors of dark chocolate with a smooth, long finish and a well balanced body. Smooth, earthy body with noticeable viscous milk chocolate mouthfeel. Mild fruit penetration. Good base for espresso.
Roasting Notes: Coffees from these altitudes, fairly high for Brazil, produce slightly softer beans than other higher origins in other and more mountainous countries. Thus, slower roasts can be done and especially to even out color as with most naturals. This coffee will produce earthy body and is a great candidate for single origin espresso. We advise pulling the roast before second crack has commenced, or just at its start.
Brazil coffee facts:
Population (2006): 188 million people
Coffee Production: 44 million bags (60 kg)
Country bag capacity: 132 pounds - 60 kg
Domestic Consumption: 17 million bags
Coffee Export: 27 million bags
Cultivated Area: 2.83 million hectares (over 7 million acres)

Harvests: June-September

Arabica Introduced: Early 18th century via French Guyana
Specialty Coffee Regions: Parana, Sao Paulo, Minas Gerais, Rio De Janeiro, Espirito Santo, Bahia, Pernambuco.
Grades: AA Plus, AA, peaberry
Botanical Varietals: Bourbon, typical, caturra, mondo novo, catuai, maragogype.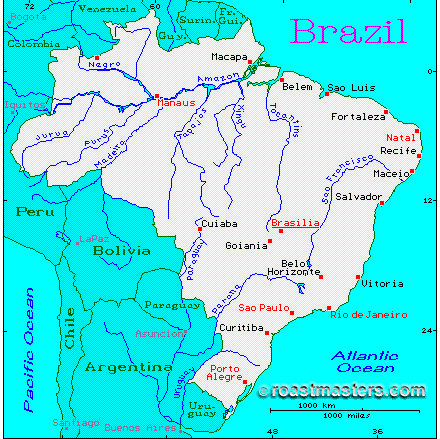 Comments
Brazil is the world's largest coffee producer, offering a wide variety of taste profiles.