About Brazil Fazenda Passeio Natural
Arrived January 2019, in grainpro bags.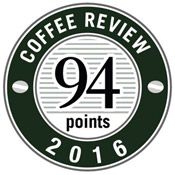 Fazenda Passeio is located in the southern part of Minas Gerais, where an abundance of specialty coffees are grown. Headed by Rodolfo Henrique Vieira Ferreira, the estate focuses not only on the production of fine coffees, but the preservation of the surrounding environment. Currently 130 hectares are devoted to the production of coffee. The Vierira Ferreira family has been producing coffee in the region for over three generations. Their aim is to improve and increase productivity with respect to the environment and the local workforce, which is a large part of the operation. There is a strong emphasis on social improvement as well. All of the local workers receive social support,such as schooling for their children, workforce training, and environmental education.
The coffee is picked by hand which for Brazil is not extremely common and then processed the same day. It is then dried on the patio for a few days before it is placed in the mechanical drier to finish. The coffee is then rested for 45-60 days. The coffee is then sorted to eliminate defects before it is readied for export.
Name: Fazenda Passeio
Processing: Natural (dry) process
Varieties: Yellow Catuai, Mundo Novo, Acaia
Certification: BSCA (Specialty Coffee of Brazil)
Location: Sul de Minas, Minas Gerais, Monte Belo
Altitude: 1200 meters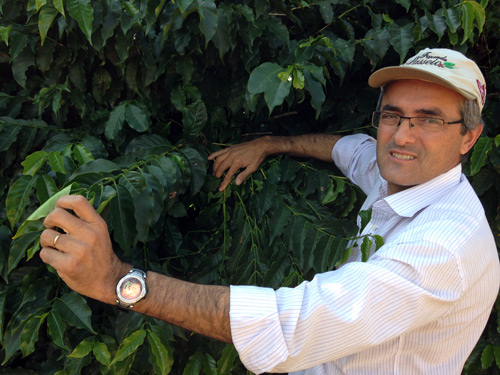 Full Natural Processing
Beans are sorted according to density. Drying requires a great deal of care and specialized handling. The result is a natural coffee with a more aromatic cup quality, which is rich in flavor, homogeneous and clean. The complex flavors of the beans are preserved by harvesting them at exactly the right stage of ripeness. Costs increase as the use of well-trained workers is essential to obtain top quality beans. In this process the entire coffee cherry is dried and the drying fruit imparts flavor to the bean within. The result is fruity, mild cup, with low acidity and notable fruit sweetness.
Cup Characteristics: Black tea tannins start dry then open to reveal raisiny, dark concentrated fruit. Mildly acidic background, smooth finish. Dark chocolate, dried fruit, sugar cane, big bodied, silky.
Roasting Notes: Coffees from these altitudes, while relatively high for Brazil, produce somewhat softer beans than other higher origins. Thus, slower roasts can be done. This coffee will produce earthy body and is a great candidate for single origin espresso. We advise pulling the roast before second crack has commenced, or just at its start.
Brazil coffee facts:
Population (2006): 188 million people
Coffee Production: 44 million bags (60 kg)
Country bag capacity: 132 pounds - 60 kg
Domestic Consumption: 17 million bags
Coffee Export: 27 million bags
Cultivated Area: 2.83 million hectares (over 7 million acres)

Harvests: June-September

Arabica Introduced: Early 18th century via French Guyana
Specialty Coffee Regions: Parana, Sao Paulo, Minas Gerais, Rio De Janeiro, Espirito Santo, Bahia, Pernambuco.
Grades: AA Plus, AA, peaberry
Botanical Varietals: Bourbon, typical, caturra, mondo novo, catuai, maragogype.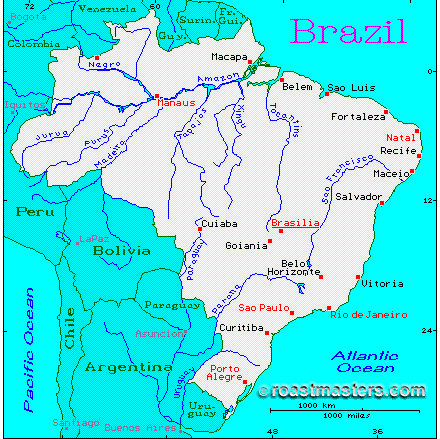 Comments
Brazil is the world's largest coffee producer, offering a wide variety of taste profiles.