About Brazil Natural Sitio Baixadao
Arrived mid March 2017 directly from origin in grainpro. This is a very unusual and high value coffee proposition. This coffee was the highest scoring coffee of all time in the Cup of Excellence when it won the 2015 Brazil Late Harvest Cup of Excellence Competition with a score of 95.18 points. The whole lot of 2000+ pounds was purchased at the time for $23.80 a pound and was then featured prominently at the opening a well known coffee company's new boutique concept where they sold it roasted for $40 per 8 ounces. We wound up with this year's crop because it was entered in a regional competition in Cocarive, a section of Carmo de Minas in south eastern Brazil. We were sent all of the same coffees that had been judged in the competition and which were yet to be auctioned. Sitio Baixadao was our clear favorite and we were required to place a blind offer for it. We then found out that, for some reason we still do not comprehend, it took 9th place in the competition with a score of 87.87; we would surely have placed at the top and given it a significantly higher score. But, this worked to our advantage and now to yours as we won the auction at a price that makes this coffee a tremendous bargain. Buy it now as it will not last long.
Sitio Baixadao is owned by two brothers, Antonio Marcio da Silva and Sebastiao Afonso da Silva, who have 13 other siblings. They grew up with a family who worked in rice production and 20 years ago they decided to move into the coffee growing business. What started as just one hectare of land dedicated to coffee cultivation turned into the family's main source of income and a deep passion for their product.
The farm is located in the city of Cristina in the south of Minas Gerais where a lot of coffee is produced due to the favorable conditions like fertile soil, well-defined seasons, and high elevations. The total farm size is 5 hectares and the highest elevation is 1400 meters. This particular lot is a Catuai varietal and a full natural process. As noted above in 2015 this same farm took not only took 1st place in the Brazil Cup Of Excellence, but earned the highest score ever given in a Cup of Excellence Competition, very impressive! In the same year it also garnered 1st place in the Ernesto Illy Quality Award for Espresso Coffee.
The producers are members of the APROCAM which is an organization that guarantees the source and traceability of lots. The farm is committed to sustainable growing practices through responsible agricultural guidelines and preservation of natural resources. All of the harvesting is done manually and the processing is done right on the farm. Coffee is sun-dried on patios and later finished via mechanical drying to ensure consistency. Once the coffee is ready for export it is stored at COCARIVE (Cooperativa Regional dos Cafeicultores do Vale do Rio Verde) which gives members support throughout every stage of coffee production, including the area of commercialization where they have a department dedicated entirely to high scoring lots such as this.
Cup Characteristics: Aroma of red wine, mango, dark fruits. Green apple, champagne, citric acidity. Creamy body, complex and juicy.
Roasting Notes: Coffees from these altitudes, while relatively high for Brazil, are somewhat softer than other origins. Thus, slower roasts can be done. This coffee will produce earthy body and is a great candidate for single origin espresso. We advise pulling the roast before second crack has commenced, or just at its start.
Brazil coffee facts:
Population (2006): 188 million people
Coffee Production: 44 million bags (60 kg)
Country bag capacity: 132 pounds - 60 kg
Domestic Consumption: 17 million bags
Coffee Export: 27 million bags
Cultivated Area: 2.83 million hectares (over 7 million acres)

Harvests: June-September

Arabica Introduced: Early 18th century via French Guyana
Specialty Coffee Regions: Parana, Sao Paulo, Minas Gerais, Rio De Janeiro, Espirito Santo, Bahia, Pernambuco.
Grades: AA Plus, AA, peaberry
Botanical Varietals: Bourbon, typical, caturra, mondo novo, catuai, maragogype.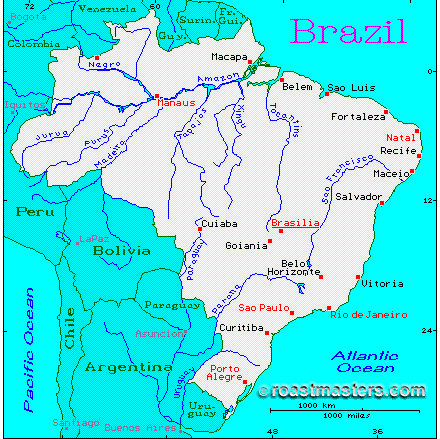 Comments
Brazil is the world's largest coffee producer, offering a wide variety of taste profiles.