About Brazil Legender Sitio Taquara Natural
Arrived March 2022 in grainpro, new crop.

Roberto Bernardes lives with his family in a community called Posses, in the municipality of Campestre MG. His father moved to the region looking for an opportunity: a piece of land to grow coffee. Roberto is the third generation of farmers and recalls his early days, "Our production was quite limited and it was so hard to trade our coffees. No paved roads, no mechanical driers, basic information was simply not available and we had no idea if we were going to cover our costs with prices offered". Roberto has worked with his father since he was 13 years old. With the support of his wife Bernadete and sons Elielton and Roberto Jr., Mr. Bernardes grows Yellow Catuai at Sitio Taquara. The name "Taquara" is a variety of bamboo quite common in Brazil.
Legender, as a coffee buying group, was founded in 2012 focused on offering the best coffees grown in their region. They provide full traceability of all of coffee lots and their partner producers are fully committed to environment friendly practices. The group is focused on building strong and lasting relationships with their grower partners.
Farmer: Roberto Bernardes
Farm: Sitio Taquara
Region: Campestre
State: Minas Gerais
Altitude: 1200 Meters above sea level
Processing: Pulped Natural
Varietal: Yellow Catuai
Harvest: July-September
Cup Characteristics: Flavors of vanilla, roasted almonds and hazelnut with milk chocolate mouthfeel. Very aromatic, with chocolaty body, a creamy mouthfeel, and a long, sweet finish. A solid, clean, and well structured coffee.
Roasting Notes: We prefer to stop this coffee before the outset of second crack, in order to preserve citrus notes and brightness. To roast it too dark would mean that many of its subtleties would be lost, but be sure to have a first crack plus at least a full minute of development time and possibly first sounds of second crack.
Brazil coffee facts:
Population (2006): 188 million people
Coffee Production: 44 million bags (60 kg)
Country bag capacity: 132 pounds - 60 kg
Domestic Consumption: 17 million bags
Coffee Export: 27 million bags
Cultivated Area: 2.83 million hectares (over 7 million acres)

Harvests: June-September

Arabica Introduced: Early 18th century via French Guyana
Specialty Coffee Regions: Parana, Sao Paulo, Minas Gerais, Rio De Janeiro, Espirito Santo, Bahia, Pernambuco.
Grades: AA Plus, AA, peaberry
Botanical Varietals: Bourbon, typical, caturra, mondo novo, catuai, maragogype.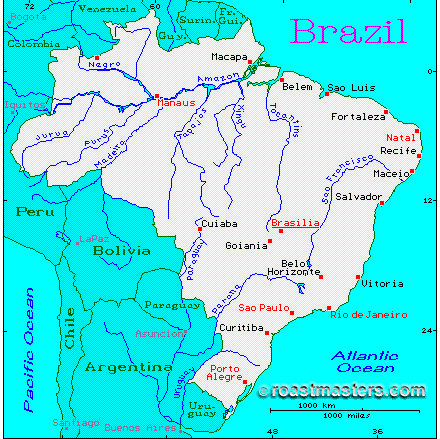 Comments
Brazil is the world's largest coffee producer, offering a wide variety of taste profiles.