About Brazil Legender Sitio Colina Natural
Arrived March 2023, new crop, in Grainpro bags.
Marco Angelo Scalco hails from the rural region of Poco Fundo in Brazil and has been cultivating coffee for 15 years alongside his wife, Ana, and brother, Paulo. As a third-generation coffee producer, Mr. Scalco inherited his farm from his father in 2012, who had spent 50 years growing coffee. Despite having a smaller overall production, Mr. Scalco prides himself on the exceptional quality of his coffee. He believes that high-quality produce is essential to cover the high production costs and provide a decent livelihood for his family. The Sitio Colina farm is located in Cachoeirinha, just outside of Poco Fundo, where the community collaborates on harvest schedules to minimize labor expenses. The community's approach of sharing equipment, storage facilities, and other resources serves as a source of inspiration for neighboring communities.
Producer

: Marco Angelo Scalco

Region

: Cachoeirinha

Elevation

: 1100 meters

Varietals

: Yellow Catuai, Red Catuai

Milling Process

: Natural

Drying Process

: Patio

Harvest Months

: June to September
The Scalcos, father and son

Legender, as a coffee buying group, was founded in 2012 focused on offering the best coffees grown in their region. They provide full traceability of all of coffee lots and their partner producers are fully committed to environment friendly practices. The group is focused on building strong and lasting relationships with their grower partners.
Cup Characteristics:
Aromas of cherry vanilla. Flavors of cherry cola with milk chocolate tones. Soft, smooth mouthfeel. Overall, a clean, sweet cup and lively at the start of the new season.
Roasting Notes: Brazilian coffees are somewhat softer and less dense due to their elevation, so heat is absorbed more quickly. We prefer to stop this coffee before the outset of second crack, in order to preserve citrus notes and brightness. To roast it too dark would mean that many of its subtleties would be lost, but be sure to have a first crack plus at least a full minute of development time and possibly first sounds of second crack.
Brazil coffee facts:
Population (2006): 188 million people
Coffee Production: 44 million bags (60 kg)
Country bag capacity: 132 pounds - 60 kg
Domestic Consumption: 17 million bags
Coffee Export: 27 million bags
Cultivated Area: 2.83 million hectares (over 7 million acres)

Harvests: June-September

Arabica Introduced: Early 18th century via French Guyana
Specialty Coffee Regions: Parana, Sao Paulo, Minas Gerais, Rio De Janeiro, Espirito Santo, Bahia, Pernambuco.
Grades: AA Plus, AA, peaberry
Botanical Varietals: Bourbon, typical, caturra, mondo novo, catuai, maragogype.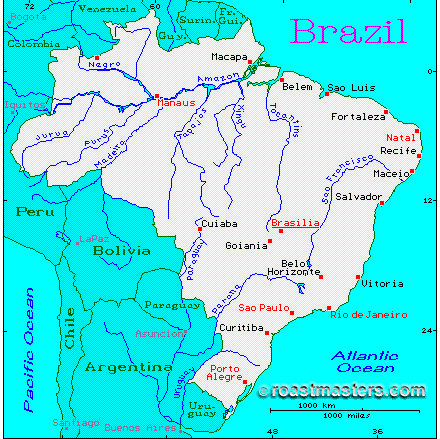 Comments
Brazil is the world's largest coffee producer, offering a wide variety of taste profiles.