About Brazil Legender Especial Natural
Arrived December 2021, new crop, in Grainpro bags.
A combination of multiple small area farms (called sitios) from the unique micro-regions of Machado, Poco Fundo and Campestre, all located in Minas Gerais State, Brazil. All lots are purchased directly from growers who are committed to quality and willing to provide detailed information and transparency about their sitios, harvesting methods, drying techniques and other relevant information about their coffee. This is opposite the majority of Brazilian coffee production which primarily takes place on very large coffee plantations.
Elevation: 1200 meters

Varietals: Mundo Novo,Yellow Catuai,Red Catuai
Milling Process: Natural

Drying Process: Patio and Raised Beds

Harvest Months: June to August

Export Months: October to January
Legender, as a coffee buying group, was founded in 2012 focused on offering the best coffees grown in their region. They provide full traceability of all of coffee lots and their partner producers are fully committed to environment friendly practices. The group is focused on building strong and lasting relationships with their grower partners. Legender Especial is a very fairly priced new crop coffee.

Cup Characteristics: Vanilla, roasted almonds, milk chocolate mouthfeel and flavor plus hazelnut notes. A solid, clean and well structured coffee to use as a single origin or base for espresso blend.
Roasting Notes: Coffees from these altitudes, while relatively high for Brazil, produce somewhat softer beans than other higher origins. Thus, slower roasts can be done. This coffee will produce earthy body and is a great candidate for single origin espresso. We advise pulling the roast before second crack has commenced, or just at its start.
Brazil coffee facts:
Population (2006): 188 million people
Coffee Production: 44 million bags (60 kg)
Country bag capacity: 132 pounds - 60 kg
Domestic Consumption: 17 million bags
Coffee Export: 27 million bags
Cultivated Area: 2.83 million hectares (over 7 million acres)

Harvests: June-September

Arabica Introduced: Early 18th century via French Guyana
Specialty Coffee Regions: Parana, Sao Paulo, Minas Gerais, Rio De Janeiro, Espirito Santo, Bahia, Pernambuco.
Grades: AA Plus, AA, peaberry
Botanical Varietals: Bourbon, typical, caturra, mondo novo, catuai, maragogype.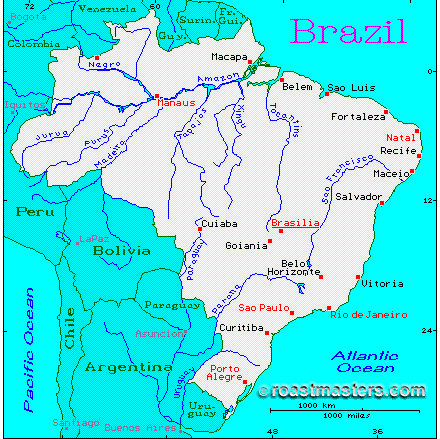 Comments
Brazil is the world's largest coffee producer, offering a wide variety of taste profiles.