About Brazil Ipanema Premier Cru Blue C39 Natural
Arrived May 2023, newest crop, in small Grainpro lined bags. This is one of several boutique lots "designed" for particular flavor leanings. Ipanema Coffee produces coffee cherry at their Fazenda Rio Verde and they take an innovative approach to produce high score coffees. The farm encompasses 900 total hectares of preservation areas in the Mantiqueira Mountains. They are developing a new model of harvesting, processing and drying in fresh constructed, one-of-a-kind milling facility offering several profiles with diverse flavor notes. There are 34 separate parcels with different altitudes and sun faces, selective hand-picking harvest models and five preparation methods combined with several drying possibilities for tailor-made solutions.

Ipanema breaks their top lots into "Editions" with the Blue Edition representing their top tier, smallest production and highest prices. Pricing even at the top tier remains affordable for the quality offered and is well worth the price.

Ipanema Coffee is a unique company, where innovation, long-term relationships and consistent delivery have been part of their DNA since they were established in 1969, in Minas Gerais, Brazil.
This Natual Wild Fermented Yellow Catuai presents a dense body, citric acidity,sweetness, clean and prolonged aftertaste. Its cup profile brings out notes of Red Cherry.
Lot

: C39

Variety

: Yellow Catuai

Plot Altitude

: 1,076 up to 1,116 meters

Harvest Method

: Selective hand picking

Harvest Date

: Late July - October 2022

Preparation Method

: Natural Cherry with Wild Fermentation

Pre-drying process

: Conventional patio for 70 hours

Drying Process

: Vertical dryers for 122 hours

Fermentation Process

: 48hours

Storage

: Double barrier big bag

Region

: Serra da Mantiqueira - Fazenda Rio Verde

Sun Facing

: Northwest

Total area

: 6.96 hectare
Rainforest Alliance Certified.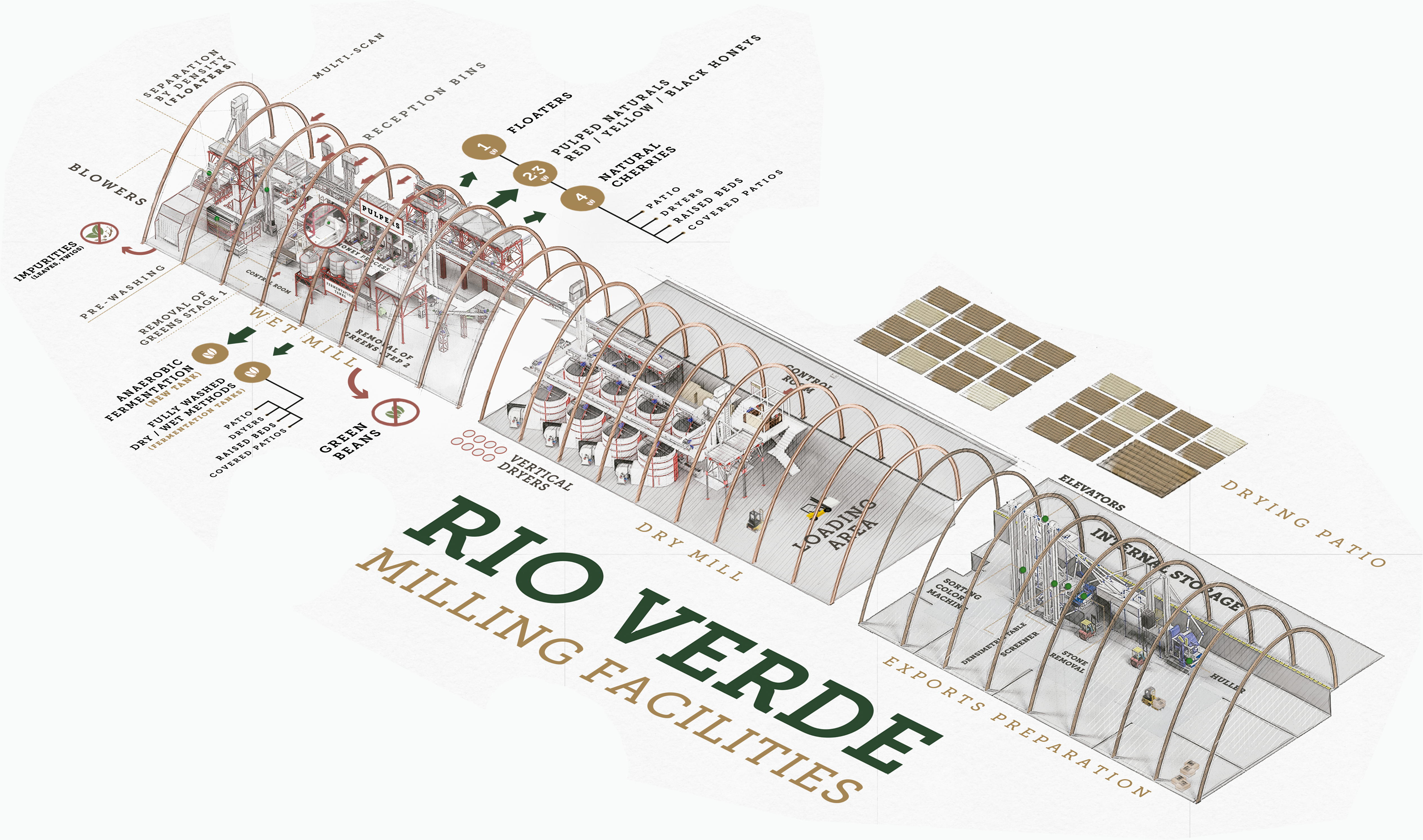 The Rio Verde wet and dry mills are one of the most advanced in the world
Fazenda Rio Verde is a real fauna and flora sanctuary with its 773 hectares covered by natural forests, 52 catalogued water springs and a complex biome that represents the beauty of the Mantiqueira Mountains highlands.
Cup Characteristics
: Plum, stone fruit, nectarine. Very fruity but tame enough to be approachable. Big earthy mouthfeel.
Roasting Notes
: Complete the roast before the second crack gets too much under way and extend development time between first and second crack to preserve sweet fruity notes.
Brazil coffee facts:
Population (2006): 188 million people
Coffee Production: 44 million bags (60 kg)
Country bag capacity: 132 pounds - 60 kg
Domestic Consumption: 17 million bags
Coffee Export: 27 million bags
Cultivated Area: 2.83 million hectares (over 7 million acres)

Harvests: June-September

Arabica Introduced: Early 18th century via French Guyana
Specialty Coffee Regions: Parana, Sao Paulo, Minas Gerais, Rio De Janeiro, Espirito Santo, Bahia, Pernambuco.
Grades: AA Plus, AA, peaberry
Botanical Varietals: Bourbon, typical, caturra, mondo novo, catuai, maragogype.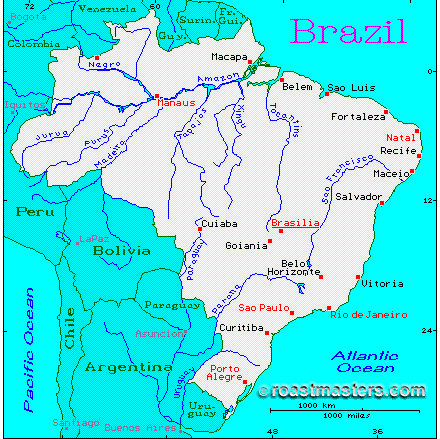 Comments
Brazil is the world's largest coffee producer, offering a wide variety of taste profiles.