About Bonavita Dripper Stand
This is the Bonavita Dripper Stand which can be combined with the Bonavita scale, sold separately. The Dripper Stand includes a removable stainless steel drip tray that covers the glass scale to collect any spills that may occur during the brew process. The holster itself is adjustable by using a "pinch grip" handle that allows you to move the holster as far up or down as required. The stand is furnished with a holster to place your filter cone in or on. You can set a rimmed cone on to the holster or a rimless one will inset, so numerous brands will work. Filter cone is not supplied.
This set up is great for pour over enthusiasts at home or any coffee store or restaurant.
Specifications:
Model BV5000DTLS
Stainless steel drip tray is removable and dishwasher safe
Dishwasher safe plastic base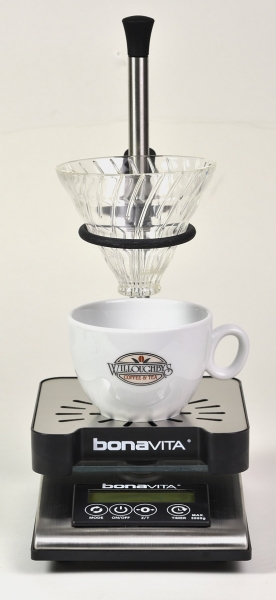 Bonavita stand shown with the
Bonavita Electric Scale sold separately