About Bolivia Carolina Villalobos Microlot
Arrived early July, new crop in Grainpro.
This offering from Bolivia is a little unusual, in that it is a microlot from a single farm. The majority of coffee we purchase from Bolivia comes from cooperatives, where farmers combine their coffee with other producers from the region. This lot is from the wife-and-husband team of Carolina Villalobos and Rolando Cucho. They are members of the Seven Stars (Siete Estrellas) Cooperative in Caranavi, which has supplied us with coffee in the past. Carolina comes from a coffee producing family, and bought her current farm in 2010 at the age of 23.
The farm run by Carolina and her husband has evolved and grown over the years - they now dry coffee on raised beds for better air circulation and a more controlled drying environment, instead of on "cachis" (floor mats). While pulping had previously been done by hand, they now have a mechanical depulper. Their total output for the year was 15 bags of coffee, and we were able to secure several bags after choosing this coffee during a sample cupping section.
Region: Caranavi
Co-op: Colonia Siete Estrellas
Altitude: 1500 Meters above sea level
Coffee Variety: Typica, Caturra, Catuai, Icatu
Processing: Fully Washed
Cup Characteristics: Aroma of brown and turbinado sugar. Flavors: cashew, clover honey, peach and stone fruits. Milk chocolate mouthfeel and pleasant grainy texture of pear. Very clean and balanced. Complex and bright with a long finish.
Roasting Notes: This coffee can successfully be roasted to levels between C+ and FC. Pulling the roast just before it begins second crack is optimal in our opinion. This will preserve some of the coffee's piquancy along with the notable texture of body. Behmor uses can try P2 or P3, and of course, you can switch to manual and finesse as you see fit.
Bolivia Coffee Facts
Population (2013): 10.5 Million People
Coffee Production: 120,000 bags (60 kg)
Country bag capacity: 132 pounds
Domestic Consumption: 20,000 bags
Coffee Export: 100,000 bags
Cultivated Area: 14,740 Hectares (36,000 acres)

Harvest: April to August

Specialty Coffees: Much of the coffee is processed at cooperatives, some of which are Fair Trade certified.

Botanical Varietals: Caturra, Typica, Criollo.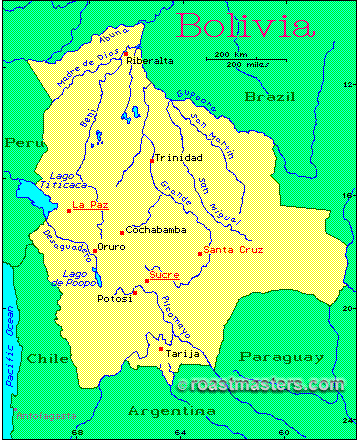 Comments
Approximately 30,000 families rely on coffee for their livelihood. Bolivia is the poorest nation in South America.