About Bolivia Fair Trade & Organic
New crop coffee, arrived in early June 2023, in synthetic bags lined with Grainpro. This AAA grade coffee comes from the San Juan Cooperative in the Caranavi province of Bolivia. The cooperative consists of 40 farms with a total of 200 hectares of coffee harvested. San Juan was founded in December 1974 with the goal of improving agricultural production of coffee and the social welfare of farmers. In 1991 they began to commercialize the coffee and expanded the cooperative to have 40 partners across 5 communities with 200 allied producers across the region. The varietals are a mixture of Criollo, Caturra and Catuai Rojo all grown between 1400 and 1800 meters. The harvest period is between June and September and the coffee is processed between the months of July and December when it is wet milled and sun dried.
Cooperative: Cooperativa Agricola Cafetalera 'San Juan'
Owner: Wilfredo Huayhua
Elevation: 1,400 - 1,800 meters
Varieties: Criollo, Caturra, Catuai Rojo
Harvest: June - September
Grade: AAA
Screen size: 16/17

Certifications

: Fair Trade, USDA Organic

Cup Characteristics: Heavy rich aroma, low acidity, smooth body and sweet milk chocolate flavor.
Roasting Notes: This high grown coffee can withstand a broad range of roasts. We like it best as it approaches second crack, as this roast level accentuates body. But you can feel equally comfortable backing off a bit and roasting it lighter, or, going further towards a dark roast.
Bolivia Coffee Facts
Population (2013): 10.5 Million People
Coffee Production: 120,000 bags (60 kg)
Country bag capacity: 132 pounds
Domestic Consumption: 20,000 bags
Coffee Export: 100,000 bags
Cultivated Area: 14,740 Hectares (36,000 acres)

Harvest: April to August

Specialty Coffees: Much of the coffee is processed at cooperatives, some of which are Fair Trade certified.

Botanical Varietals: Caturra, Typica, Criollo.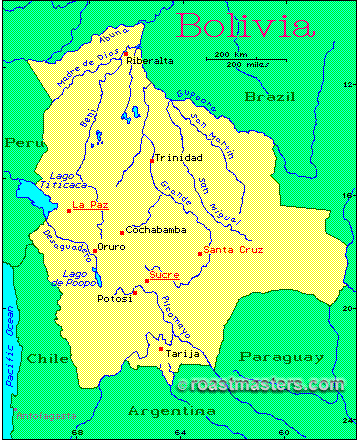 Comments
Approximately 30,000 families rely on coffee for their livelihood. Bolivia is the poorest nation in South America.