About Bolivia Peaberry Organic
Arrived in November 2018 in grainpro but first time being offered. Certified organic by Ceres.
This peaberry sorting comes from the San Juan Cooperative in the Caranavi province of Bolivia. This coffee is culled from several individual farms in the Seven Stars community. Peaberries are separated from flat beans and sold on their own merits.
For those who may not be familiar with the peaberry, it is a common seed mutation. The bean develops into an elongated pearl shape, forming just a single seed or coffee bean, as opposed to typical flat beans. Most coffee cherries have two opposing flat seeds at their center but the peaberry has but one. Generally, about 3 to 10 percent of a coffee crop contains peaberry, and as in this case, they are separated from from flat beans. Peaberries have different roasting and flavor characteristics; due to their shape they roll easily in drum roasters (Behmor, Hottop, Gene) and are less prone to scorching; in hot air roasters (Fresh Roast et al) they do not circulate as well in the airstream as they have less surface area. In taste, they have a somewhat increased flavor concentration.
Cooperative: Seven Stars Community
Region: Caranavi
Elevation: 1,600 meters
Varieties: Typica, Caturra, Catuai
Harvest: June - September
Grade: PB
Cup Characteristics: Intense and smooth mouthfeel. Heavy rich aroma, low acidity, smooth body and sweet milk chocolate flavor.
Roasting Notes: This high grown coffee can withstand a broad range of roasts. We like it best as it approaches second crack, as this roast level accentuates body. But you can feel equally comfortable backing off a bit and roasting it lighter, or, going further towards a dark roast. Please note peaberries are not recommended for air roasters as their shape does not lend themselves to getting airborne and can scorch in the early stages of a roast. Conversely, the are very well suited to drum roasters.
Bolivia Coffee Facts
Population (2013): 10.5 Million People
Coffee Production: 120,000 bags (60 kg)
Country bag capacity: 132 pounds
Domestic Consumption: 20,000 bags
Coffee Export: 100,000 bags
Cultivated Area: 14,740 Hectares (36,000 acres)

Harvest: April to August

Specialty Coffees: Much of the coffee is processed at cooperatives, some of which are Fair Trade certified.

Botanical Varietals: Caturra, Typica, Criollo.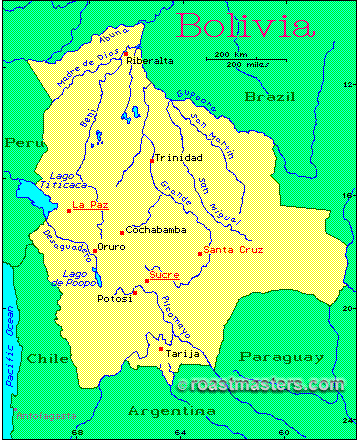 Comments
Approximately 30,000 families rely on coffee for their livelihood. Bolivia is the poorest nation in South America.