About Hawaii Ka'u Natural
Arrived July 2015 in Grainpro. Coffee farming has been present in Hawaii since the early 1800's but it wasn't until the 2000's that Ka'u began to make a name for itself in the coffee growing industry. Most coffee grown in the region is between 1,000 to 2,000 feet above sea level in an ideal climate for growth. Soils in the region are young volcanic ash deposits from the nearby Kilauea volcano. The soil is well drained and naturally acidic which aids tremendously in the coffee plants success. The climate produces sunny mornings folowed by cloudly afternoons with light rains to mist the plants.
There are three major growing areas within the district: Cloud's Rest, Pear Tree, and Wood Valley. These areas are cultivated by a group of local farmers, with the total coffee producing area spanning about 600 acres but there are ongoing efforts to expand production as a result to global demand for the coffee. Ka'u coffee has been noted as having rich flavor, piquant acidity and hints of sweetness and spice with aromas of citrus and jasmine.
Ka'u Coffee Mill provides processing services to all Ka'u coffee farmers in surrounding areas. They pulp, dry, and mill coffee for neighbors as well as provide roasting services to the specific guidelines of each farmer. This gives the nearby farmers the ability to process close to home rather than making long distant journies to have their coffee processed.
This particular lot of coffee is a natural processed, meaning that the coffee cherry is kept intact during drying. This process gives the coffee an inherent fruit flavor as the sugars from the coffee cherry have seeped into the coffee bean, producing flavors and aromas unique to this processing method.
Cup Characteristics: Dark chocolate, silky mouthfeel, mild cherry flavors. Well balanced, clean and sweet. Fruit penetration from natural process is mild. Dark fruit, jammy notes. Smoky, earthy and piquant.
Roasting Notes: We suggest roasting this coffee to FC or FC+ to bring out the sweetness and mild fruit flavors it offers. On a Behmor try P2.
Hawaii coffee facts:
Population (2006) State of Hawaii: 1.21 million people
Coffee Production: 50,000 bags (60 kg)
Local bag capacity: 100 pounds
Cultivated Area: 8,000 acres (3235 hectares)

Harvests: August to November

Arabica Introduced: Coffee initially introduced from Brazil by Samuel Ruggles; it was later in the 19th century that better coffee was planted.
Specialty Coffee Regions: Kona. Production also in Kauai, Maui and Ka'u.
Grades: Extra Fancy, Fancy, #1, Prime, Peaberry.
Farms: In Kona, about 600 farms, most 3 to 7 acres.
Botanical Varietals: Kona Typica, Guatemala.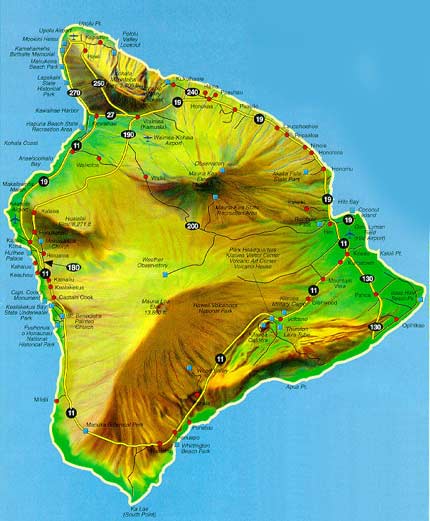 Comments
When Hawaii became a state in 1959 the price of land rose sharply and Kona coffee could no longer compete on a price level with coffee produced in less developed countries. Kona is also gifted with an unusual micro-climate wherein morning sun mixes with moisture filled air from the Pacific. When this air reaches the mountain slopes, it rises. Cloud cover then blankets the slopes at around 2,500 feet. Early afternoon brings rain. This climate with cloud cover makes it unnecessary to grow shade trees.