Sumatra Mandheling Fair Trade Organic
Available
Volume Price
Pounds
Price LB
1
$7.37
2-4
$7.00
5-19
$6.63
20+
$5.90
About Sumatra Mandheling Fair Trade Organic
Latest arrival April 2016. The Tunas Indah Coffee Farmers Cooperative was founded in 1998 and remains one of the largest cooperatives in the Bener Meriah region with over 4,000 members. The region is home to Gayo coffee, a type of speciality coffee for which demand is strong and growing.
The area was ridden by civil war from 1976 until 2005 from constant friction between the Indonesian government and the "Free Aceh" rebels. The civil war claimed many lives and had major impacts on the social and economic development of the region. Tunas Indah is organic and Fair Trade certified which has provided social welfare programs to its members. For example, members are provided with basic food staples including rice, vegetables, oils and sugar; as well as fresh seedlings to plant which can sustain their families on a longer term basis. Starting in September 2013, professional training was given to all members in an effort to increase both production and quality of coffee crops.
This coffee arrived to us in grainpro protective bags and it is especially clean. Preparation is semi-fermented wet hulling, which is traditional for the area. Drying occurs naturally and to some degree without extreme controls, which gives top Sumatra Mandhelings their individuality while retaining their regional character. This coffee is a delicious, viscous, earthy coffee, typifying the best this part of Indonesia has to offer.
Cup characteristics:
Earthy, nutty, smooth on the palate. Sturdy, pronounced but not overbearing body. Cup is mouth coating.
Roasting notes: C+ to FC are good levels for Sumatra, though it is also highly prized when roasting darker. You will find different taste characteristics at each point: At C+ sweeter, nuttier flavors, less mouthfeel; at FC mouthfeel intensifies and reveals the earthy character; as the coffee roasts longer and caramelizes the body remains with added bittersweet characteristics.


Indonesia coffee facts:
Population (2006): 245.5 Million People
Coffee Production: 6.79 Million bags (60 kg)
Country bag capacity: 132 pounds - 60 kg
Domestic Consumption: 2.14 Million bags per year
Coffee Export: 4.65 Million Bags
Cultivated Area: 250,000 Hectares

Harvests: Year round depending on region with peaks March to June.

Arabica Introduced: Introduced in Java by the Dutch mid 17th century.
Specialty Coffee Regions: Sumatra (Aceh), Java, Timor, Sulawesi (formerly Celebes), Bali.
Grades: Grade 1 triple picked, grade 1 double picked, grade 1 , grade 2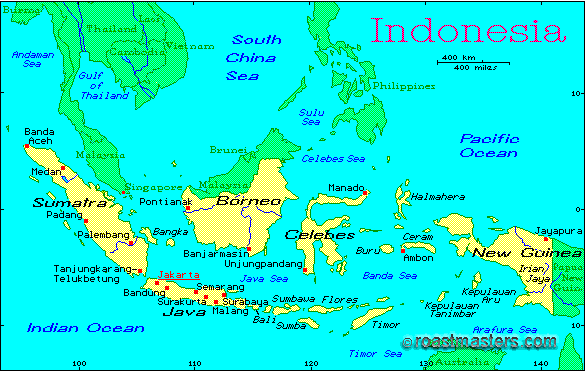 Comments
All Arabica plantations were destroyed in 1877 by a coffee disease.