Sumatra Mandheling Fair Trade Organic
Available
Volume Price
Pounds
Price LB
1
$7.37
2-4
$7.00
5-19
$6.63
20+
$5.90
About Sumatra Mandheling Fair Trade Organic
Arrived January 2016. The Cooperative Gayo Linge Organic Coffee (GLOC) was founded in 2008 in the Bener Meriah region located in the Aceh Province of Sumatra. The cooperative consists of more than 1,000 farmers from surrounding villages throughout the central mountain area which is known for its Gayo coffees. Coop members double as coffee farmers and also traders that are often involved in local government.
What started as a smaller group of organic coffee producers has evolved into a cooperative with goals of improving quality while providing a sustainable life for its members. All members are traditional small-holder coffee farmers whose lives depend mainly on the success of the coffee. The coop is making strides toward its strategy for management of community development funds. They aim to invest in reliable and safe drinking water sources and improve roads that are not yet accessible by car. Coop members are also interested in building an export and processing facility.
Cup characteristics: Earthy, nutty, smooth on the palate. Sturdy, pronounced but not overbearing body. Cup is mouth coating.
Roasting notes: C+ to FC are good levels for Sumatra, though it is also highly prized when roasting darker. You will find different taste characteristics at each point: At C+ sweeter, nuttier flavors, less mouthfeel; at FC mouthfeel intensifies and reveals the earthy character; as the coffee roasts longer and caramelizes the body remains with added bittersweet characteristics.


Indonesia coffee facts:
Population (2006): 245.5 Million People
Coffee Production: 6.79 Million bags (60 kg)
Country bag capacity: 132 pounds - 60 kg
Domestic Consumption: 2.14 Million bags per year
Coffee Export: 4.65 Million Bags
Cultivated Area: 250,000 Hectares

Harvests: Year round depending on region with peaks March to June.

Arabica Introduced: Introduced in Java by the Dutch mid 17th century.
Specialty Coffee Regions: Sumatra (Aceh), Java, Timor, Sulawesi (formerly Celebes), Bali.
Grades: Grade 1 triple picked, grade 1 double picked, grade 1 , grade 2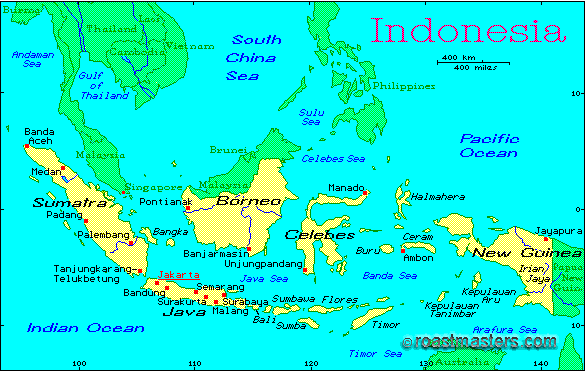 Comments
All Arabica plantations were destroyed in 1877 by a coffee disease.