About Rwanda Muhondo Washing Station microlot
Arrived August 2016. This coffee comes from the Muhondo Coffee Company in the Northern province of Rwanda. This is the same coffee that took 3rd place in the 2015 Cup of Excellence competition 1st place in 2014, however, we purchased this outside of the CoE auction. The washing station was originally built in 2006 by another cooperative before it was fully taken over by the current owners in 2013. The terroir of the immediate area gives this coffee a unique profile and character.
The coffee washing station has had profound effects on the local communities through youth and employment of women, social initiatives such as "farmer's loan" and clean water supply to local villages. In total the cooperative has almost 1800 farmers with 40% of them being women.
The cooperative is committed to producing the highest quality coffee possible and empowering growers by providing them with education on the best practices. Coffee cherries hand picked and inspected prior to de-pulping, fermentation and drying. The water quality is also analyzed to ensure the coffee beans are as cleanly processed as possible.
Province: Northern
District: Gakenke
Sector: Muhondo
Altitude: 1700 to 2200 meters,
Coffee variety: Bourbon
Washing Station Ownership: Private
Number of farmers: 1800
Processing System: Wet processing
Drying system: Sun drying to 12% moisture
Storage: One warehouse with natural ventilation system and pallets
Water source: Mountain natural spring
Cup Characteristics: Cherry sweetness, flavors of pear, Baker's chocolate, honey, caramel, plum. Smooth, creamy body. Well rounded. Acidity is bright, lively, apple and pineapple in nature.
Roasting Notes: These are hard, dense, high grown Bourbon beans which can be roasted anywhere from the very light to dark. If you pull this roast before but close to second crack, the mouthfeel will be chocolatey smooth, perhaps the optimum roast level for this coffee from a native flavor perspective.
Rwanda coffee facts:
Population (2006): 8.85 million people
Coffee Production: 510 thousand bags (60 kg)
Country bag capacity: 132 pounds - 60 kg
Domestic Consumption: Very little. Traditional tea drinkers.
Coffee Export: 510 thousand bags (60 kg)
Cultivated Area: 28,300 hectares (about 70,000 acres)

Harvests: March-July

Arabica Introduced: 1904 by German missionaries.
Specialty Coffee Regions: The western and central regions.
Grades: Superior grades are A1, A2, A3 based on bean density.
Farms: many thousands of small farms (under one acre).
Botanical Varietals: Bourbon and typica.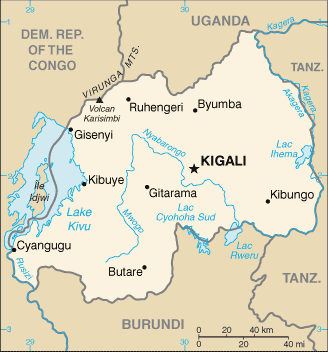 Comments
Rwanda is a relative newcomer to specialty grade Arabica coffee production though coffee has played a major role in the economy of the country with coffee accounting for nearly 65% of export revenues. The country's bloody, genocidal civil war wrought economic and human devastation from 1990 until 2003, when international assistance and political elections brought some degree of stability to the country. Investment in the country's economy and crop production have aided in this tenuous stability.