Peru Fair Trade Organic
Available
Volume Price
Pounds
Price LB
1
$6.97
2-4
$6.62
5-19
$6.27
20+
$5.58
About Peru Fair Trade Organic
This lot of Peru comes from the Aprocoyce cooperative located in the Amazonas region of northern Peru, between Cajamarca and San Martin. Currently there are more than 280 small producers delivering coffee to the cooperative. Each individual producer harvests and processes the coffee at their farm, sometimes with manual machinery, before it is delivered to the local mill where it is prepared for export. Prior to shipment coffees are sorted at the cooperative once more to eliminate defects. The varietals that processed are Typica, Bourbon, and Caturra all of which are fully washed and dried. The average elevation of the farms is 1650 meters (3630 feet) above sea level and harvesting takes place between the months of July and October.
One of the major obstacles confronted by the coffee supply chain in Peru is the ability to transport the product easily. There are constant delays due to problematic infrastructure or lack there of. The Aprocoyce group is planning to take measures in improve quality by providing covered drying beds for all of the partnering producers as well as social premiums and financial aid to the members. The main goal is to make it possible for producers to properly dry their coffee before it reaches the dry mill, which will ultimately increase the quality of coffee and expedite the process in the long run.
Peru is the world's leading producer of organic coffee. Fair Trade USA and USDA Organic Certified.
Cup Characteristics: Medium body, slightly sweet with mild acidity. Clean with well structured body. Ripe berry, grape, tropical flavors.
Roasting Notes: Full City suggested for lighter roasts. This coffee is also well suited for dark roast enthusiasts as it is bright and hard enough to withstand additional roasting beyond second crack.
Peru coffee facts:
Population (2006): 28.3 million People
Coffee Production: 3,450,000 bags (60 kg)
Country bag capacity: 150 pounds - 69 kg
Domestic Consumption: 200,000 bags
Coffee Export: 3,250,000 bags
Cultivated Area: 120,000 Hectares (297,000 acres)

Harvests: April to September for washed coffees.

Arabica Introduced: Introduced in the 18th century.
Specialty Coffee Regions: Chamchamayo Valley in the center of the country.
Grades: AAA, AA, A
Farms: About 40,000 farms.
Botanical Varietals: Typica, Bourbon, Caturra, Mundo Nuevo, Villa Lobos.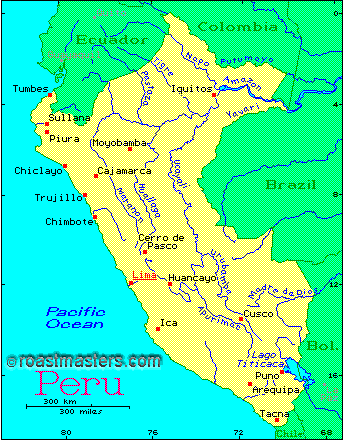 Comments
Coffee from Peru represents a classic Central American profile being bright, acidic and mildly flavored. In addition to being good stand-alone coffees they are excellent, neutral candidates for blends and can add liveliness when needed.