Peru Aprocassi Fair Trade Organic
Available
Volume Price
Pounds
Price LB
1
$6.54
2-4
$6.21
5-19
$5.89
20+
$5.23
About Peru Aprocassi Fair Trade Organic
Arrived September 2013, new crop. This Peru Fair Trade and Organic coffee is cooperatively gathered from farmers in the Jaen and San Ignacio provinces of north central Peru and processed at the Aprocassi Cooperative. Most of the coffee is grown between 1300 and 2000 meters, (4300 to 6500) feet. The contributing farms are very small with average organic production of only 40 pounds of coffee, in parchment, per acre.
Located in the mountainous region of the Cajamarca province in Peru, Asociación Provincial Cafetaleros Solidarios San Ignacio (APROCASSI) was founded in 2000 by 800 small farmers committed in earning a fair price for their coffee. This region of Peru is also marked by national and international mining companies who often do not pay laborers a fair wage. Aprocassi also formed to give people an alternative to the mining industry. Aprocassi continually seeks to produce high-quality coffee and improve its members' standard of living through higher prices.
Most families work on approximately seven hectares of land and grow a variety of products, including coffee in the higher elevations. Collectively, the cooperative has an estimated 2,705 hectares of land producing organic coffee. Since becoming Fair Trade Certified in 2001, the cooperative has financed several social and productive programs using its Fair Trade premium.

Peru is the world's leading producer of organic coffee. The main varietals represented here are Typica, Caturra, Caturra Amarillo, Pache and Bourbon. All processing is fully washed which includes depulping, fermentation, washing and sun and/or mechanical drying.
Cup Characteristics: Medium body, slightly sweet with mild acidity. Clean with well structured body. Ripe berry, grape, tropical flavors.
Roasting Notes: Full City suggested for lighter roasts. This coffee is also well suited for dark roast enthusiasts as it is bright and hard enough to withstand additional roasting beyond second crack.
Peru coffee facts:
Population (2006): 28.3 million People
Coffee Production: 3,450,000 bags (60 kg)
Country bag capacity: 150 pounds - 69 kg
Domestic Consumption: 200,000 bags
Coffee Export: 3,250,000 bags
Cultivated Area: 120,000 Hectares (297,000 acres)

Harvests: April to September for washed coffees.

Arabica Introduced: Introduced in the 18th century.
Specialty Coffee Regions: Chamchamayo Valley in the center of the country.
Grades: AAA, AA, A
Farms: About 40,000 farms.
Botanical Varietals: Typica, Bourbon, Caturra, Mundo Nuevo, Villa Lobos.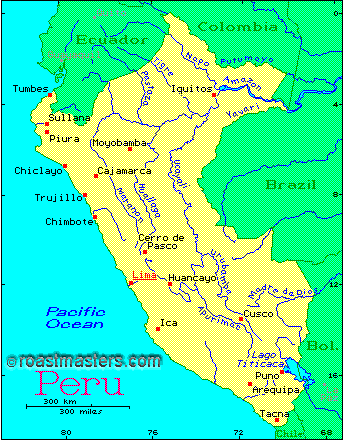 Comments
Coffee from Peru represents a classic Central American profile being bright, acidic and mildly flavored. In addition to being good stand-alone coffees they are excellent, neutral candidates for blends and can add liveliness when needed.