Peru Fair Trade Organic
Available
Volume Price
Pounds
Price LB
1
$6.97
2-4
$6.62
5-19
$6.27
20+
$5.58
About Peru Fair Trade Organic
Arrived April 2015.
The Cecanor (Central de Servicios Cafetaleros del Nor Oriente) cooperative was established in 1999 and is comprised of farmers from the Lambayeque region of Peru. Cecanor focuses on higher profit margins through direct trade to international markets. They are committed to quality production with strong emphasis on community development and environmental sustainability. An impressive 20% of Cecanor's members are women and of them is the representative for the cooperative on Peru's National Coffee Board.
Cecanor is an organization dedicated to improving the quality of life for its members as well as striving to produce top quality coffee. For instance, half of the members are small producers located in areas of extreme poverty and Cecanor has used its resources toward capacity expansion and empowering members. Many of the members now have goals of furthering education of their children. In addition, women have been given the opportunity to participate and become leaders in community projects. This has given women a place of respect and stature in the family dynamic, something that others could certainly take a cue from. It's safe to say that Cecanor has seen oustanding benefits from Fair Trade and their coffee is proof of the succees.
Fair Trade USA and USDA Organic Certified.
Cup Characteristics: Medium body, slightly sweet with mild acidity. Clean with well structured body. Ripe berry, grape, tropical flavors.
Roasting Notes: Full City suggested for lighter roasts. This coffee is also well suited for dark roast enthusiasts as it is bright and hard enough to withstand additional roasting beyond second crack.
Peru coffee facts:
Population (2006): 28.3 million People
Coffee Production: 3,450,000 bags (60 kg)
Country bag capacity: 150 pounds - 69 kg
Domestic Consumption: 200,000 bags
Coffee Export: 3,250,000 bags
Cultivated Area: 120,000 Hectares (297,000 acres)

Harvests: April to September for washed coffees.

Arabica Introduced: Introduced in the 18th century.
Specialty Coffee Regions: Chamchamayo Valley in the center of the country.
Grades: AAA, AA, A
Farms: About 40,000 farms.
Botanical Varietals: Typica, Bourbon, Caturra, Mundo Nuevo, Villa Lobos.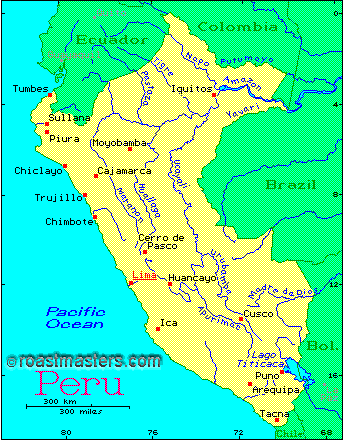 Comments
Coffee from Peru represents a classic Central American profile being bright, acidic and mildly flavored. In addition to being good stand-alone coffees they are excellent, neutral candidates for blends and can add liveliness when needed.