Kenya AA Gaturiri microlot
$10.28
(As Low As $8.90 )
Sold out.
Wait List
Volume Price
Pounds
Price LB
1
$10.28
2-4
$9.77
5-19
$9.25
20+
$8.90
About Kenya AA Gaturiri microlot
We have a direct relationship with the top exporter in Kenya and they, in turn, work with the coffee processing 'factories' in the best growing areas. Within those processing facilities small lots of coffees that exhibit special qualities are separated from the rest and this coffee was purchased directly from the factory by our exporter who must pay top dollar. We were presented with numerous lots that were purchased at auction and this Gaturiri was head and shoulders the favorite pick of all of our cuppers. Despite its considerably higher cost we bought this coffee for its unique attributes and obviously careful processing. It was then vacuum packaged in small 15kg bags and shipped two to a box to us, indicative of its special treatment. The coffee arrived at our roasting plant at the end of August 2013.
Name: Gaturiri Factory (wetmill)
Province: Central
District: Nyeri
Division: Mathira
Location: Konyu
Sublocation: Karindundu
Nearest Town: Karatina
Distance from Town: 3.5 km; 2 miles
Altitude: 1770 meters; 5800 feet
Farmer Members: 960
Avg trees per farmer: 300
Shade Trees: Gravellea, Macadamia, Eucalyptus
Production: All coffees are pulped, dry fermented, washed, soaked and sundried
Process: Cherries are hand sorted for unripes and overripes by the farmers before they go in to production. Coffee is fermented for 24 to 36 hour under shade. After fermentation the coffees are washed and graded once more. This is followed by a soaking in clean water for 16 to 18 hours, the typical "Kenya Style" washed processing.
Drying: Sun drying for up to 21 days on African drying beds. Coffees are covered in plastic during midday and at night.
Harvesting Method: Hand
Main Crop Season: Oct - Jan
Varieties: SL 28, 34

The Gaturiri Factory (wetmill) is part of the Barichu Cooperative Society in Nyeri in Central Kenya. This district is known for complex, flavorful coffees with intensity. The area smallholder farms average only 300 trees, which roughly translates in 450 pounds of coffee, a tiny amount. The Barichu Cooperative Society acts as an umbrella organization for the wetmills (factories), and smallholders deliver their coffee cherries to one of four local wetmills in the district, Gaturiri being one of them. It is a competitive environment in which farmers can freely choose the factory where they deliver their cherry for processing. Quality is rewarded and member farmers will bring their cherry to the factory that will pay the highest price, dependent of course, that the quality is there in the first place.
This is very refined, delicate and sweet cupping coffee. You would be hard pressed to find a coffee drinker who does not like a quality Kenyan coffee; it is one of the most universally enjoyed coffees available.
Cup Characteristics: A big, complex coffee with layers of flavor. Big and tart at the outset, the flavors mellow on the palate end with a delicate long and dry finish. Dark berry, blackcurrant and raisin are evident in the cup. A sophisticated but very approachable coffee that will be universally enjoyed. We roast this coffee a bit lighter to preserve its berry flavors and some slight florality that shows at this roast level.
Roasting Notes: Beans are hard and dense and can be roasted to a variety of darkness levels. Most floral and delicate notes will be presented at City+ to FC range. The delicate nuances of this coffee will present themselves at lightly roasted levels but be sure to have a full first crack. Behmor users try P1 or P3.
Kenya coffee facts:
Population (2006): 34.7 million People
Coffee Production: 880,000 bags (60 kg)
Country bag capacity: 132 pounds - 60 kg
Domestic Consumption: 50,000 bags
Coffee Export: 850,000 bags
Cultivated Area: 127,000 Hectares (314,000 acres)

Harvests: 2 per year
- Main crop October to December
- Fly crop June to August

Arabica Introduced: Introduced from Ethiopia via Yemen at the end of the 19th century, by the Fathers of the Holy Spirit Congregation. Bourbon varietal introduced from Reunion in 1901 by missionaries. Kent varietal introduced early 20th century from the Indies.
Specialty Coffee Regions: North and northeast of Nairobi; high plateaus surrounding Mt. Kenya. Soil is volcanic.
Grades: AA Plus, AA, peaberry
Farms: About 350,000 farms with an average of 0.2 hectares (about 1/2 acre). 8 major preparation cooperatives.
Botanical Varietals: Bourbon, Kent, various hybrids (SL-28, SL-34, Riuru 11), Blue Mountain (from Jamaica).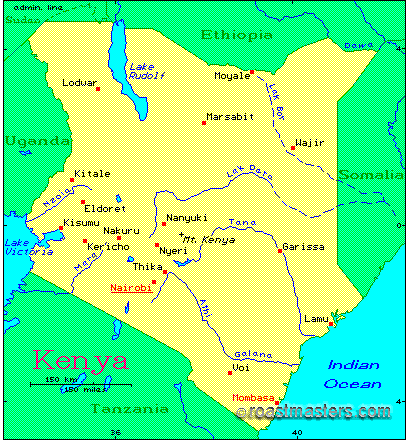 Comments
One of the great coffee producers. Coffee accounts for 27% of the country's exports and half of their agricultural output. Shading, by banana trees, is a common practice.
Kenya has a weekly auction system that has been in place for many years. It does not provide transparency of revenues to growers and the system is said to be flawed by a complex web of middlemen. There are allegations of corruption as well. The government is working to develop a more direct model whereby growers can offer their coffees more directly to foreign buyers thus reaping a better price.