About Guatemala Antigua Finca San Agustin
The San Agustin farm is owned by the Zelaya family who has been growing coffee for over 100 years and 4 generations. The family owns farms throughout Guatemala and is one of just a few farms which grow genuine Antigua coffees.
The San Agustin farm was first developed in 2005 when Ricardo Zelaya began renting and developing San Agustin. Since then has worked relentlessly to improve production, increase efficiency and sustain the natural resources on the farm. The elevation is 1600-1850 feet above sea level and has 24 hectares dedicated to growing coffee.
There are handful of varieties grown on San Agustin, including Caturra, Villa Sarchi, and Bourbon. Once harvested, which is typically between January and April, coffee is then brought to the Santa Clara mill where it is washed and sun-dried on green house patios.
Farm: Finca San Agustin
Varietal: Bourbon Caturra Villa Sarchí
Processing: Fully Washed and dried on patio
Altitude: 1,600 - 1,850 meters
Owner: Elsa Hegel de Salazar
Town/City: Antigua
Region: Antigua
The farm is a part of an older farm in Antigua called Cabrejo. Zelaya and Salazar established a 16 year contract. All workers, supervisors and the farm team come from the farm and mill at Santa Clara, a separate Antigua property of the highest regard. San Agustin is a property to keep your eye on as we suggest coffee from here will be sought after.
Cup characteristics: Earthy, exotic fruit aromas, marzipan. Fleshy mouthfeel, complex, sweet cup. Dark cherry flavor with sweet and clean finish. Possesses considerable body, mouthfeel and a good Antigua's lightly smoky and zesty character.
Roasting Notes: City+ to FC. We recommend a roast approaching second crack bring out some chocolate mouthfeel and retain zesty character and sweetness. These dense, hard beans can also handle darker roasting while still retaining some liveliness but inherent nuance will be sacrificed.
Guatemala coffee facts:
Population (2006): 12.3 Million People
Coffee Production: 3.93 Million bags (60 kg)
Country bag capacity: 150 pounds
Domestic Consumption: 1.7 Million bags per year
Coffee Export: 3.8 Million Bags
Cultivated Area: 250,000 Hectares

Harvest:
September to April

Arabica Introduced: Coffee introduced by the Jesuits in the late 18th century and the coffee industry later developed by German immigrants in the mid 19th century.

Farms:
Approximately 65,000

Specialty Coffee Regions:
Antigua, Coban, Atitlan, Huehuetenango, Fraijanes, San Marcos

Botanical Varietals: Arabigo, Bourbon, Typica, Catura, Catuai, Catimur, Maragogype, RobustaArabigo, Bourbon, Typica, Catura, Catuai, Catimur, Maragogype, Robusta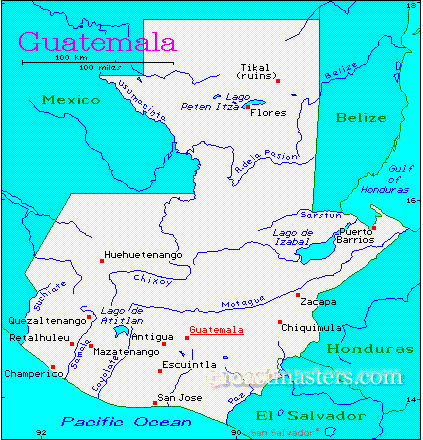 Comments
This relatively small country produces some of the world's top coffees and offers a variety of coffee experiences. Each region has distinct taste profiles, each of which is enhanced, as always, by the care and attention brought by the farm in growing methodology.
There are more than 60,000 small coffee farms in Guatemala with over 30% of the population engaged in the coffee industry.