Costa Rica SHB La Pastora Tarrazu
Sorry, we are currently sold out of 'Costa Rica SHB La Pastora Tarrazu'. Please check back later.


Volume Price
Pounds
Price LB
1
$6.35
2-4
$6.03
5-19
$5.71
20+
$5.35
About Costa Rica SHB La Pastora Tarrazu
La Pastora is grown in an area overooking the community of San Marcos in the high Tarrazu region of Costa Rica and near Volcan Poas. It is graded as SHB meaning Strictly Hard Bean because it was grown at elevations between 3900 and 5400 feet.
All of the is harvested by hand. Cherry is then conveyed to Cooptarrazu where it is wet processed in their large, high quality operation. The coffee is segregated from others and bagged under the La Pastora label.
Climate : Dry season is from December through April and the rainy season is from May through November
Soil Type: Rich and Volcanic soil
Producer: Coope Tarrazu RL
Bean Variety: Caturra, Catuai
Altitude: 4750 FT
Harvest Period: December to March
CoopeTarrazu RL was established in 1970 and since that time has become one of the major contributors to the economic development in the Los Santos region of Tarrazu. Annually, the coop employs approximately 10,000 people; either directly in coffee production or in a supporting role.
CoopeTarrazu works in partnership with the organization Earthwatch to continue advancements in research and development of sustainable practices for agricultural production.
Cupping Characteristics: Clean, sweet cupping. Citrusy, orange and tangerine. Milk chocolate mouthfeel and creamy texture.
Roasting Notes: This is dense bean with a bright cup that can withstand darker roasts as well as being suited to light roasts. On a Behmor, try P1 or P2.
Costa Rica coffee facts:
Population (2006): 4.1 million People
Coffee Production: 1.7 million bags (60 kg)
Country bag capacity: 150 pounds
Domestic Consumption: 380,000 bags
Coffee Export: 1,320,000 bags
Cultivated Area: 82,500 Hectares (203,775 acres)

Harvest:
September to February

Arabica Introduced: Coffee was first introduced into Costa Rica in 1779 from Cuba. First exportation was in 1820.
Farms: About 32,000, over half are small farms (less than 1 hectare).
Specialty Coffee Regions: Tarrazu, Tres Rios, Central Valley, Pacific Central, South Pacific

Botanical Varietals: Mondo Nuevo, Hibredo/Tico, Villa Sarchi, Geisha, Caturra, Catui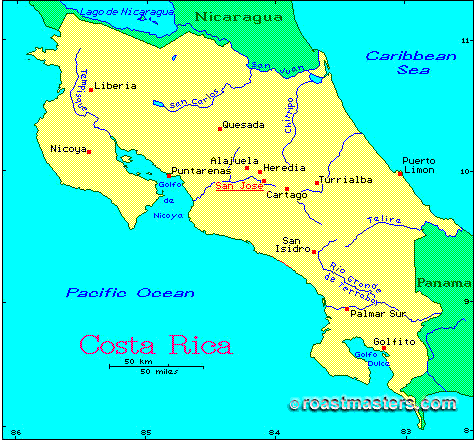 Comments: Coffee is grown in Costa Rica on both the Atlantic and Pacific slopes at altitudes between 1600 and 5400 feet. The highest grade is called Strictly Hard Bean, grown at elevations over 3900 feet. Costa Rica produces some exceptional coffees, renowned for their brilliance, balance and complexity.