About Costa Rica SHB Coope Tarrazu
New 2015 crop arrived beginning May in grainpro.
Now 55 years since its inception Coope Tarrazu RL was founded in 1960 with a small capital investment of $5,800 from 228 small coffee growers. Today, they run the biggest wetmill of Costa Rica, processing more than 110.000 bags of green coffee from 3.000 producers. About 85% of the producers affiliated to the coop harvest 4 hectares or less.
Its success is based on looking after small producer's interests, and providing other services to its members such as credit, agronomical and technical advice, sustainable prices, fertilizers, among others. The coop has also diversified about 45% of their portfolio in other areas such as gas stations, supermarkets, harware stores, and such.
The general Tarrazu region is highly mountainous and some of the best growing land in the country. However, many smallholders bring their cherry to the Coopetarrazu wetmill where processing, drying, bagging and sales take place. Often these areas of specialization are outside the scope of financial abilities of growers who may also have other crops on their farms. This is Strictly Hard Bean (SHB) coffee which in Costa Rica means that it was grown from 1200 to 1650 meters (about 4,000 to 5,500 feet) so you can be assured dense, concentrated beans capable of attaining various roast levels.
Origin: Costa Rica
Region: Tarrazu
Cooperative/Farm: Coope Tarrazu, 3,000 local member farms
Varieties: Caturra, Catuai
Altitude: 1200 - 1800 meters
Processing: Fully washed
Harvest period: December to March

Cupping Characteristics: Clean, sweet cupping. Citrusy, orange and tangerine. Milk chocolate mouthfeel and creamy texture.
Roasting Notes: This is dense bean with a bright cup that can withstand darker roasts as well as being suited to light roasts. On a Behmor, try P1 or P2.
Costa Rica coffee facts:
Population (2006): 4.1 million People
Coffee Production: 1.7 million bags (60 kg)
Country bag capacity: 150 pounds
Domestic Consumption: 380,000 bags
Coffee Export: 1,320,000 bags
Cultivated Area: 82,500 Hectares (203,775 acres)

Harvest:
September to February

Arabica Introduced: Coffee was first introduced into Costa Rica in 1779 from Cuba. First exportation was in 1820.
Farms: About 32,000, over half are small farms (less than 1 hectare).
Specialty Coffee Regions: Tarrazu, Tres Rios, Central Valley, Pacific Central, South Pacific

Botanical Varietals: Mondo Nuevo, Hibredo/Tico, Villa Sarchi, Geisha, Caturra, Catui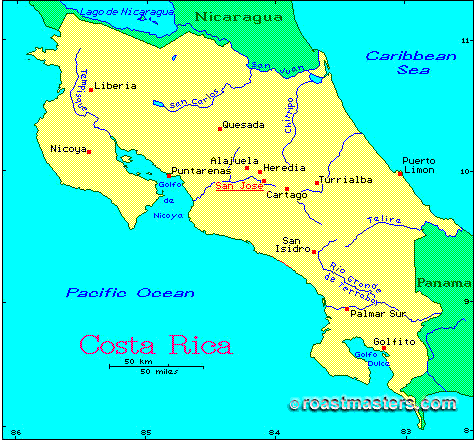 Comments: Coffee is grown in Costa Rica on both the Atlantic and Pacific slopes at altitudes between 1600 and 5400 feet. The highest grade is called Strictly Hard Bean, grown at elevations over 3900 feet. Costa Rica produces some exceptional coffees, renowned for their brilliance, balance and complexity.