Brazil Fazenda Helena Natural
Volume Price
Pounds
Price LB
1
$6.20
2-4
$5.89
5-19
$5.58
20+
$4.96
About Brazil Fazenda Helena Natural
Brazil RFA Fazenda Helena Natural 17/18 is sourced from a family owned estate in the Cerrado Mineiro region within the state Minas Gerais, Brazil. The Cerrado Mineiro region has a protected designation of origin (PDO) because of regions renowned coffee reputation and optimal growing conditions.
Helena Ricci is the fourth generation of the Ricci family to manage the estate with a continued commitment to environmental stewardship. The Ricci family is also invested in the Educampo Coffee Project, which supports more than 300 coffee producers in the Cerrado Mineiro region.
Farm: Fazenda Helena
Grower: Daniela Ricci
Region: Cerrado Mineiro, Minas Gerais, Brazil
Altitude: 3150 feet
Variety: Mundo Novo
Process: Full natural and dried in the sun and mechanical driers
Variety: Mundo Novo
Harvest: April - September
Soil: Clay minerals
Certification: Rainforest Alliance
Cup Characteristics: Smooth, earthy body with noticable viscous milk chocolate mouthfeel. Mild fruit penetration. Clean and sweet. Toasty, mild hazelnut flavor. Good base for espresso.
Roasting Notes: Coffees from these altitudes, while relatively high for Brazil, produce somewhat softer beans than other higher origins. Thus, slower roasts can be done. This coffee will produce earthy body and is a great candidate for single origin espresso. We advise pulling the roast before second crack has commenced, or just at its start.
Brazil coffee facts:
Population (2006): 188 million people
Coffee Production: 44 million bags (60 kg)
Country bag capacity: 132 pounds - 60 kg
Domestic Consumption: 17 million bags
Coffee Export: 27 million bags
Cultivated Area: 2.83 million hectares (over 7 million acres)

Harvests: June-September

Arabica Introduced: Early 18th century via French Guyana
Specialty Coffee Regions: Parana, Sao Paulo, Minas Gerais, Rio De Janeiro, Espirito Santo, Bahia, Pernambuco.
Grades: AA Plus, AA, peaberry
Botanical Varietals: Bourbon, typical, caturra, mondo novo, catuai, maragogype.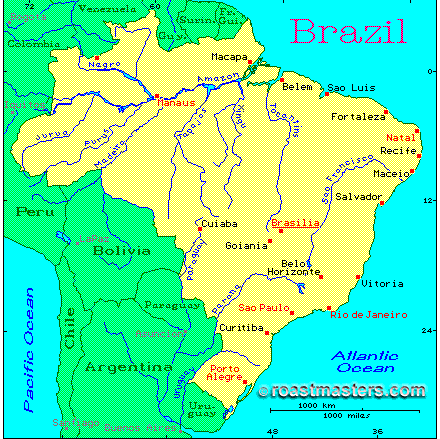 Comments
Brazil is the world's largest coffee producer, offering a wide variety of taste profiles.