Brazil Natural Red Catuai Faz. Agua Limpa
Sorry, we are currently sold out of 'Brazil Natural Red Catuai Faz. Agua Limpa'. Please check back later.

Wait List
Volume Price
Pounds
Price LB
1
$6.15
2-4
$5.84
5-19
$5.54
20+
$4.92
About Brazil Natural Red Catuai Faz. Agua Limpa
Most recent arrival May 2013 packed in Grainpro.
The farm, which is named after the region traditionally called Agua Limpa, was first started by their father and is now managed by Fernando and brother Ricardo. The two brothers work hard to preserve conservation areas, river sources, reforestation, and they value the determination of their employees to share this respect for the land. Among coffee plants there is also an array of wildlife and other plant life, including cedar, trumpet trees, canaries, forest fox, tiger cat.
Located in the Cerrado Mineiro region, the farm flourishes in the hot and humind summers with plentiful rainfall. The varietal is red catuai and the process is natural, meaning the coffee fruit is left on the seed while it dries, giving the coffee an inherently fruity taste.
Farmer: Fernando Gontijo de Almeida
Farm: Agua Limpa
Processing: Natural
Region: Cerrado Mineiro
Cup Characteristics: Pronounced cocoa texture and flavor. Very clean, smooth. As an espresso it had some of the characteristic 'bite' of Brazil naturals but not over the top. Acidity is medium, sweet. Long finish, mouth coating. Good component choice for traditional espresso blends.
Roasting Notes: Depends on your intended use. As an espresso blend component, for which it's very well suited, you can run the gamut from City+, a lightness you might see in Northern Italian styles, but this coffee would be terrific at a Viennese roast level, past second crack but pulled before caramelization. Some might want it darker still but at that point much of the sweetness would be gone. On a Behmor try P3.
Brazil coffee facts:
Population (2006): 188 million people
Coffee Production: 44 million bags (60 kg)
Country bag capacity: 132 pounds - 60 kg
Domestic Consumption: 17 million bags
Coffee Export: 27 million bags
Cultivated Area: 2.83 million hectares (over 7 million acres)

Harvests: June-September

Arabica Introduced: Early 18th century via French Guyana
Specialty Coffee Regions: Parana, Sao Paulo, Minas Gerais, Rio De Janeiro, Espirito Santo, Bahia, Pernambuco.
Grades: AA Plus, AA, peaberry
Botanical Varietals: Bourbon, typical, caturra, mondo novo, catuai, maragogype.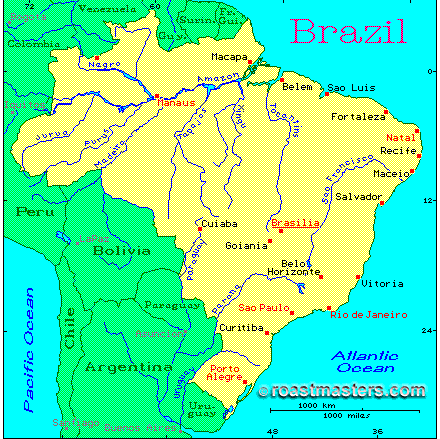 Comments
Brazil is the world's largest coffee producer, offering a wide variety of taste profiles.