Brazil Catuai Fazenda Capim Branco
Sorry, we are currently sold out of 'Brazil Catuai Fazenda Capim Branco'. Please check back later.


Volume Price
Pounds
Price LB
1
$6.97
2-4
$6.62
5-19
$6.27
20+
$5.58
About Brazil Catuai Fazenda Capim Branco
Arrived July 2014 from Fazenda Capim Branco.
Located in the Cerrado Mineiro region of Brazil this farm has been in the Andrade family for over a century and is now owned by Ismael and Eduardo Andrade. With an elevation of about 1,100 meters above sea level and volcanic soil for the coffee plants to grow in, the environmental conditions are ideal.
The majority of the farm is planted with Yellow Catuai coffee trees and once harvested, coffee is naturally processed meaning. Ripe cherries dry on site on a patio and once the desired humidity level is reached the cherries are then dry milled to remove the pulp and parchment. This method of processing produces fruity flavors as the entirety of coffee pulp dries on the beans within.
Region: Cerrado, Minas Gerais
City: Carmo de Paranaiba
Altitude: 1100 meters
Processing method: Full natural, dry processed
Varietal: Yellow Catuai
Fazenda Capim Branco has a crop cycle system where new seedlings are planted in early summer (December and January) and the individual plots are rigorously monitored.
Cup Characteristics: This natural coffee has a wonderful smooth and round body, sweet acidity, and a clean aftertaste. Full bodied, sweet, soft, round, caramel, dark Cherry, stone fruit acidity. Good component choice for traditional espresso blends. Higher citric acidity, fruit and chocolate notes, and more sweetness which will produce complex cups and espresso.
Roasting Notes: Coffees from these altitudes, while relatively high for Brazil, produce somewhat softer beans than other higher origins. Thus, slower roasts can be done. This coffee will produce earthy body and is a great candidate for single origin espresso. We advise pulling the roast before second crack has commenced, or just at its start.
Brazil coffee facts:
Population (2006): 188 million people
Coffee Production: 44 million bags (60 kg)
Country bag capacity: 132 pounds - 60 kg
Domestic Consumption: 17 million bags
Coffee Export: 27 million bags
Cultivated Area: 2.83 million hectares (over 7 million acres)

Harvests: June-September

Arabica Introduced: Early 18th century via French Guyana
Specialty Coffee Regions: Parana, Sao Paulo, Minas Gerais, Rio De Janeiro, Espirito Santo, Bahia, Pernambuco.
Grades: AA Plus, AA, peaberry
Botanical Varietals: Bourbon, typical, caturra, mondo novo, catuai, maragogype.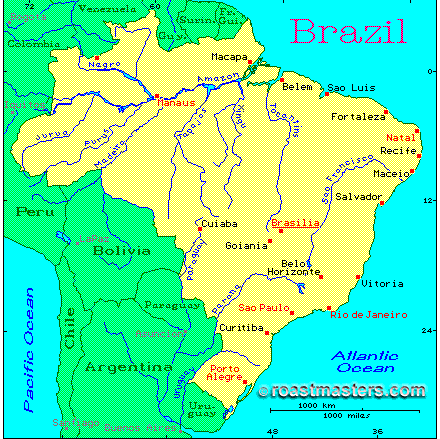 Comments
Brazil is the world's largest coffee producer, offering a wide variety of taste profiles.