Brazil Catuai Natural Santa Helena II
Sorry, we are currently sold out of 'Brazil Catuai Natural Santa Helena II'. Please check back later.

Wait List
Volume Price
Pounds
Price LB
1
$6.97
2-4
$6.62
5-19
$6.27
20+
$5.58
About Brazil Catuai Natural Santa Helena II
New crop Brazil arrived mid-May 2014.
This new natural processed coffee from Brazil is a micro-lot from the Santa Helena II Farm located in the region south of Minas Gerais. Santa Helena II is owned and operated by Paulo Roberto Duarte who inherited the farm from his father-in-law. He was originally given 1/3 of the farm as it was split between the previous owners 3 sons. After a number of years he was able to buy the remainder of the farm and invested his time and money into the quality and volume of coffee production, not without the dedicated help of his wife and son. The total farm consists of 152 hectares, 80 of which are reserved for harvesting coffee. At an elevation of about 1300 meters (4265 feet) above sea level and relatively mild climate the farm supports a variety of fauna and flora. The coffee trees are a mix of Mundo Novo, catuai, and catucai varietals. The coffee cherries for this preparation are then processed as full naturals and dried on patios. The total production is about 1,500 bags per year which includes pulped naturals. Paulo Roberto's hard work has certainly paid off and he has placed in the top 10 several times in the Minasul Coffee Quality Contest of Brazil for both his natural and pulped-natural processed coffees.
The farm makes great efforts toward economic, social and environmental sustainability. They have acquired both legal and environmental preserves on 25% of the farm and use only 100% pure spring water to cultivate the coffee. Employees of the farm receive medical care, an important service for the owners as both Paulo Roberto and his son are physicians. In addition, children of employees are provided with education and adults are given the option to receive professional training. Coffee from this farm has placed the top 10 in a past Cup of Excellence.
Region: South of Minas Gerais
City: Carmo da Cachoeira
Altitude: 930-1300 masl
Processing method: Natural
Varietal: Catuai
Cup Characteristics: This natural coffee has a smooth and round body, sweet acidity, and a clean aftertaste. Good component choice for traditional espresso blends. Higher citric acidity, fruit and chocolate notes, and more sweetness which will produce complex cups and espresso.
Roasting Notes: Coffees from these altitudes, while relatively high for Brazil, are somewhat softer than other origins. Thus, slower roasts can be done. This coffee will produce earthy body and is a great candidate for single origin espresso. We advise pulling the roast before second crack has commenced, or just at its start.
Brazil coffee facts:
Population (2006): 188 million people
Coffee Production: 44 million bags (60 kg)
Country bag capacity: 132 pounds - 60 kg
Domestic Consumption: 17 million bags
Coffee Export: 27 million bags
Cultivated Area: 2.83 million hectares (over 7 million acres)

Harvests: June-September

Arabica Introduced: Early 18th century via French Guyana
Specialty Coffee Regions: Parana, Sao Paulo, Minas Gerais, Rio De Janeiro, Espirito Santo, Bahia, Pernambuco.
Grades: AA Plus, AA, peaberry
Botanical Varietals: Bourbon, typical, caturra, mondo novo, catuai, maragogype.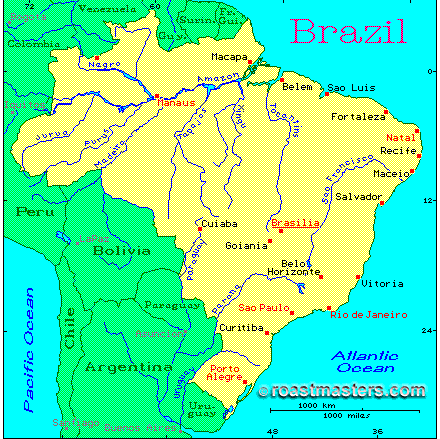 Comments
Brazil is the world's largest coffee producer, offering a wide variety of taste profiles.