About Bolivia Ovidio Paco Microlot
Arrived March 2016. This small microlot from Bolivia is located in the Caranavi region and produced by Ovidio Paco who has been growing coffee since 1996. The farm is at an elevation of over 1,600 meters (5,000 feet) with only 2 hectares of the farm dedicatede to coffee growing, the two varieties he grows are Typica and Caturra. Ovidio Paco is part of the Siete Estrellas community where we have offered numerous coffees from in prior years.
Ovidio Paco along with his wife Lucinda and their three children all work on the farm producing specialty coffee. This year is the first that they have earned microlot status with a score of over 85 points and we are pleased to offer it and be part of this significant milestone in their production.
Cup Characteristics: Fruity, clean, sweet and clear. Meyer lemon and red apple acidity. Complex and bright with a long finish.
Roasting Notes: This high grown, coffee can withstand a broad range of roasts. We like it best as it approaches second crack, as this roast level accentuates body. But you can feel equally comfortable backing off a bit and roasting it lighter, or, going further towards a dark roast.
Bolivia Coffee Facts
Population (2013): 10.5 Million People
Coffee Production: 120,000 bags (60 kg)
Country bag capacity: 132 pounds
Domestic Consumption: 20,000 bags
Coffee Export: 100,000 bags
Cultivated Area: 14,740 Hectares (36,000 acres)

Harvest: April to August

Specialty Coffees: Much of the coffee is processed at cooperatives, some of which are Fair Trade certified.

Botanical Varietals: Caturra, Typica, Criollo.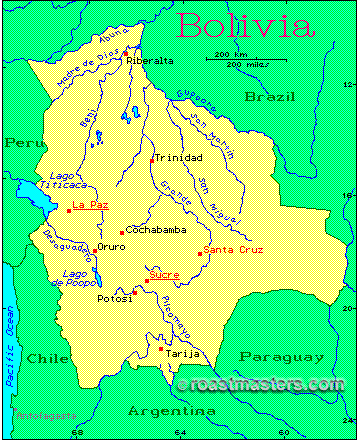 Comments
Approximately 30,000 families rely on coffee for their livelihood. Bolivia is the poorest nation in South America.