Bolivia Fair Trade Organic
More Bolivia Fair Trade and Organic coffee is expected to arrive by mid July. While a lovely coffee, Bolivia has become a more difficult origin from which to import coffee. We have directly imported what will be our final lot of the current season and expect its arrival shortly. If this is a coffee you frequently purchase we appreciate your patience.

Volume Price
Pounds
Price LB
1
$7.49
2-4
$7.12
5-19
$6.74
20+
$6.25
About Bolivia Fair Trade Organic
History and Production
From the ASOCAFE Cooperative in the Canton of Taipiplaya, Province of Caranavi, Department of La Paz, Bolivia
Certified Fair Trade
Certified Organic
Families originally migrated to this area from the Altiplano region beginning in 1955, following massive land reform policies enacted by President Victor Paz Entenssoro. These migrants started growing coffee in 1960 and sold coffee to the local market until 1985. In 1990 the growers founded the ASOCAFE cooperative and in 1996 received organic certification.
Today the cooperative draws from 32 communities that are divided into 4 agrarian centers. There are 300 active member farmers, several of whom have participated in Cup of Excellence competitions. The coop produces primarily organic and specialty-grade coffees and hires station wagon taxis (vagonetas) to transport cherries (up to 500kgs) from the growing communities to the washing stations where the coffee is collected and processed. The coffee cherries are delivered to two centralized washing stations: one in the town of Taipiplaya and the other, this Amor de Dios, is at a higher altitude. The harvest ends at these higher altitudes in October.
Varietals: Criolla (typica), Catuaí, Caturra
Processing: Fully washed
Drying: sun on African raised beds
Altitude: Best qualities 1300 - 1800 meters
Processing
Individual producers do a pre-selection on their farms by dumping cherries into a tank of water and delivering only the better ones to the washing stations
At the washing stations, the producers are paid depending on the quality of the cherries
Depulped coffee stays in fermentation tanks for 5-8 hours before being washed in three connected washing channels – the heavier coffee stays towards the back while the lighter coffee is pushed by the running water to the front
Workers collect the washed parchment and transfer the first quality to be dried on African-style drying beds (tarimas). It is dried until it reaches 13% humidity level. Drying at the high elevation Amor de Dios washing station takes 7 to 8 days due to cool temperatures.
Amor de Dios Washing Station
35 of ASOCAFE's 300 members deliver their coffee cherry to the Amor de Dios washing station, located at 1650 meters.
This coffee is kept separate from the lots processed at the lower washing station at Taipiplaya
The Amor de Dios station can handle only about 30% of the cherries produced and is more difficult to travel to, but the growers who are themselves at the higher elevations have better access to this processing center.
The producers who have participated in Cup of Excellence competitions have mainly delivered their cherries to this station.
Cup Characteristics: Sweet, clean, slightly spicy, full to heavy bodied, mild acidity and has good balance. This is a particularly flavorful lot and we deepened our commitment after cupping our pre-arrival samples.
Roasting Notes: This high grown, dense coffee can withstand a broad range of roasts. We like it best as it approaches second crack as it accentuates the body. But you can feel equally comfortable backing off a bit and roasting it lighter, or, going further towards a dark roast.
Bolivia Coffee Facts
Population (2013): 10.5 Million People
Coffee Production: 120,000 bags (60 kg)
Country bag capacity: 132 pounds
Domestic Consumption: 20,000 bags
Coffee Export: 100,000 bags
Cultivated Area: 14,740 Hectares (36,000 acres)

Harvest: April to August

Specialty Coffees: Much of the coffee is processed at cooperatives, some of which are Fair Trade certified.

Botanical Varietals: Caturra, Typica, Criollo.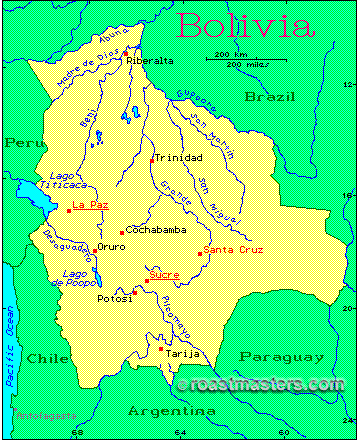 Comments
Approximately 30,000 families rely on coffee for their livelihood. Bolivia is the poorest nation in South America.