Bolivia Fair Trade Organic
$7.46
| Quantity | Price Per LB. |
| --- | --- |
| 1 | $7.46 |
| 2-4 | $7.09 |
| 5-19 | $6.71 |
| 20+ | $6.20 |
About Bolivia Fair Trade Organic
New crop arrived January 2017. This coffee comes from two cooperatives in Bolivia's Caranavi region, the Asociacion Ecologico de Caficultores el Rosario (AECAR) and Union de Productores Agropecuarios (UNION PRO-AGRO) which were individually founded in 2000. There is a combined membership of 123 farms, averaging about 7 acres each. The two cooperatives were founded on the principal of creating a market for small scale farmers while focusing on nurturing the natural environment where they live and work. The farm altitudes range from 1300 to 1700 meters and the varietals grown are 70% Criollo and 30% Caturra.
Varietals: Criolla (typica), Caturra
Processing: Fully washed
Harvest: May - October
Altitude: Best qualities 1300 - 1700 meters
Cup Characteristics:Heavy rich aroma, low acidity, smooth body and sweet milk chocolate flavor.
Roasting Notes: This high grown, coffee can withstand a broad range of roasts. We like it best as it approaches second crack, as this roast level accentuates body. But you can feel equally comfortable backing off a bit and roasting it lighter, or, going further towards a dark roast.
Bolivia Coffee Facts
Population (2013): 10.5 Million People
Coffee Production: 120,000 bags (60 kg)
Country bag capacity: 132 pounds
Domestic Consumption: 20,000 bags
Coffee Export: 100,000 bags
Cultivated Area: 14,740 Hectares (36,000 acres)

Harvest: April to August

Specialty Coffees: Much of the coffee is processed at cooperatives, some of which are Fair Trade certified.

Botanical Varietals: Caturra, Typica, Criollo.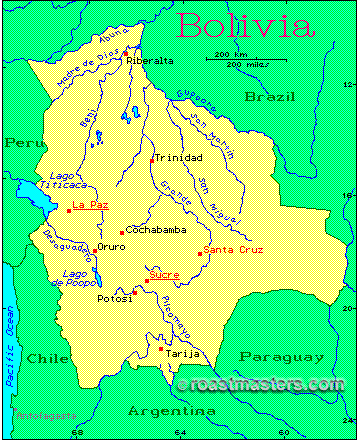 Comments
Approximately 30,000 families rely on coffee for their livelihood. Bolivia is the poorest nation in South America.