Bolivia Fair Trade Organic
Available
Volume Price
Pounds
Price LB
1
$6.82
2-4
$6.48
5-19
$6.14
20+
$5.50
About Bolivia Fair Trade Organic
From the Aprocafe Cooperative in Caranavi.
APROCAFE is a co-op outside of Juan del Valle in Caranavi, Bolivia that was founded in 1996. The co-op has 60 members and the average farm size is about 10 Hectares. At about 1200-1800 meters (3940-5250 feet) above sea level, the beans are wet processed. Among the varietals that the co-op processes are Typica, Caturra, and Catuai. This is a particularly small and new cooperative having only seven members a couple of years ago.
The local terrain is rugged and steep, the forest is lush and beautiful. One of the main forest tree species here is Mahogany. The coffee fruit is brought to Aprocafe Cooperative for fully washed processing where the coffee undergoes depulping, fermentation, drying, resting, sorting and bagging.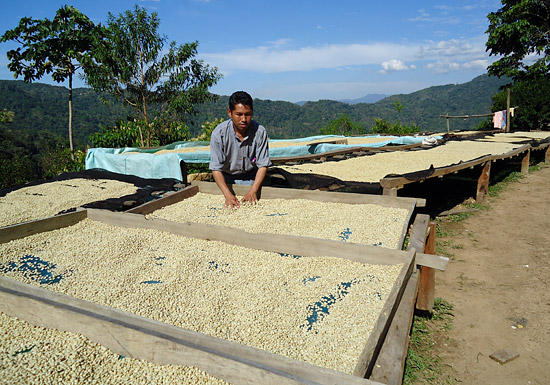 Coffee drying on tables at Aprocafe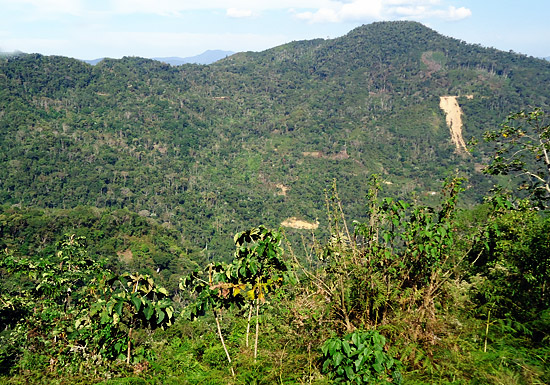 A view from the local coffee fields
The coffee trees from which this fruit derives are classic, older cultivars. During the harvest period there are three cherry pickings: March-April, May-June, and August-September.

Cup Characteristics: The coffee is slightly spicy, full to heavy bodied, mild acidity and has good balance. This is a particularly flavorful lot and we deepened our commitment after cupping our pre-arrival samples.
Roasting Notes: This high grown, dense coffee can withstand a broad range of roasts. We like it best as it approaches second crack as it accentuates the body. But you can feel equally comfortable backing off a bit and roasting it lighter, or, going further towards a dark roast.
Bolivia Coffee Facts
Population (2013): 10.5 Million People
Coffee Production: 120,000 bags (60 kg)
Country bag capacity: 132 pounds
Domestic Consumption: 20,000 bags
Coffee Export: 100,000 bags
Cultivated Area: 14,740 Hectares (36,000 acres)

Harvest: April to August

Specialty Coffees: Much of the coffee is processed at cooperatives, some of which are Fair Trade certified.

Botanical Varietals: Caturra, Typica, Criollo.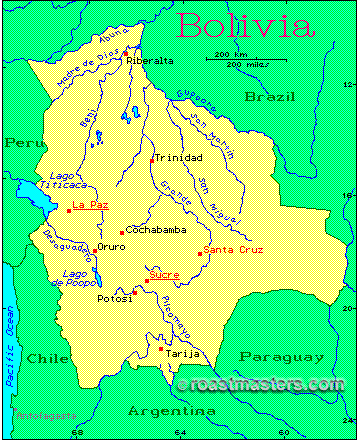 Comments
Approximately 30,000 families rely on coffee for their livelihood. Bolivia is the poorest nation in South America.