Baratza Vario Semi Pro Grinder
$479.00
Now in stock and shipping.
About Baratza Vario Semi Pro Grinder
The Vario fills the niche between large professional grinders and home grinders. It has a small footprint, full grind range, rapidly repeatable micro grind adjustment and quick grinding speed.
This item includes free FedEx ground shipping
in the Continental US.
** $15.00 shipping discount to Hawaii and Alaska code SHIPDISC during checkout. Canada code SHIPDISCC.

Includes the latest, upgraded display board and sleep mode:
This latest model (886) includes the addition of a memory, so that the programmable settings will be retained even when the grinder is unplugged. Also added is a sleep mode so the grinder will shut down, and the blue 'on' light will go out, when the grinder is not in use.
Big on Performance:
The Vario has the performance of a large grinder without the need for all the counter space. Measuring only 5" wide and 7" deep it will fit on almost any counter. At only 14.5" tall, it fits under overhead cupboards. All functions are controlled from the front, so walls or equipment directly beside it is not a problem.

Burrs:
Ceramic 54mm professional flat burrs manufactured in Germany by Mahlkönig. Produces accurate grinding with high throughput and burrs remain sharp for up to twice the lifetime of the highest quality steel burrs.
Fine grind tuning . Macro and micro adjustments are instantly and repeatedly achievable with the intuitive Vario adjustment system. The Vario offers 230 distinct settings of grind to satisfy even the most demanding coffee connoisseur.
The broad range of grind (250 mm to 1200mm) and the narrow particle distribution (bi-modal in espresso setting) are hallmarks of the professionalism of the Vario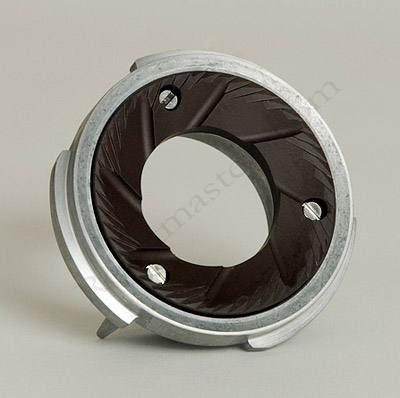 Programability:
Three user programmable buttons allow for grind time setting within 0.1 second (about 0.2 gram). Simply press the START button, and the Vario automatically delivers precise dosing.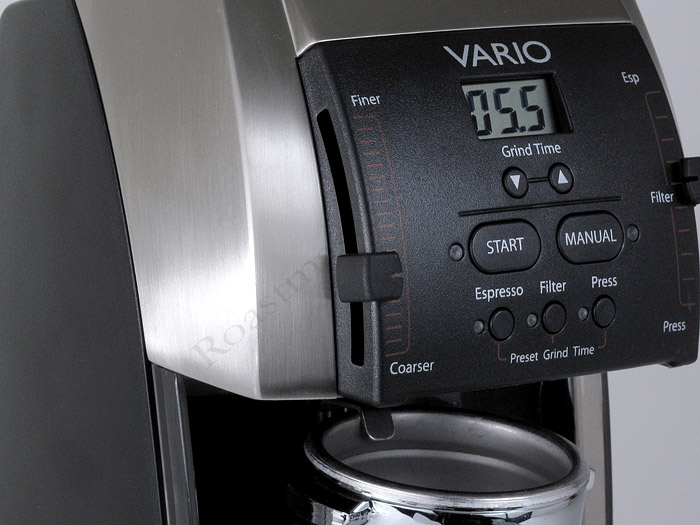 Speed:
The Vario grinds 1.5 grams/second at Espresso and 2.5 grams/second at Press. The speed of grind is truly Professional.
A cool drive system:
The Vario employs a high torque DC motor and an ultra-quiet belt-drive transmission. The German timing belt provides important thermal isolation of motor and burrs, ensuring cooler coffee.
Portafilter:
Baratza's exclusive PortaHolder permits hands free grinding into any Espresso portafilter. The grinder comes with both a grinds drawer for catching grounds as well as new PortaHolder.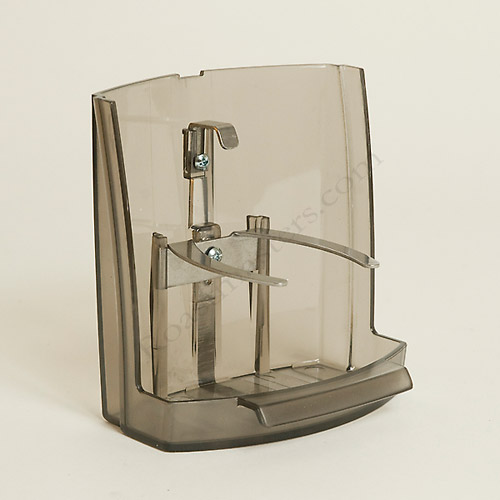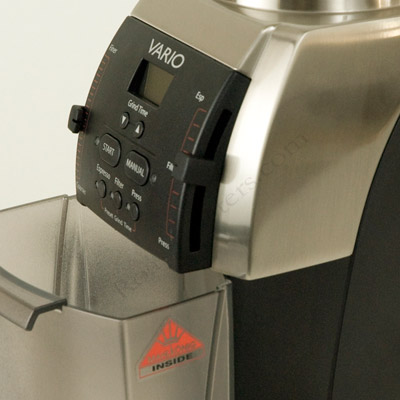 Roastmasters offers the Baratza's Vario coffee mill at the lowest price allowed.