About Panama Finca Lerida Honey
Finca Lerida is a farm with a rich and unique history. The farm was first established in 1924 when Tollef B. Monniche, a retired engineer, moved to the farm after working on the Panama Canal. After moving to the land with his wife he soon developed the first coffee plantation by gravity in Panama. In 1929 the farm exported it's first shipment of coffee to Germany, the beginning of a successful operation out of Finca Lerida. In addition he designed and patented the "sifon", a device used to separate good beans from defective ones. This device is now used globally by many coffee farms and is still in use at Finca Lerida where Monniche's original processing plant remains to produce excellent quality coffee.
Presently, Finca Lerida is managed by the Chiari family who coordinates the coffee growing as well as preserves the virgin rainforest that surrounds the farm. Located in the Chiriqui region of Boquete, the farm sits at an altitude of about 1600-1800 meters (5250-6020 feet) above sea level. The coffee varieties grown on the farm are Caturra and Catuai and processing includes both traditional washed as well as honey processing, all coffees are sun dried on patios.
Finca Lerida's continued success has been recognized over the years. In 2013 Best of Panama this coffee took 3rd place scoring 87.96 points. We personally scored it higher as we were jurors at the competition. The farm's investment and intention of returning coffee output to the highest quality is becoming apparent. The prior year it took 6th place award in the 2012 Best of Panama competition in the traditional category and a 91 point rating from Coffee Review that same year.
Today the coffee farm is part of a hotel and tourist attraction that allows patrons to take tours of the farm and enjoy the ambiance of the rainforest and other beautiful surroundings. From it's humble beginnings Finca Lerida is a real success story with great coffee to prove it.
City: Jaramillo Los Naranjos
Region: Boquete, Chiriqui Farm
Elevation: 1600 - 1835 meters, 5250 - 6020 feet
Processing Method: Honey (partial removal of mucilage), sun dried on patio
Varieties: Caturra and Catuai
Coffee arrived in July in Grainpro.
Cup Characteristics: Beautiful floral with ripe, sweet melon. Hot cocoa. Piquant, jasmine-floral notes with considerable nuances of ripe fruit. Very sweet. Aromas of honeysuckle and violets. Consistent throughout the temperature range as it cools. A terrific, unusual cup showing great care in processing technique.
Only 100 pounds available.
Panama coffee facts:
Population (2006): 1.3 million people
Coffee Production: 180,000 bags (60 kg)
Country bag capacity: 132 pounds - 60 kg
Domestic Consumption: 80,000 bags
Coffee Export: 100,000 bags
Cultivated Area: 26,000 Hectares (64,200 acres)

Harvests: October - February

Arabica Introduced: Arabica was imported from Costa Rica in 1820.
Specialty Coffee Regions: Boquete near Volcan Baru, Chiriqui.
Grades: Strictly Hard Bean (SHB), HB.
Farms: About 30,000 farms.
Botanical Varietals: Typica, Caturra, Gesha.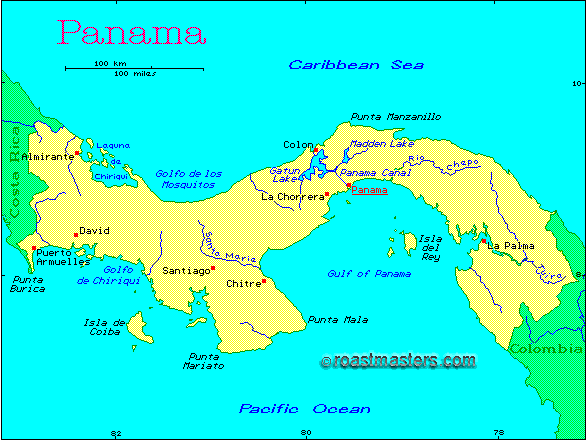 Comments
Panama is a rising star in the specialty coffee world. In the Boquete in particular, farmers are taking Arabica coffee cultivation to new levels and recent auctions of small, specialty lots have garnered record, if not silly, prices. Nonetheless, some of the coffee is excellent. Gesha, a varietal that stems from Ethiopia, has been grown here with good success, yet other cultivars noted above, can produce superb results.