Panama Hector Vargas' La Milagrosa
Sold Out.

Volume Price
Pounds
Price LB
1
$8.61
2-4
$8.18
5-19
$7.75
20+
$7.25
About Panama Hector Vargas' La Milagrosa
This is 2012 crop year coffee, arrived in grainpro. We have been buying this direct trade coffee from Hector Vargas for several years now. Hector (known to his friends as Tito) has been a rising star in the Panama coffee scene over the past five years. In this year's 2012 Best of Panama competition Hector's Geisha varietal took two awards. The competition was broken into three sections: Geisha varietal, naturals and traditional. Hector took 2nd place in the Geisha varietal and his Panacoffee geisha sold for $90.25 per pound with a score of 90.40. His natural process entry fetched $16.25 per pound with an 8th place victory. His coffee has become very prized. This traditional washed offering La Milagrosa is a wonderful coffee that we have been able to purchase directly due our sustained relationship and support of Hector Vargas.
Hector grows three varietals on his farm in Boquete: Typica, Catuai and Geisha. Hector's Geisha is the one that gets entered in competition and fetches top dollar, but we were very impressed with the delicacy and range of the Typica and Catuai blend that he offered exclusively to us last year. We are pleased to have it back again! To the best of our knowledge we are the only company in the US to have his coffee.
We first met Hector in 2007. His coffee had placed in 2006 Best of Panama winning group, a coffee called La Milagrosa, and we bought that competition lot. We became jurors of the competition in 2007 and when we arrived in Boquete Hector made a point of looking us up. He is from a very humble background, a real salt-of-the-earth farmer who does all the manual, back breaking work on his small farm. He was thrilled that his coffee made it into the final auction and equally so that we 'discovered' it and it was being sold in the US. In the years since, Hector, previously obscured by better known and financed farms in Panama, has become acknowledged for the high quality coffee he painstakingly grows. Each year his coffee has gotten better and better until he finished second last year, just behind the world famous Hacienda Esmeralda. This was a tremendous accomplishment and it has been delightful to have had some small role in this, watching a humble farmer reap the rewards of his labor.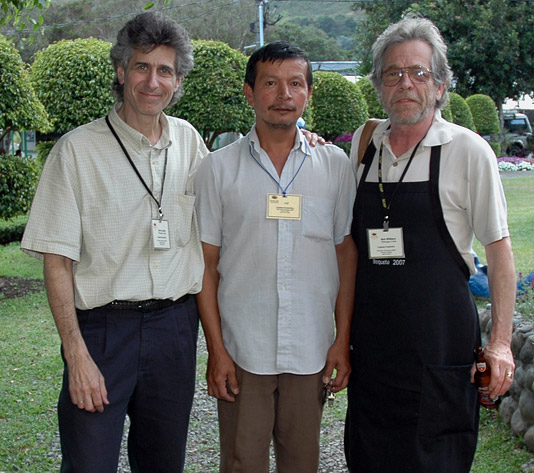 Hector Vargas in 2007 when we first met him. Barry left, Bob right.
Hector Vargas' farm is in Panama's Jaramillo, Boquete zone, near the Baru Volcano. This particular lot, his La Milagrosa, is grown at around 5400 elevation on a site which gets about 170 inches a year of rainfall. It is both washed and sun-dried. His farm is on one the choicest parcels in Panama.
Cup Characteristics: Big, sweet, juicy coffee. Balanced but forward and clean. Round, long finish with orange citrus character and apple-like tartness. Very bright, elegant and succulent.
Roasting Notes: Approach 2nd crack but stop just of short of it and FC to retain sweetness and acidity. C+ will work best with this elegant coffee.