Mexico Swiss Water Decaf FTO
Available
Volume Price
Pounds
Price LB
1
$7.35
2-4
$6.98
5-19
$6.62
20+
$5.88
About Mexico Swiss Water Decaf FTO
Mexico Swiss Water Processed Fair Trade & Organic. The lot is made up of Typica, Caturra, and Bourbon varietals and is grown at alittudes between 4000-5200 feet from the Chaipa, Yajalon, Tumbala, and Ocosigno regions in Mexico. This coffee is washed and produced by the Uapeeis Tzijib Babi Federacion de Sociedades Solidaridad Social which represents 14 organizations and over 714 individuals from the above mentioned regions. Members produce both organic coffee and honey.
All proceeds from the Grounds for Health auction are used to support health services in coffee-growing countries. Established in 1996, Grounds for Health is an international non-profit organization that has worked to create sustainable cervical cancer prevention programs in coffee-growing communities. Projects include the education and training of community health professionals, doctors, and nurses.
| | |
| --- | --- |
| Region: | Chiapas, Yajalón, Tumbala, & Ocosingo |
| Varietal: | typica, caturra, bourbon |
| Certifications: | Fair Trade, Organic |
| Harvest: | 2012 |
| Processing Methods: | Washed, Water Process Decaffeination |
| Growing Altitude: | 4000-5200ft (1200-1600m) |
| Producer: | Uapeéis Tzijib Babi |
This coffee is decaffeinated by Swiss Water Process which is 100% chemical free. This coffee arrived here in July.
Cup Characteristics: Brown sugar, ripe green apple, lemon, buttery finish.
Roasting Notes: To your preference. This high grown decaffeinated Mexican coffee can be roasted throughout the gamut from City+ to dark roasts. If using a Behmor, try P3.
Mexico Coffee Facts:
Population: 108.7 Million People (2007)
Coffee Production: 4.1 Million bags (60 kg):
Country bag capacity: 132 pounds
Domestic Consumption: About 1 Million bags
Cultivated Area: 420,000 Hectares (1,037,000 acres)
Harvest: November-January (in the high elevations)
Arabica Introduced: Coffee was introduced from the Antilles at the end of the 18th century.
Farms: Over 120,000, most of which are small holdings (under 5 hectares).
Specialty Coffee Regions: Chiapas, Oaxaca, Veracruz, Puebla
Botanical Varietals: Bourbon, Mundo Nuevo, Caturra, Maragogype, Garnica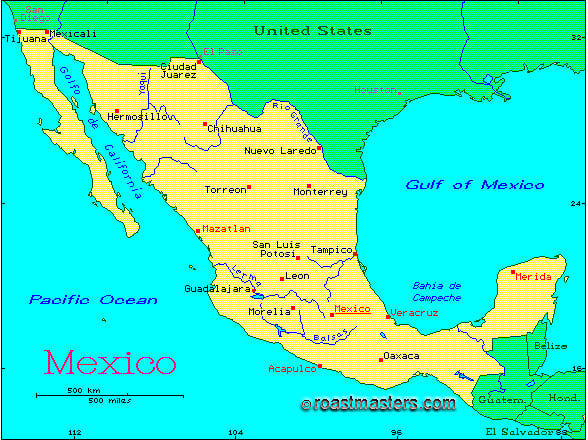 Comments
Mexico is the world's third largest producer of arabica coffee; it is Mexico's number one agricultural export.