About Mexico Mountain Water Decaf Fair Trade Organic
Latest arrival July 2016. Mexico Mountain Water Processed Fair Trade Organic. The lot is made up of Typica, Caturra, and Bourbon varietals and is grown at alittudes between 4000-5200 feet from the Chaipa, Yajalon, Tumbala, and Ocosigno regions in Mexico.
| | |
| --- | --- |
| Varietal: | typica, caturra, bourbon |
| Certifications: | Fair Trade, Organic |
| Harvest: | 2015/16 |
| Processing Methods: | Washed, Mountain Water Process Decaffeination |
| Growing Altitude: | 4000-5200ft (1200-1600m) |
This coffee is decaffeinated by Descamex Mountain Water Process which is 100% chemical free.
Cup Characteristics: Brown sugar, ripe green apple, lemon, buttery finish.
Roasting Notes: To your preference. This high grown decaffeinated Mexican coffee can be roasted throughout the gamut from City+ to dark roasts. If using a Behmor, try P3.


Mexico Coffee Facts:
Population: 108.7 Million People (2007)
Coffee Production: 4.1 Million bags (60 kg):
Country bag capacity: 132 pounds
Domestic Consumption: About 1 Million bags
Cultivated Area: 420,000 Hectares (1,037,000 acres)
Harvest: November-January (in the high elevations)
Arabica Introduced: Coffee was introduced from the Antilles at the end of the 18th century.
Farms: Over 120,000, most of which are small holdings (under 5 hectares).
Specialty Coffee Regions: Chiapas, Oaxaca, Veracruz, Puebla
Botanical Varietals: Bourbon, Mundo Nuevo, Caturra, Maragogype, Garnica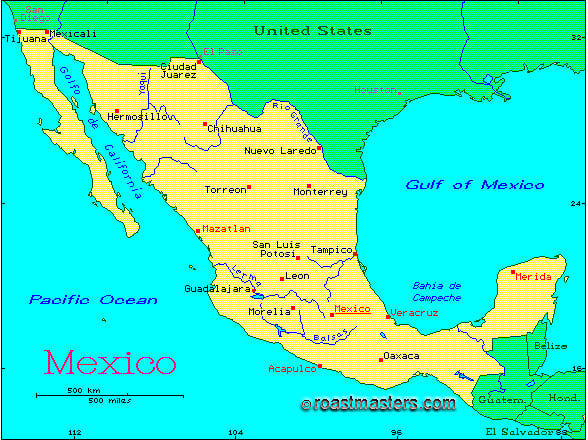 Comments
Mexico is the world's third largest producer of arabica coffee; it is Mexico's number one agricultural export.