Kenya Ruguti Peaberry auction lot
Sorry, we are currently sold out of 'Kenya Ruguti Peaberry auction lot'. Please check back later.


Volume Price
Pounds
Price LB
1
$8.08
2-4
$7.68
5-19
$7.27
20+
$6.75
About Kenya Ruguti Peaberry auction lot
A direct import from Kenya, Ruguti arrived here in Sept 2014, new crop, boxed in vacuum packaging.
This is a peaberry, meaning there is a single pearl-shaped bean in the center of the coffee cherry rather than two facing flat beans. It is believed that if one of the flat beans does not develop than the remain bean grows into the vacant space creating a single oval bean. Peaberries have excellent roasting qualities, particularly in cylindrical drums, as they roll around and are less prone to scorching. In air roasters they can be more difficult in getting airborne due to the native wind resistance of its shape. Some cultures believe peaberries to be an aphrodisiac; its not being presented as such but you can decide for yourself. You will find it be a very even roaster.
The Ruguti Factory (wetmill) is part of the Mwanga Cooperative Society in Chuka in Eastern Province on the slopes of Mount Kenya. They are known for quality production of both coffee and tea, and have great altitude and soil. There are a number of small coffee estates in the area, but it is mainly made up of smallholder farms, each with some 250 trees each. They are organized in Cooperative Societies that acts as umbrella organizations for the Factories (wetmills), where the local smallholders deliver their coffee cherries for processing. Coffees from this area are typically rich, with dark fruit flavors, intense and heavy bodied.
The society is cooperating with CMS, Coffee Management Services, who are implementing quality control at the wetmills. They also have training programs for sustainability at farm level. By training the farmers on better farming practices, they are able to increase both quality and production of cherries. CMS has been very successful in increasing the farmersí livelihood through systematic work on the ground.
Cooperative: Mwanga Cooperative Society
Wet mill: Ruguti Factory
Region: Eastern Province
Shade trees: Gravellea, Macadamia
Altitude: 1650 meters, 5400 feet
Producers: About 930 smallholders in the surrounding areas deliver cherries to the wet mill. Individual lots are separated for auction.
Varietals: Mainly SL 28 and SL 34
Production: All coffees are pulped, dry fermented, washed, soaked and sundried. This extra soaking is typical of better Kenya processing.

Processing: Smallholders delivers their cherries at the factory (wetmill) where cherries are hand sorted for unripes and overripes by the farmers before they go in to production.
Coffee is fermented for 36 hours, and after fermentation the coffees are washed twice and again graded by density in washing channels. They are then soaked under clean water for 6-12 hours.
Drying: Sun dried up to 21 days on African drying beds. Coffees are covered in plastic during midday and at night.
Soil: Red volcanic
Notes: Farmers are given advances for school fees, farm input and other expenses. This coffee is bought directly from the cooperative.
Cupping notes: Very sweet cupping, bright and crisp. Citrus acidity. Very elegant, viscous and layered presenting darker fruits, juiciness with a mildly tart finish.
Roasting Notes: These higher grown beans are hard and dense and can be roasted to a variety of darkness levels. Most floral and delicate notes are routinely presented at City+ to FC range. The delicate nuances of this coffee will present themselves at lightly roasted levels but be sure to have a thorough first crack. Behmor users try P1 or P3.
Kenya coffee facts:
Population (2006): 34.7 million People
Coffee Production: 880,000 bags (60 kg)
Country bag capacity: 132 pounds - 60 kg
Domestic Consumption: 50,000 bags
Coffee Export: 850,000 bags
Cultivated Area: 127,000 Hectares (314,000 acres)

Harvests: 2 per year
- Main crop October to December
- Fly crop June to August

Arabica Introduced: Introduced from Ethiopia via Yemen at the end of the 19th century, by the Fathers of the Holy Spirit Congregation. Bourbon varietal introduced from Reunion in 1901 by missionaries. Kent varietal introduced early 20th century from the Indies.
Specialty Coffee Regions: North and northeast of Nairobi; high plateaus surrounding Mt. Kenya. Soil is volcanic.
Grades: AA Plus, AA, peaberry
Farms: About 350,000 farms with an average of 0.2 hectares (about 1/2 acre). 8 major preparation cooperatives.
Botanical Varietals: Bourbon, Kent, various hybrids (SL-28, SL-34, Riuru 11), Blue Mountain (from Jamaica).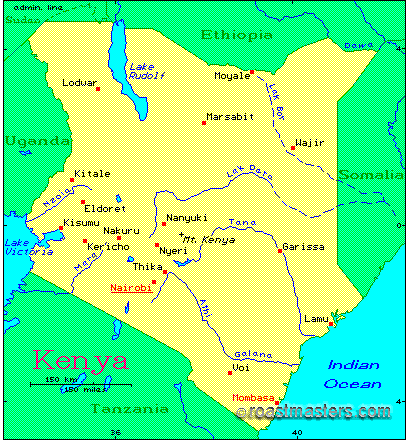 Comments
One of the great coffee producers. Coffee accounts for 27% of the country's exports and half of their agricultural output. Shading, by banana trees, is a common practice.
Kenya has a weekly auction system that has been in place for many years. It does not provide transparency of revenues to growers and the system is said to be flawed by a complex web of middlemen. There are allegations of corruption as well. The government is working to develop a more direct model whereby growers can offer their coffees more directly to foreign buyers thus reaping a better price.