Kenya AA Thunguri Auction Lot
Kenya AA Thunguri Auction Lot has sold out.
Wait List
Volume Price
Pounds
Price LB
1
$9.99
2-4
$9.49
5+
$8.99
About Kenya AA Thunguri Auction Lot
Once again this year we had the opportunity to import coffee directly from Kenya. After cupping our way through many AA microlot samples, most of them very nice, we settled on three. Our top picks for the season are Thunguri AA and Gaturiri AA microlots. Both showed themselves very well that we knew right away we had to have them. Neither was in sufficient quantity for our needs so we bought both. While still a little pricey, top Kenya lots are considerably less per pound, by several dollars, then last year. A couple of years with exceptional rain had reduced crop size and spiked prices, but that situation is now settling down. In fact this has been a good year for Kenya weather and coffee production and farmers have had sustained good prices due to high quality. This is a coffee grown locally and processed at the Thunguri Coffee Factory, but the lot was isolated and marketed separately.
The Thunguri Coffee Factory is located in Central Province, Kirinyaga District in Kiini North location of Ndia Division near Karatina town. It was established in 1987 and sits on a 7 acre parcel of land serving Gathundie, Gathiruini, Thunguri and Kaguyu Villages. Currently it is affiliated to Kibirigwi Farmers Co-operative Society Ltd whose membership currently stands at 800 farmers. The most unique aspect of this factory is that itís located within a tea growing zone and it also has a very active membership.
The Factory, really a washed processing center, is at 1628 meters, about 5350 feet, but some of the area farms are higher still. Almost the entirety of coffee processed here are the classic Bourbon offshoots SL28 and SL34. After harvesting, all the coffee is delivered to the factory and undergoes the wet processing method. Water is pumped from River Kamukokari to the reservoir tanks for pulping and recirculation. After pulping the coffee is stored over night, washed, soaked and spread on drying tables to dry slowly in the sun. The parchment is frequently turned on the drying tables, then sorted and stored while awaiting delivery to the millers who will remove the parchment husk and prepare it for export.
Top lots are separated according to grade and cup quality and move to the auction block, where they are recupped. Naturally, the best afford the highest and active bidding. Our Thunguri AA lot is an example of the best coffee from Kenya.
This coffee shipped from origin and arrived at our facility packed in 30kg vacuum packages.
Cup Characteristics: We were wowwed by this coffee. Pronounced vanilla aromatics. Thunguri is tart, puckery and dry on the finish. Clean, extremely complex and balanced. Flavors open up in layers, revealing nuances with each sip. Blackberry, blackcurrant. A terrific cup.
Roasting Notes: Beans are hard and dense and can be roasted to a variety of darkness levels. Most floral and delicate notes will be presented at City+ to FC range. The delicate nuances of this coffee will present themselves at lightly roasted levels but be sure to have a full first crack. Behmor users try P1 or P3.
Kenya coffee facts:
Population (2006): 34.7 million People
Coffee Production: 880,000 bags (60 kg)
Country bag capacity: 132 pounds - 60 kg
Domestic Consumption: 50,000 bags
Coffee Export: 850,000 bags
Cultivated Area: 127,000 Hectares (314,000 acres)

Harvests: 2 per year
- Main crop October to December
- Fly crop June to August

Arabica Introduced: Introduced from Ethiopia via Yemen at the end of the 19th century, by the Fathers of the Holy Spirit Congregation. Bourbon varietal introduced from Reunion in 1901 by missionaries. Kent varietal introduced early 20th century from the Indies.
Specialty Coffee Regions: North and northeast of Nairobi; high plateaus surrounding Mt. Kenya. Soil is volcanic.
Grades: AA Plus, AA, peaberry
Farms: About 350,000 farms with an average of 0.2 hectares (about 1/2 acre). 8 major preparation cooperatives.
Botanical Varietals: Bourbon, Kent, various hybrids (SL-28, SL-34, Riuru 11), Blue Mountain (from Jamaica).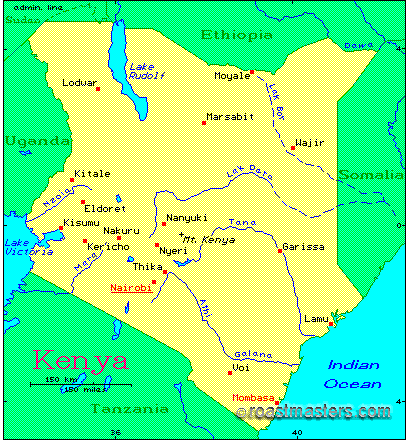 Comments
One of the great coffee producers. Coffee accounts for 27% of the country's exports and half of their agricultural output. Shading, by banana trees, is a common practice.
Kenya has a weekly auction system that has been in place for many years. It does not provide transparency of revenues to growers and the system is said to be flawed by a complex web of middlemen. There are allegations of corruption as well. The government is working to develop a more direct model whereby growers can offer their coffees more directly to foreign buyers thus reaping a better price.