About Kenya AB Ichamama Auction Lot
New crop, arrived end of August 2016 in grainpro protective bags. This top rated Kenya AB coffee comes from the Ichamama Factory, also known as a wet mill, in Nyeri County on the eastern slope of the Aberdares mountain range. The factory processes coffee from 1,100 farmers (about a third of which are women), each one with an average farm size of 250 coffee trees making up roughly half an acre. The farmers are members of the Othaya Farming Cooperative Society which runs its own dry mill operation in Gatuyaini located next to the Ichamama River, hence the name, located next to the nearby Karima Hill forest. The wetmill is nearly on the equator on latitude 00.54° South at an altitude of 1741 meters above sea level.
Grower: Smallholder farmers organized around the Ichamama Factory
Cooperative membership: Othaya Farmers Co-operative Society Limited
Region: Nyeri County, Kenya
Altitude: 1,220 - 2,300 meters
Process: Fully washed and dried in raised beds
Variety: SL28, SL34, and Ruiru 11
Harvest: April-June (main crop) and October-December ('fly' crop)
Soil: Volcanic loam
Certification: Conventional
There have been a number of political issues surrounding coffee from Nyeri because it is generally so prized. The governor of Nyeri attempted to control the marketplace several years ago by moving all milling to one central and government run facility in an effort to maximize revenue. This met with objection throughout the growing, exporting and roasting communities and the program has largely failed.
Cup Characteristics: Very textual and piquant cup with savory notes. Jammy with pomegranate and red wine acidity. Kenya coffees are marked by black-currant or berry flavors with lots of structure and complexity. There is a backbone of dry, red wine.
Roasting Notes: Kenya can be roasted successfully to various roast levels due to the bean density and high elevations where grown. Light roasting, midway between 1st and 2nd crack will produce a more acidic, delicate and flavorful cup; taken to 2nd crack the body becomes considerably more emphasized and the acidity plays a lesser role. But Kenya can also be roasted beyond 2nd crack to dark roasted, caramelized levels because there is considerable inherit natural sugar, acidity and bean hardness.
Kenya coffee facts:
Population (2006): 34.7 million People
Coffee Production: 880,000 bags (60 kg)
Country bag capacity: 132 pounds - 60 kg
Domestic Consumption: 50,000 bags
Coffee Export: 850,000 bags
Cultivated Area: 127,000 Hectares (314,000 acres)

Harvests: 2 per year
- Main crop October to December
- Fly crop June to August

Arabica Introduced: Introduced from Ethiopia via Yemen at the end of the 19th century, by the Fathers of the Holy Spirit Congregation. Bourbon varietal introduced from Reunion in 1901 by missionaries. Kent varietal introduced early 20th century from the Indies.
Specialty Coffee Regions: North and northeast of Nairobi; high plateaus surrounding Mt. Kenya. Soil is volcanic.
Grades: AA Plus, AA, peaberry
Farms: About 350,000 farms with an average of 0.2 hectares (about 1/2 acre). 8 major preparation cooperatives.
Botanical Varietals: Bourbon, Kent, various hybrids (SL-28, SL-34, Riuru 11), Blue Mountain (from Jamaica).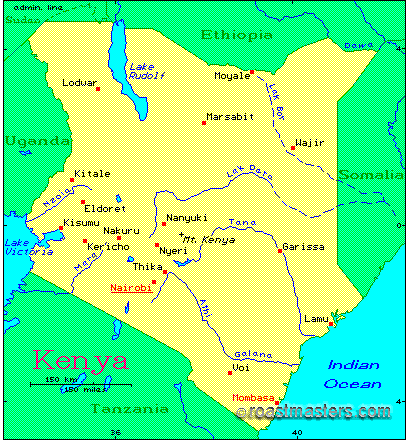 Comments
One of the great coffee producers. Coffee accounts for 27% of the country's exports and half of their agricultural output. Shading, by banana trees, is a common practice.
Kenya has a weekly auction system that has been in place for many years. It does not provide transparency of revenues to growers and the system is said to be flawed by a complex web of middlemen. There are allegations of corruption as well. The government is working to develop a more direct model whereby growers can offer their coffees more directly to foreign buyers thus reaping a better price.