Guatemala Antigua Finca La Tacita
Sorry, we are currently sold out of 'Guatemala Antigua Finca La Tacita'. Please check back later.


Volume Price
Pounds
Price LB
1
$6.65
2-4
$6.32
5-19
$5.98
20+
$5.32
About Guatemala Antigua Finca La Tacita
Arrived July 2013, new crop, directly imported. Finca La Tacita, a genuine Guatemala Antigua, is a coffee we have offered in some prior years as it rarely disappoints. Now in their fourth generation in Antigua, the Falla family, growers of La Tacita, have been one of the premier coffee growing families of the region. Finca (plantation) La Tacita is one of the best cultivated examples of Bourbon trees grown at elevations that exceed 6000 feet above sea level on the mountainside of Volcan Acatenango. The cherries are a deep shade of red approaching purple.
Bourbon is not the most common varietal these days throughout Antigua but this heirloon cultivar offers sweet, concentrated flavors due to its relatively low yield, somewhat small size and the high elevation where it is grown. This is further enhanced by Finca La Tacita's approach to sustainability. They use two tiers of shade tree with naturally occurring oak forming the top tier and planted Grevilla and Macadamia forming the lower. These shade trees provide a canopy which allows coffee to grow more slowly and its sweetness is heightened. This type of canopy also provides habitat for wildlife, protection against erosion and it fosters organic compost. La Tacita also plants rows of nitrogen fixing black beans between rows of coffee. This Fallas promote responsible cultivation, protection of the their micro environment and fair wages to their employees through premium coffee production and pricing. .
Antigua, Guatemala's former 16th century capital, was abandoned by the 18th century because of the frequency of volcanic eruptions and earthquakes. The Falla family bought property there in 1890 and has been farming since. Over the years, their sizeable overall holdings were divided among heirs with much of the land being used for coffee and other farming. La Tacita itself was used for cattle grazing until about 30 years ago and was then found to be ideal for growing coffee. The Falla family also owns Finca San Sebastian, a wonderful coffee hardly seen in the US today, all of it going to Europe and Asia. La Tacita, which means 'little cup' is so named for the punchbowl shape of the property, is the adjacent farm. It is one of roughly fifty genuine Antigua farms and consistently produces one of the finest coffees available there.
Coffee cherry is processed at the family's beneficio and then 100% sun dried. Year after year this coffee has consistently scored at or near the top of various cupping events and several years ago voted 'the best' coffee of Antigua. Further, it has received glowing commentary from the Coffee Review. This coffee enjoys seasonal rain, abundant sun, rich volcanic soil and, spring fed waters. The harvests of each parcel spread over a three month season and requires hand picking each plant up to four times to insure a uniformly ripe cherry. The La Tacita farm is one of a handful of coffees certified as genuine Antigua coffee since that certification became available for coffees from this renowned region.
This coffee growing family promotes responsible cultivation, protection of the their micro environment and fair wages to their employees through premium coffee production and pricing. .
Cup characteristics: Clean, bright and complex. It possesses considerable body, mouthfeel and a good Antigua's lightly smoky and zesty character.
Roasting Notes: City+ to FC. There is a lot of character here to capture so going too dark is not to your advantage. However, this high grown, strictly hard bean coffee is dense and could handle darker roasts, albeit at the expense of its more delicate and floral elements.
Guatemala coffee facts:
Population (2006): 12.3 Million People
Coffee Production: 3.93 Million bags (60 kg)
Country bag capacity: 150 pounds
Domestic Consumption: 1.7 Million bags per year
Coffee Export: 3.8 Million Bags
Cultivated Area: 250,000 Hectares

Harvest:
September to April

Arabica Introduced: Coffee introduced by the Jesuits in the late 18th century and the coffee industry later developed by German immigrants in the mid 19th century.

Farms:
Approximately 65,000

Specialty Coffee Regions:
Antigua, Coban, Atitlan, Huehuetenango, Fraijanes, San Marcos

Botanical Varietals: Arabigo, Bourbon, Typica, Catura, Catuai, Catimur, Maragogype, RobustaArabigo, Bourbon, Typica, Catura, Catuai, Catimur, Maragogype, Robusta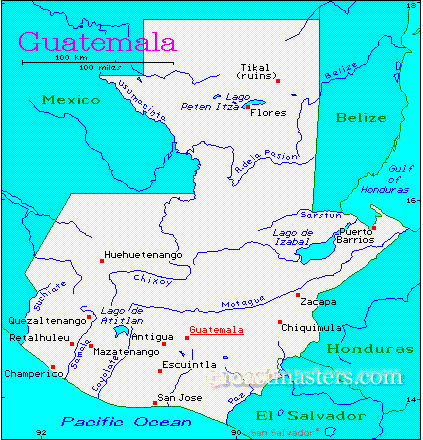 Comments
This relatively small country produces some of the world's top coffees and offers a variety of coffee experiences. Each region has distinct taste profiles, each of which is enhanced, as always, by the care and attention brought by the farm in growing methodology.
There are more than 60,000 small coffee farms in Guatemala with over 30% of the population engaged in the coffee industry.