About Guatemala SHB Finca La Pastoria
First new crop Guatemala SHB of the season arrived April 2015. Coffee is beginning to flow in from Central America.
Finca La Pastoria is located in the Santa Rosa region in the town of Barberena, just about thirty miles from the capital. The farm's success is due in part to ideal altitude and climate conditions in conjunction with the farm's efforts toward reforestation and committment to protecting its natural environment. The elevation of the farm is between 2600 and 4900 feet above sea level but the SHB graded coffee must be from the farm's highest elevations, over 1400 meters and about 4500 feet.. La Pastoria cultivates Catuai and Catimor varietals and the harvest is between the end of December and March. Once harvested the coffee is fully washed and dried on patios.
This is an excellent and very fresh cupping coffee that can be a great base for blends, dark roasts as well as an unblended coffee. Great coffee for the money.
Cup Characteristics: Bright, raspberry aroma. Complex citric acidity. Layered and well balanced cup with a sweet finish.
Roasting Notes: Strictly Hard Bean (SHB), high grown coffees are durable and can be roasted to light or dark. Lighter roasts will be characterized by pronounce acidity and delicate wine notes. The acidity is sufficient to withstand darker roasting, meaning the coffee, when dark, will not be flat tasting and will remain vibrant as a stand-alone or blend component.
Guatemala coffee facts:
Population (2006): 12.3 Million People
Coffee Production: 3.93 Million bags (60 kg)
Country bag capacity: 150 pounds
Domestic Consumption: 1.7 Million bags per year
Coffee Export: 3.8 Million Bags
Cultivated Area: 250,000 Hectares

Harvest:
September to April

Arabica Introduced: Coffee introduced by the Jesuits in the late 18th century and the coffee industry later developed by German immigrants in the mid 19th century.

Farms:
Approximately 65,000

Specialty Coffee Regions:
Antigua, Coban, Atitlan, Huehuetenango, Fraijanes, San Marcos

Botanical Varietals: Arabigo, Bourbon, Typica, Catura, Catuai, Catimur, Maragogype, RobustaArabigo, Bourbon, Typica, Catura, Catuai, Catimur, Maragogype, Robusta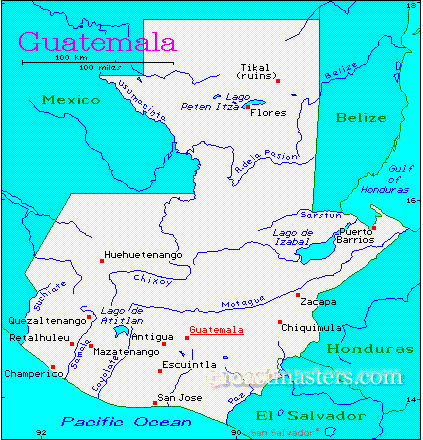 Comments
This relatively small country produces some of the world's top coffees and offers a variety of coffee experiences. Each region has distinct taste profiles, each of which is enhanced, as always, by the care and attention brought by the farm in growing methodology.
There are more than 60,000 small coffee farms in Guatemala with over 30% of the population engaged in the coffee industry.