About Panama Elida Natural Process
Arrived September 2015 in Grainpro bags. This May we had the pleasure of visting Elida Estate and are extremely excited to offer this fantastic coffee once again. At this years Best of Panama competition, where the owner of Roastmasters was an international judge, the Elida Estate Natural took 4th place while their washed coffee took 2nd. This goes to show that the hardwork of the Lamastus family is appreciated and recognized for its excellence.
This coffee is highly regarded as a single origin espresso. It is a special, separate micro lot preparation of Elida Estate coffee which undergoes dry rather than washed processing. Varietal is 100% Catuai. While the majority of coffee produced on Elida Estate is washed, this particular small lot was patio dried in its pulp. To aid in drying, it was taken from the farm's higher growing elevations, where there is significant moisture, to a lower elevation where the temperatures were considerably warmer and the air drier. There, it dried naturally, over a period of 10 days on raised African sytle beds.
The combination of Elida's award winning Catuai, always a top contender in the Best of Panama competition, and the thoughtful, artisanal processing that the Lamastus family is experimenting with, augers for an extremely complex, earthy cup, pushing the edge of fruitiness to the extreme. A tremendous single origin espresso. This coffee has been chosen by several competitors in barista challenges and, as such, has been judged on the world stage.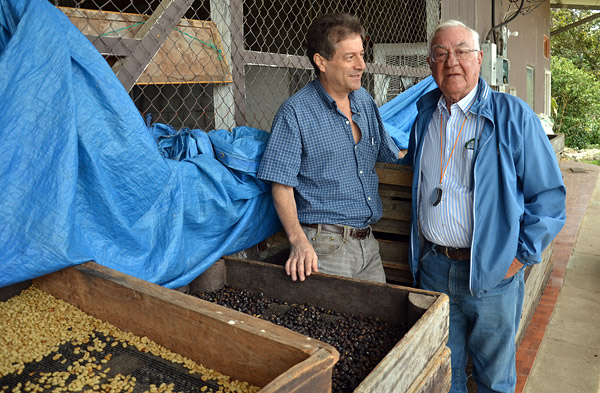 Wilford (left) and his father Thatcher Lamastus at the drymill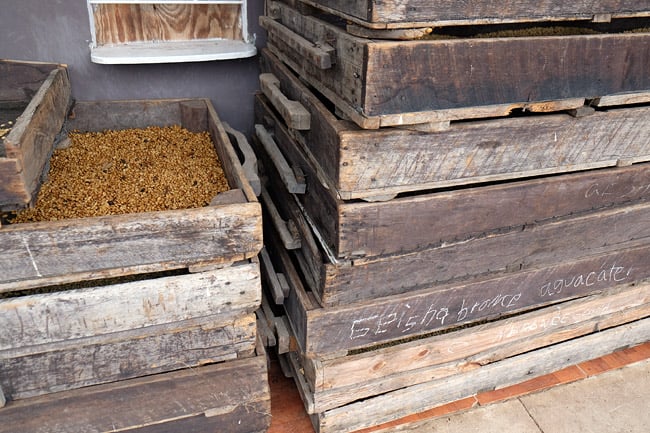 Handmade wooden trays used for drying the natural and honey coffees
We were offered multiple lots of Elida Natural each from a different plot of Elida land and each having minor variances in drying time, and other variables. We selected lot 9 and when presented with the same choice among their washed coffees we also blindly selected the same lot. So, this is our pick from the available Elida Natural lots. Very limited supply.
Cupping Characteristics: Deep, earthy and highly complex profile. Sweet, tropical fruit, chocolate, blueberry flavors. Syrupy, fruity, chocolatey.
Roasting Notes: FC+ will provide a great springboard for espresso, a recommended brewing format for this coffee. If you intend to brew it other than as an espresso you might want to lighten up a little to FC.
Panama coffee facts:
Population (2006): 1.3 million people
Coffee Production: 180,000 bags (60 kg)
Country bag capacity: 132 pounds - 60 kg
Domestic Consumption: 80,000 bags
Coffee Export: 100,000 bags
Cultivated Area: 26,000 Hectares (64,200 acres)

Harvests: October - February

Arabica Introduced: Arabica was imported from Costa Rica in 1820.
Specialty Coffee Regions: Boquete near Volcan Baru, Chiriqui.
Grades: Strictly Hard Bean (SHB), HB.
Farms: About 30,000 farms.
Botanical Varietals: Typica, Caturra, Gesha.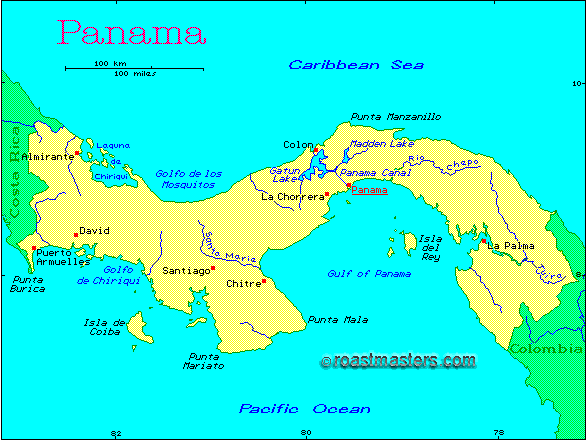 Comments
Panama is a rising star in the specialty coffee world. In the Boquete in particular, farmers are taking Arabica coffee cultivation to new levels and recent auctions of small, specialty lots have garnered record, if not silly, prices. Nonetheless, some of the coffee is excellent. Gesha, a varietal that stems from Ethiopia, has been grown here with good success, yet other cultivars noted above, can produce superb results.