About Panama Kotowa Duncan Organic
Panama Kotowa Duncan Organic comes from the same farm as the Don K that we offered last year. The auction lot of this coffee won 1st place in the traditional group at the 2012 Best of Panama competition. That small lot was purchased for more than $26 per pound and all of it went to a buyer in Japan. Through our relationship with farm owner Ricardo Koyner over the years, we were able to acquire the same coffee outside of the auction process, same as we did with last year's Don K. And, like that coffee, cherry was kept on the trees to very last moment for their ultimate ripeness. This comes at a cost as windy days blow cherry to the ground where they go to waste.
Ricardo Koyner: This "lot is another example of the Premium ripe which we let go way into ripeness. As I mentioned before, we don´t dare to do much of this because we always lose cherries that fall with the wind when they are too ripe. We also need to be extremely cautious and quick in the process in order not to get ferment taste. But if done right we get this special attributes in the flavor."
We have cupped this coffee many times over the years, always enjoying it. But this year, it is really a special achievement. Extremely lemony, lightly elegant and with a long finish.
The Kotowa farm, in its third generation, has several outstanding plots of land. The plot where Duncan is grown is organically maintained and certified as such, and this holds throughout processing. We have had the pleasure of visiting Kotowa's farms, their old wetmill and their wonderful home, overlooking the beautiful Boquete mountainside and the Baru Volcano. Ricardo Koyner owns coffee shops too, located throughout Panama City and elsewhere in Panama, so much of Kotowa's production is used at home, reducing exportable quantities.
An excellent value for a coffee with pedigree. Arrived packed in Grainpro bags.
Farm Name: Café Kotowa
Coffee Name: Kotowa Duncan Organic
Crop Year: 2012
Variety: Caturra
Process: SHB, fully washed
Elevation: 1700 meters (5600 feet)
Growing Region: El Salto, Volcancito
Owner: Ricardo Koyner
Certifications: Organic Certified for NOP, USA
Exporter: Specialty Coffee Association of Panama
Mill: Café Kotowa
Cup Characteristics: Super clean and silky. Smooth soft Dutch cocoa finish on the palate. Piquant mixture of apples and citrus. Jammy, stone fruit flavors like pear or pluet.
Roasting Notes: Like most dense, hard bean and delicate coffees, we always suggest keeping it to the lighter roast side, maybe midway between first and second crack. This maximizes nuances, in this case the lemony, silkiness that further roasting will diminish. On a Behmor try P2 or P1 to bring it up faster.

Panama coffee facts:
Population (2006): 1.3 million people
Coffee Production: 180,000 bags (60 kg)
Country bag capacity: 132 pounds - 60 kg
Domestic Consumption: 80,000 bags
Coffee Export: 100,000 bags
Cultivated Area: 26,000 Hectares (64,200 acres)

Harvests: October - February

Arabica Introduced: Arabica was imported from Costa Rica in 1820.
Specialty Coffee Regions: Boquete near Volcan Baru, Chiriqui.
Grades: Strictly Hard Bean (SHB), HB.
Farms: About 30,000 farms.
Botanical Varietals: Typica, Caturra, Gesha.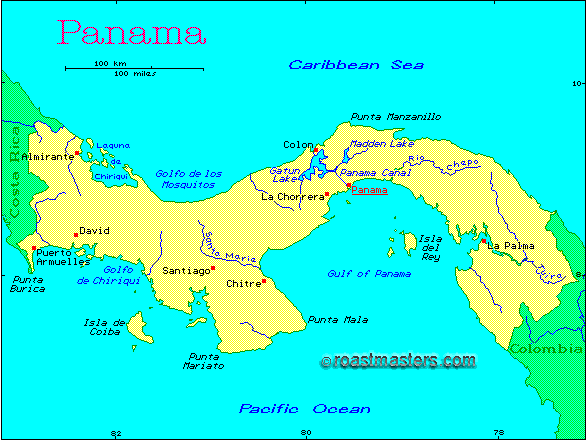 Comments
Panama is a rising star in the specialty coffee world. In the Boquete in particular, farmers are taking Arabica coffee cultivation to new levels and recent auctions of small, specialty lots have garnered record, if not silly, prices. Nonetheless, some of the coffee is excellent. Gesha, a varietal that stems from Ethiopia, has been grown here with good success, yet other cultivars noted above, can produce superb results.