About Costa Rica West Valley SHB Specialty Blend
This is a unique blend of coffees from boutique farms in the West Valley region of Costa Rica where some top microlots originate. The coffees all scored 84 points or above but were separated from microlots that were offered individually. Several farms contributed to this mix of mainly Caturra, Villa Sarchi and Catuai varietals. You can consider West Valley Specialty Blend a combination of great estates and micromills in the West Valley. Rich aroma, balanced and sweet. In essence this is a custom made blend. in Exclusive Coffees Boutique Dry Mill
Some of the farms making up this blend are Santa Anita Estate, Helsar, Sumava, Monte Lourdes and Llano Bonito. These are fully washed and sun dried coffee selectively combined. While we were selecting SHB coffee for our list this year this particular coffee jumped out at us and represents an excellent value for its quality. All high grown, well processed washed coffees make up this custom blend.
Cup characteristics: Very sweet and bright. Crisp, clean and transparent. Citrusy, orange and tangerine. A versatile coffee that can be light or dark roasted, used as a single origin or blend component. Very balanced.
Roasting notes: Dense, high grown and durable coffee that can be roasted well throughout the full range of darkness levels. Keep it light to accentuate brightness, sweetness and nuance. Go darker to develop chocolate notes and texture. This coffee is sturdy and bright enough to be a dark roast and still retain flavor and acidity with some individuality.
Costa Rica coffee facts:
Population (2006): 4.1 million People
Coffee Production: 1.7 million bags (60 kg)
Country bag capacity: 150 pounds
Domestic Consumption: 380,000 bags
Coffee Export: 1,320,000 bags
Cultivated Area: 82,500 Hectares (203,775 acres)

Harvest:
September to February

Arabica Introduced: Coffee was first introduced into Costa Rica in 1779 from Cuba. First exportation was in 1820.
Farms: About 32,000, over half are small farms (less than 1 hectare).
Specialty Coffee Regions: Tarrazu, Tres Rios, Central Valley, Pacific Central, South Pacific

Botanical Varietals: Mondo Nuevo, Hibredo/Tico, Villa Sarchi, Geisha, Caturra, Catui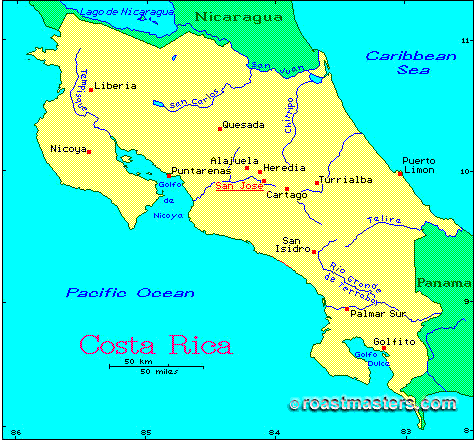 Comments: Coffee is grown in Costa Rica on both the Atlantic and Pacific slopes at altitudes between 1600 and 5400 feet. The highest grade is called Strictly Hard Bean, grown at elevations over 3900 feet. Costa Rica produces some exceptional coffees, renowned for their brilliance, balance and complexity.