About Costa Rica El Espino Yellow Honey Caturra
2014 crop arrived late August in Grainpro bags.
Costa Rica El Espino Yellow Honey Caturra is a very limited microlot that we acquired when touring the country last year. "Honey" coffee is a processing term. It is a mid-point somewhere between natural (dry method) processing where the entire cherry is dried then later milled, and, washed coffee (wet method) where both skin and mucillage is removed through an extensive washing sequence. With honey coffee, the skin is removed and some - or all - of the mucillage remains on the husks. As it dries, the mucillage imparts some fruit flavor to the beans inside their husks. The more mucillage that is left on the husk the more fruit penetration can be tasted.
Honey coffees are names for the color their mucillage turns, which in turn is dictated by how much of it there is. A small amount of mucillage produces 'Yellow Honey' as in this coffee; a little more remaining mucillage produces 'Red Honey' and if virtually all remains it is termed 'Black Honey' but this infrequently seen. The advent of the demucilager machine and its acceptance in some coffee producing countries is providing the means for the minute calibrations that permit this type of production. That, coupled with its minimal water usage has enabled quality coffee farmers the ability to refine their own output and get just rewards for their efforts.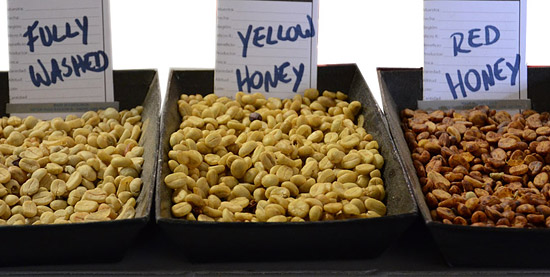 This particular Yellow Honey coffee was produced from Caturra variety at 1800 meters (nearly 6000 feet) in Costa Rica's West Valley. The producer, Gillio Francesca Ferraro grows this coffee in the Zarcero micro-region and production is extremely limited. We will have it for just a short while.
Country: Costa Rica
Region: West Valley
Microregion: Zarcero
Producer: Gillio Francesca Ferraro
Acreage: 7 hectare
Processing: Partial removal of mucillage using a Penagos demucillager
Drying: 100% sun on beds
Cup Characteristics: Sweet, but mild fruit penetration. Nearly minty fragrance; trees are shaded by Eucalyptus which seem to impart some special aromatic character. Melon, somewhat musky. Juicy and succulent. A very interesting, but light cup quality.
Roasting notes: This is a dense, robust bean so it will need quite a bit of heat to push into first crack. Roast to near second crack. On a Behmor, P1 or P2 are good candidates.
Costa Rica coffee facts:
Population (2006): 4.1 million People
Coffee Production: 1.7 million bags (60 kg)
Country bag capacity: 150 pounds
Domestic Consumption: 380,000 bags
Coffee Export: 1,320,000 bags
Cultivated Area: 82,500 Hectares (203,775 acres)

Harvest:
September to February

Arabica Introduced: Coffee was first introduced into Costa Rica in 1779 from Cuba. First exportation was in 1820.
Farms: About 32,000, over half are small farms (less than 1 hectare).
Specialty Coffee Regions: Tarrazu, Tres Rios, Central Valley, Pacific Central, South Pacific

Botanical Varietals: Mondo Nuevo, Hibredo/Tico, Villa Sarchi, Geisha, Caturra, Catui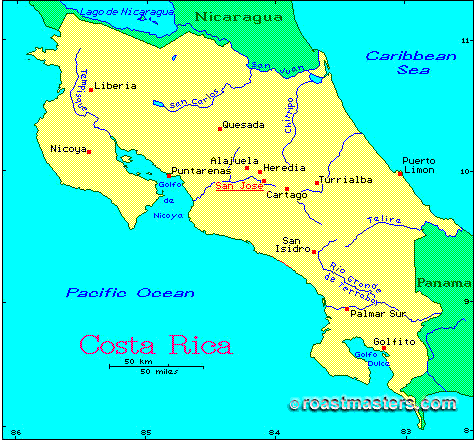 Comments: Coffee is grown in Costa Rica on both the Atlantic and Pacific slopes at altitudes between 1600 and 5400 feet. The highest grade is called Strictly Hard Bean, grown at elevations over 3900 feet. Costa Rica produces some exceptional coffees, renowned for their brilliance, balance and complexity.