About Costa Rica El Pilon Natural
This offering from Costa Rica comes from the El Pilon micro mill located in the Leon Cortez micro region of Tarrazu. The farm and micro mill are run by producer Edgar Urena and it sits at 1600 to 1750 meters above sea level, the farm spans about 10 hectares with 8 of them dedicated to coffee and is made up of volcanic soil. The varieties grown here are Red and Yellow Catuai in addition to Caturra that are covered by shade trees. This particular lot is naturally processed, meaning the coffee bean is left inside the cherry during the drying process and fruit flavor is imparted.
For our customers who have enjoyed Black Honey coffees or milder full naturals this is an excellent choice. Very limited quantity.
Altitude: 1600 to 1750 meters above sea level
Region: Tarrazu
Micro-region: Leon Cortez
Total Production: 100 bags
Farm size: 10 hectares
Variety: Catuai
Processing: Natural, dry
Cup Characteristics: Chocolate and cherry notes are prominent but not overbearing. Very smooth, tongue coating mouthfeel. Hints of hazelnut and coconut. Very clean and well prepared coffee.
Roasting notes: The coffee is grown at a very high elevation so the beans are hard, dense and the flavors concentrated. To do justice to the coffee roast it to a City+ level and no further than the start of 2nd crack. Flavors are maximized before the beginning of second crack so better still to pull the roast a minute or so after 1st crack. The time after first crack will vary with your roaster model and ramp rate.
Costa Rica coffee facts:
Population (2006): 4.1 million People
Coffee Production: 1.7 million bags (60 kg)
Country bag capacity: 150 pounds
Domestic Consumption: 380,000 bags
Coffee Export: 1,320,000 bags
Cultivated Area: 82,500 Hectares (203,775 acres)

Harvest:
September to February

Arabica Introduced: Coffee was first introduced into Costa Rica in 1779 from Cuba. First exportation was in 1820.
Farms: About 32,000, over half are small farms (less than 1 hectare).
Specialty Coffee Regions: Tarrazu, Tres Rios, Central Valley, Pacific Central, South Pacific

Botanical Varietals: Mondo Nuevo, Hibredo/Tico, Villa Sarchi, Geisha, Caturra, Catui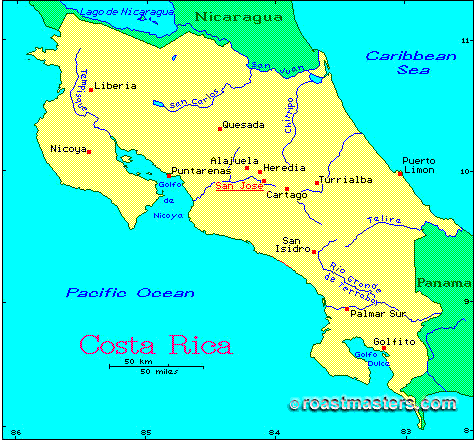 Comments: Coffee is grown in Costa Rica on both the Atlantic and Pacific slopes at altitudes between 1600 and 5400 feet. The highest grade is called Strictly Hard Bean, grown at elevations over 3900 feet. Costa Rica produces some exceptional coffees, renowned for their brilliance, balance and complexity.