Costa Rica Monte Copey de Dota Caturra Natural
Sorry, we are currently sold out of 'Costa Rica Monte Copey de Dota Caturra Natural'. Please check back later.

Wait List
Volume Price
Pounds
Price LB
1
$9.95
2-4
$9.45
5-19
$8.96
20+
$8.95
About Costa Rica Monte Copey de Dota Caturra Natural
This coffee from Monte Copey de Dota is a Caturra natural. The Navarro family owns several very small farms in the micro region of Santa Maria de Dota, on Copey Mountain. They do all of their own processing, from washed and honey coffees with their micromill, to this tiny lot of natural, something of a departure for them. Each is produced by the family, Don Enrique and his sons Enrique Jr. and Josue along with many other family members. They are intimately involved with each aspect from growing through complete processing using various techniques and outcomes. We have offered on Monte Copey's honey coffees in the past, but this is our first time with their natural.
When we were in Costa Rica this past February we cupped a lot. One of the tables had 15 coffees, all either naturals, or various levels of honey (yellow, red, black). This Caturra natural grabbed us right away because of its notable fruit intensity which has clearly mellowed since that first cupping. We think this will have great appeal to natural coffee fans.
Grower: Enrique Navarro
Region : Tarrazu
Micro region : Santa Maria de Dota
Altitude : 1900 meters, 6000+ feet
Varietal : Caturra
Production : 60+ bags/year all varietals
The Caturra natural was produced on the family farm called La Mesa on Copey Mountain in the Dota Valley of Tarrazu. The farm is located at 1900 meters, over 6000 feet. The Navarro family has decided to become part of the growing contingent of independent coffee farmers who no longer simply sell their cherry to large mills where they would be combined with other nameless coffees. Rather, they mill their own coffee and some for their neighbors, garnering recognition for the top level work they do, and, higher income. They control the full repertoire from planting to growing to processing. There is transparency in the process and they are assured at least 40% more than their production costs.
Monte Copey De Dota coffee production is quite small, with no more than 60 bags per year. The coffee is recognized for its exotic flavor. This coffee arrived here in July packed in Grainpro bags are origin and the coffee has remained unopen until now.
Cup Characteristics: Tropical fruit and mellow berry flavors. Substantial body. Long, very dry finish.
Roasting notes: The coffee is grown at a very high elevation so the beans are hard, dense and the flavors concentrated. To do justice to the coffee roast it to a City+ level and no further than the start of 2nd crack. Flavors are maximized before the beginning of second crack so better still to pull the roast a minute or so after 1st crack. The time after first crack will vary with your roaster model and ramp rate.
Costa Rica coffee facts:
Population (2006): 4.1 million People
Coffee Production: 1.7 million bags (60 kg)
Country bag capacity: 150 pounds
Domestic Consumption: 380,000 bags
Coffee Export: 1,320,000 bags
Cultivated Area: 82,500 Hectares (203,775 acres)

Harvest:
September to February

Arabica Introduced: Coffee was first introduced into Costa Rica in 1779 from Cuba. First exportation was in 1820.
Farms: About 32,000, over half are small farms (less than 1 hectare).
Specialty Coffee Regions: Tarrazu, Tres Rios, Central Valley, Pacific Central, South Pacific

Botanical Varietals: Mondo Nuevo, Hibredo/Tico, Villa Sarchi, Geisha, Caturra, Catui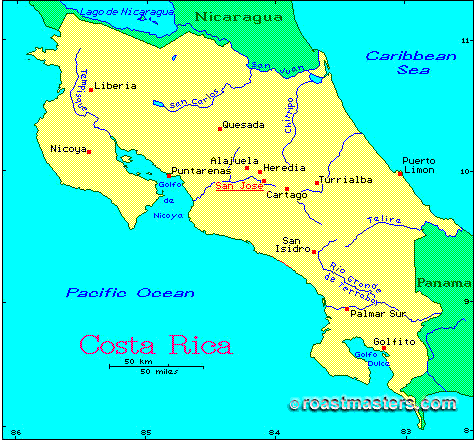 Comments: Coffee is grown in Costa Rica on both the Atlantic and Pacific slopes at altitudes between 1600 and 5400 feet. The highest grade is called Strictly Hard Bean, grown at elevations over 3900 feet. Costa Rica produces some exceptional coffees, renowned for their brilliance, balance and complexity.