Costa Rica La Estrella Tarrazu microlot
We have more Costa Rica La Estrella Tarrazu microlot purchased. It will be arriving shortly. Please add your name to the waitlist and we will send you an email when it is back.

Volume Price
Pounds
Price LB
1
$8.71
2-4
$8.27
5-19
$7.84
20+
$7.50
About Costa Rica La Estrella Tarrazu microlot
2013 crop arrived late July packed in Grainpro bags.
When we visited Costa Rica February 2012 we had a chance to cup many coffees as well as tour all of the principal growing regions and meet with some of our established grower relationships. During one of the cuppings a coffee just popped out from the rest as the dominant coffee on the table. We wanted it immediately and found out that a small quantity was available. At that point we didn't know much about the farm, other than the coffee itself wowwed us. We bought the entire amount available, though the price was not small. We later found out the coffee was from the La Estrella farm, the number one winner of the Cup of Excellence 2011 - in other words, the best of coffee in Costa Rica as determined by a jury of coffee experts.
Located in the Tarrazu region in the town of Santa Maria de Dota, this tiny 12 acre farm sits at the very high elevation of 1950 meters, well over 6000 feet. The La Estrella farm is owned by the Calderon family. They operate their own Los Angeles wetmill so they control every aspect of the coffee from growing to processing.
Luis Ricardo Calderón received this 4 hectares property from his father about 15 years ago with the aim of having a coffee farm. In 1999, Luis Ricardo and his wife, Lourdes Castillo, started sowing the land. Lourdes helped with the administration of their few goods and their sons helped with the farm labors. Coffee began producing in the ensuing years and, until a few years ago, the Calderons sold their production to a large local wetmill where it was merged with coffee cherry being collected from other area farms. Then the Calderons decided to install their own micromill, and their efforts resulted in coffee separately grown, processed and identified as theirs alone. The coffee was entered into the competition where it was vetted first by a national, and later an international jury. The rest, they say, is history.
In the 2011 Cup of Excellence auction coffee of this origin sold for $20 a pound unroasted, putting it well above $40 a pound once exported and roasted. It attained a jury score of 90.38 points making it a Presidential Award winner. All of the 2011 auction winning lot was sold to roasters in Japan and Taiwan. We are fortunate to have begun this new relationship with the Calderons and look forward to more from them in the years ahead. And, at our price, this coffee is a real value.
The Los Angeles coffee from La Estrella farm arrived here the last few days in June with our 2012 Costa Rica new crop purchases. This coffee is at its peak and we expect to have it available for several months.
Name - Los Angeles La Estrella microlot
Varietal - Catuai
Farm - La Estrella
Micromill - Los Angeles (on the farm)
Region - Tarrazu
Micro region - Santa Maria de Dota
Altitude - 1900 to 1950 meters
Awards - 1st place Cup of Excellence 2011
The Calderon owned Los Angeles micromill also processes coffee for several other very local growers.
Cup Characteristics: Very complex, multi-dimensional, viscous cup. Pear, floral notes, strawberry-rhubarb, mango. Bright, lively and exceedingly elegant. Creamy texture, structured, buttery. Long finish.
Roasting Notes: This very high grown coffee is hard and dense, and, can withstand considerable heat. This coffee is best nearing or just beginning second crack. If roasting on a Behmor we would suggest P1.
Costa Rica coffee facts:
Population (2006): 4.1 million People
Coffee Production: 1.7 million bags (60 kg)
Country bag capacity: 150 pounds
Domestic Consumption: 380,000 bags
Coffee Export: 1,320,000 bags
Cultivated Area: 82,500 Hectares (203,775 acres)

Harvest:
September to February

Arabica Introduced: Coffee was first introduced into Costa Rica in 1779 from Cuba. First exportation was in 1820.
Farms: About 32,000, over half are small farms (less than 1 hectare).
Specialty Coffee Regions: Tarrazu, Tres Rios, Central Valley, Pacific Central, South Pacific

Botanical Varietals: Mondo Nuevo, Hibredo/Tico, Villa Sarchi, Geisha, Caturra, Catui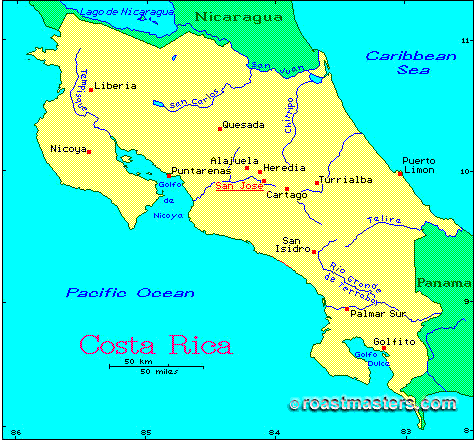 Comments: Coffee is grown in Costa Rica on both the Atlantic and Pacific slopes at altitudes between 1600 and 5400 feet. The highest grade is called Strictly Hard Bean, grown at elevations over 3900 feet. Costa Rica produces some exceptional coffees, renowned for their brilliance, balance and complexity.